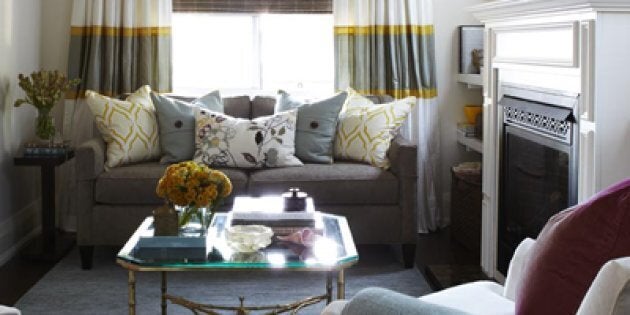 Eight months ago, my living room looked like this...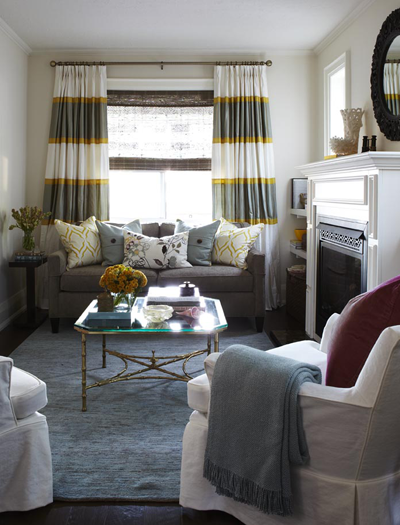 Comfortably chic, casually elegant; however you want to put it, it was not overly fancy, yet the shelves were consciously styled. In the middle sat a vintage brass coffee table, a faux-bamboo pièce de resistance that set the mood of the room.
Today, not so much. I'll spare you an image of toys and baby books strewn across the floor, but you should know that the prized coffee table has been relegated to the basement. How did we get to this point? Most new parents will understand that it doesn't happen overnight when you have a baby. A decorated home stays intact with a newborn. It's once that babe gains some skills -- rolling, sitting and generally taking up more space -- that you may need to rethink your home as a whole and get down to the brass tacks of baby-proofing.
Last month I hosted a homemade baby food exchange which required an initial planning session -- approximately six moms and babies gathered in my living room to set ground rules. That's when the coffee table was moved temporarily out of the way. And once we realized that a larger play space was ideal for our little guy, that's where it stayed.
A close friend, whose condo I decorated, echoed my sentiments. "I keep telling people who come over that this is not the way it's supposed to look. It breaks my heart that we've also had to move our sleek, glass coffee table out of the living room where it is meant to reside."
There are a couple of different approaches to baby-proofing. The first being to remove all breakable items and all potentially dangerous possibilities from your baby's realm. The second being to closely monitor your child and try to teach them not to do any of those things that will injure themselves or damage your possessions. My goal was to land somewhere in the middle, with baby gates on the stairs and fine crystal out of the way, but I hadn't really considered how this would affect the style of our home.
The removal of the coffee table was only the beginning. Our designer rugs are now covered in blankets that can easily be washed, and the bar cart shelves are, well... empty.
I talked to organizing guru Clare Kumar of Streamlife to get her take on how to keep the house from looking like a toy-bomb exploded, and one of her first points was that expectations and standards need to be adjusted. She told me that I would drive myself crazy trying to keep things "camera-ready." Um, yes. Yes, I am.
She also believes that babies, or perhaps more aptly, older children, can play their part.
"Coach children -- and caregivers -- on good tidy up practices. Encourage playing with one type of toy at a time and putting it away after use," she says. "Planning for tidy up time before rushing out the door also helps."
I heed her advice and console myself with the fact that this stage is only temporary. Temporary, as in a few years, maybe more if we have a second child. But the coffee table is a timeless classic, so I'm sure I will still love it in 2015. I also make the best of blankets layered on top of the rugs by using chic, eco friendly cotton options by In 2 Green. They're easy to throw in the washing machine, but also easy on the eyes. Ultimately, our son is worth it. If I ever feel frustrated at the mess in our house, or the general degradation of style, I can just gaze at his sweet face and I realize that he makes all of the rooms in our home look better.