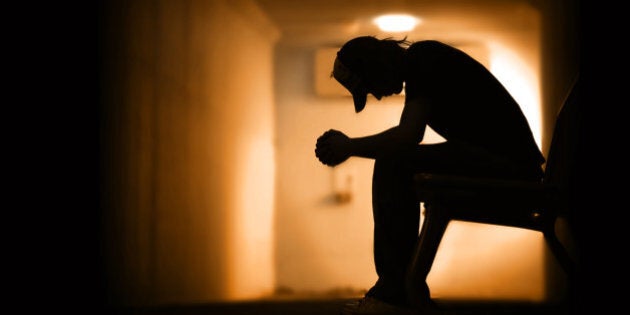 Tania DaSilva of Thrive Therapy @thrive.therapy had the pleasure of sitting down with Benn Young @bennyoungbennyoung in the Queen West area of Toronto. This is where they discussed Benn's journey over tea and spent a few hours chatting about addiction, mental health, recovery and therapy. If any of their neighbors were eavesdropping, they definitely got an ear full of some real and raw sh*t, to say the least. Tania has known many people who have personally struggled with addictions. Now, as a therapist, Tania works with many more. Benn and Tania agreed on a common goal; to provide at least one person with a slight push towards recovery and a glimmer of hope throughout the recovery process. I hope this article does that for you or someone dear to your heart xo.
Benn Young spent most of his childhood feeling like he didn't belong. A small and skinny boy with thick glasses, Benn felt from a young age that he wasn't one of the 'cool kids'. To make it worse, he knew they knew he wasn't one of them, even if they didn't say as much. Hence, all of his life, even at the best of times, Benn carried this feeling of fraudulence and not being accepted. For Benn, growing up became all about learning how to handle and manage this toxic secret. Over time, the secret would eat him alive from the inside out. It started with moving to and from five different high schools in five years, while self-medicating through the pain with "fabulous" weed.
While studying at King's University College the game became trickier. In order to distract himself from his feelings of alienation and self-hatred, Benn spent the majority of his university years smashed on drugs and alcohol. He felt that numbing out was an easy and available alternative to sitting with his unwanted feelings. After leaving university before he got a degree, Benn moved back to Toronto and began working in the entertainment industry. Not long after he found himself in a love affair with cocaine. Usage was rampant among his peers, and Benn's participation led him to feel a strong connection with many of these fellow-users. Benn finally felt like he belonged to a pack that ran as fast as he did. Although Benn's underlying loneliness prevailed, drinking, drugs, and the mischief that accompanied them made his life seem rich and full. Not only were most of his friends heavy partiers, but his girlfriend of the time was too. Benn found himself shifting his identity, becoming "that crazy party guy", an image inter-twined with late nights and heavy substance use. As he says now, 'in the beginning it's all about turning your addiction into vaudeville.'
As the years passed Benn's adopted lifestyle started to poison his mind and he found himself quickly spinning toward the outer edge of control. His hangovers became worse and worse, and more often than not Benn found that one drink would turn into a 6AM binge full of craziness and narcotics. Benn's peers began to notice his downward spiral and reached out to him, but he no longer felt in control of his decisions. When Benn reduced his partying his drinking and drug habits did not subside. Instead of using in a group Benn would use alone, away from the prying eyes of his friends. Benn's rock bottom was right around the corner.
For any addict, 'hitting bottom' is a moment never to be forgotten. For Benn, it was a near death experience.
Benn had made plans to join his father for some one-on-one time at the family cottage. Benn's father was aware that Benn was in crisis and had spent considerable time planning the logistics of the trip. He regularly checked in with Benn to make sure everything was still good-to-go over the days prior to the trip. Benn was also looking forward to time with his father, as he needed a break from the craziness that had become his life. On one hand he was hoping one on one time with his dad would force him to discuss his problems, yet on the other that same thought filled him with terror. Meanwhile, Benn and his girlfriend had just broken up; she left because she disapproved of Benn's "toxic" behavior. Without a relationship Benn felt more alone than ever. In order to cope, Benn decided to go out for one drink the night before leaving to meet his father. This evening happened to fall on the evening of the staff party for the bar where he was currently employed.
Sure enough, one drink led to many drinks... from a pre-party to a club, to an after-hours bar and then finally back to the bar where he worked when the after-hours closed. The night ended in a total blackout for Benn.
When Benn awoke the next afternoon the horrifying night came back to him in fragments, the feelings of being empty, sad, and alone were extremely overwhelming. He sat in his apartment chain smoking, staring at a wall in disbelief over how his evening had turned out. His phone sat on his nightstand, filled with missed calls and messages from his ex-girlfriend, his father and his boss. The messages caused Benn enormous anxiety, and he finally decided to listen to them. The first voicemail was from his father, expressing deep disappointment at Benn's decision to fall off the map when they were supposed to be spending time together. The second was from his ex-girlfriend, expressing frustration over the numerous online pictures of Benn that had been posted while he was clearly "out of his mind". The final voicemail was from his boss, upset that Benn had left the bar in chaos, empty bottles and drug paraphernalia everywhere. Benn put the phone down, the pain he felt was beyond words. He had had difficult comedowns in the past, but the combination of his crushing hangover coupled with the voicemails filled him with shame, guilt and loneliness. This unbearable moment would be the final frame of his addiction.
Benn walked to his bathroom sobbing uncontrollably and filled the tub with hot water. He knew that he could no longer bargain, no longer apologize and no longer live with this pain and loneliness. He felt those feeling that had followed him throughout life were actually true; his entire life was a fraud.
Benn got in the tub and slit his wrists. Thankfully, he awoke to his ex-girlfriend smacking him across the face. She still had a key to the apartment and was concerned when Benn didn't respond to her texts and calls. An ambulance was called, and Benn was admitted to the hospital and kept under surveillance for 24 hours within the Psychiatric Unit.
Once Benn was released he called his father who met him at his apartment. His father seeing the bath tub of bloody water encouraged him to take a picture of it so he would always be able to remember what hitting rock bottom looked like. Miraculously, Benn's father was writing a screenplay with someone who was himself in recovery. His collaborator offered to take Benn to a meeting that very evening. Benn agreed; although he didn't know what he was getting into, he knew he needed help, and fast.
Benn remembers heading to a meeting in Rexdale in the dead of winter. He entered a room and found himself surrounded by 'shifty looking individuals'. Some wore dirty clothes, others looked intimidating. The common unifier in the group was a raw vulnerability that seeped through their skins, as well as a gleam of hope in their eyes. Benn remembers sitting down in the room and having a seemingly aggressive member come up to him and ask if it was his first meeting. Benn cautiously said yes and moments later the entire room buzzed with chants to make everyone aware that Benn was a "first timer". People gathered around and embraced him, offering their names and phone numbers and assurances that he would not be alone on his road to recovery. To this day Benn recalls that feeling of unconditional acceptance by a group of strangers at the moment his recovery began. Benn spent the next 90 days living with his father while he attended meetings at least once a day. These meetings provided him with support, stability, and a team of people who actually understood his secret self-loathing because they suffered from the same feelings themselves.
At age 14, Benn remembers being sent to see a therapist who clearly had no idea what addiction was all about. In contrast, having a recovering addict helping you along the way, relating to what you've experienced and simply just saying "me too" was so much more helpful to him in his recovery process. In many ways, the individuals in the group reminded Benn of the outsiders that he had always been drawn to and how he felt about himself. The group was also powerful due to the amount of honesty and vulnerability that was shared within it .To this day he finds himself empowered by their stories and their knowledge of the highest highs and the lowest lows. Finally, he feels he has found his tribe -- a family of damaged people offering unconditional love and a shared path to recovery.
Through this abstinence-based recovery program and the talk therapy that is central to it, Benn has learned to understand and cope with his 'triggers'. For Benn, recovery has been all about focusing on self-care: health, fitness, honest talks, meditation and regular attendance at meetings with other addicts. In the social sphere Benn began opening up about his addiction to those around him -- family, friends, co-workers, and managers. Benn knew he needed support and was learning that the best way to get support was to ask for it. Luckily, many of Benn's peers were also overcoming their own addiction issues, and were doing amazing and inspiring things with their lives in the process. These examples motivated Benn to stay on track and he found the courage to let go of his old personas in order to create a new and healthier identity.
Benn has just reached an important milestone, three years clean. It hasn't been easy, but it's been rewarding to live a happier and healthier life. He says his worst day clean is still better than his best day using. However, being a recovering addict doesn't mean you're magically in the clear and will feel great everyday moving forward. Benn recalls a recent holiday in Mexico, sitting on a beautiful beach when he suddenly began obsessing about purchasing heroin, a drug he had never even tried. As Benn says: 'Addiction is a cunning disease, even though you may be clean your addiction is waiting outside doing push ups in the parking lot'. In order to cope with these sudden cravings when he was supposed to be on holiday, Benn decided to find a local meeting in the resort town to get the support he needed. The ability to just communicate what was going on in his head to other addicts who could relate was enough to help him overcome his cravings, and in the process strengthened his recovery.
Over the last three years Benn has gone to meetings all over the world and continues to go to meetings here in Toronto to this day. Sobriety is a life long journey, that's an important fact for us all to wrap our heads around. As some people need to take medication for the rest of their lives, others must continue to seek support and therapy to keep themselves sober.
Feelings of loneliness and low self-esteem need to be addressed in some kind of therapeutic setting before they morph into this sort of addictive behavior. People turn to drugs to avoid underlining issues; those issues will still be there after the drugs are gone. If you or someone you know is suffering from addiction, please know there is help and support for you out there. Therapy and abstinence-based recovery programs can work wonders if/and when you are ready to invest in them.
Know this: You are not alone.
Benn's closing remarks: "I wouldn't be in the place I am today without the help and support I have received. I'm really lucky; people end up dead, in jail, or institutionalized because of addiction, and that could have been me. That's the final destination for most addicts; luckily I got help and continue to have support through this. I'm now just trying to create a life worth living. Be the best me I can be. Its still a day-to-day challenge and always will be. I'm grateful for the work that happens in therapy and in the rooms, as I'm facing what caused me to turn to drugs as a crutch, I'm helping others on this journey, and I'm reminding myself it's "just for today" and "easy does it" regularly. It's a daily challenge and facing it squarely makes the world a very rich place."
**If you or anyone you know if suffering from substance abuse and/or additions and live in the Toronto area contact www.thrivetherapyto.com