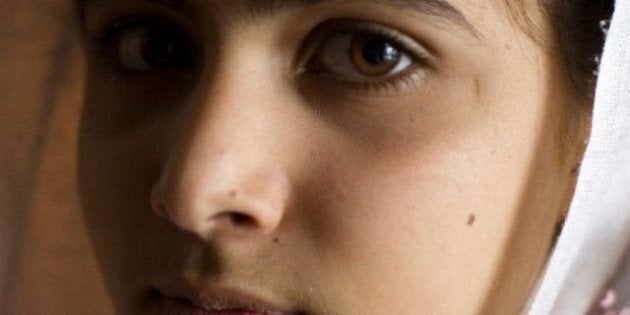 We did it! After tens of thousands of Canadians and even more people from around the world signed my petition on Change.org, we got every single party leader to get behind the campaign to unanimously nominate Malala Yousufzai for the 2013 Nobel Peace Prize.
Sitting at my breakfast table on Sunday, October 12, when I started the online petition I had hoped for a few hundred signatures and maybe find one or two politicians to nominate Malala. I had never imagined that not one, but all of our federal parties and leaders, including the Prime Minister, who hardly ever agree on anything, would end up supporting the campaign to support a girl halfway around the world.
Here is what they had to say:
"Laureen and I are pleased to support Malala Yousufzai, a determined young woman who has done so much to promote education and women's rights in her native Pakistan. All Canadians salute her courage and tenacity and wish her well in her recovery." - Prime Minister Stephen Harper
- NDP Leader Thomas Mulcair / quote from NDP nomination letter by MP Paul Dewar)
- Liberal Party Leader Bob Rae
"I am so inspired by her bravery and idealism. We must all re-commit to ensure the rights of all women and girls."
- Green Party Leader Elizabeth May
"Tens of thousands of Canadians, Quebeckers and people from other countries have signed this petition. Malala's courage and tenacity have inspired people around the world and awarding her the Nobel Peace Prize would take us one step closer towards a more peaceful and just society."
- Bloc Quebecois Leader Daniel Paillé
We started a global phenomenon. Canadians have inspired people from all around the world to start "Nobel for Malala" campaigns in their own countries. Petition pages have gone up in the U.K., Pakistan, France, India, Italy, Germany, Ireland, and more are on the way.
The counter on all of the pages reflects the cumulative efforts of these petitions from around the world. Over 160,000 people have signed the petition!
As it says in the petition, getting Malala nominated was only the first step. We still need to get as many signatures as possible to:
Encourage political leaders in all of the other countries to support the campaign.
Show the Nobel Foundation how important it is for them to select Malala for the Nobel Peace Prize.
For these reasons we hope that you will ask your friends and family to keep signing. Click here to share the petition on Facebook.
Together, we've accomplished something very special and I know that by continuing to work with girls' education supporters around the world we can get Malala the Nobel Peace Prize. Moreover, we will send this message to the Taliban who tried to assassinate her: you cannot bully and terrorize little girls and get away with it. The whole world is watching.