I don't know about you, but if I just created history for my country on a world stage and my fellow citizens reacted by calling me derogatory names that could potentially put my life in danger, I would seriously think about moving to another country where people see people for the human beings they are and nothing less.
Sadly, Jamaican athlete Omar McLeod was not so lucky, even after capturing his country's first gold medal in the men's 110-metre hurdles at the 2016 Olympic Games, currently taking place in Rio de Janeiro, Brazil.
Celebrating the historic win on Tuesday, Jamaica Gleaner brand manager Terri-Karelle Reid tweeted:
One response left many familiar with the Jamaican vernacular in shock. It read "Goldfish" and was tweeted from manufacturer Lasco's account. What's the problem? In Jamaica, the term "fish" is among the words used to belittle gay men, and is also pulled out when a man doesn't appear to be "macho" enough in a society with a big machismo culture.
While the company apologized and explained that an employee hacked its account and has since been terminated -- a move that paves the way for more tolerance -- many Jamaicans on social media used the opportunity to let the world know that a gay athlete would not be welcomed in their country, even if that athlete is an outstanding Jamaican flying Jamaica's flag.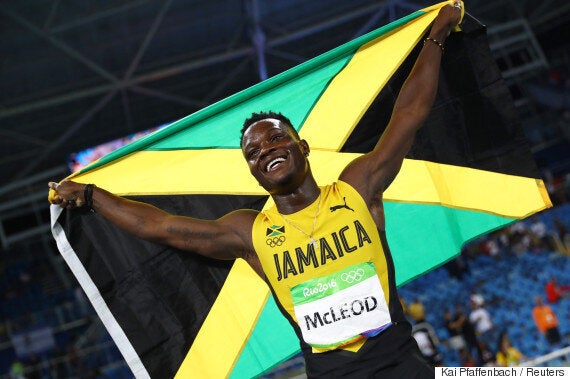 Omar McLeod of Jamaica celebrates after winning the gold meda in the men's 110m hurdles final. (Photo: REUTERS/Kai Pfaffenbach)
In the comment section of one online news article, the reactions reminded us of how many Jamaicans feel about the LGBTQ community. I've rewritten some of the language for those who do not understand patois.
"Free speech... she said what she saw. He behaved effeminate when he won. Him no (he doesn't) look straight."
"If the employee want use her own account and call the young man battyman (gay man), that' her business..."
"I didn't even cheer after the race because of his reaction to the win... a fish is a fish in water or out."
"America backs battam man (gay men) and that's why they light up the place with the batty (gay) colored lights (rainbow lights)."
Interestingly enough, that reference to the coloured lights being lit up is about the U.S. Embassy in Jamaica marking a significant event in the country's history -- Gay Pride Week, which angered homophobes -- much like when the country's attorney general blasted the embassy for flying the rainbow flag in Jamaica following the Orlando Massacre, which left 49 LGBTQ members dead.
Trust me, I know how crazy that sounds, but it doesn't surprise me one bit, as I lived in Jamaica for five years and saw enough for me to make the decision to stay deep inside the closet, while attending university.
The sad thing is that Jamaica has a large LGBTQ population with many closeted gays from every walk of life. Yet, Jamaicans choose to bash every man that has "feminine tendencies" and women with "masculine tendencies."
This type of attitude can be seen across the Caribbean which, oftentimes, lead to both suspected and openly gay members of the LGBTQ community being harassed and discriminated against.
Why can't we just accept people for who they are? It is time for Jamaica and other Caribbean islands to recognize that homophobia does more harm than good. We are all human beings and our sexual orientation should not take away from our achievements... on or off the track.
What will happen to Omar now?
Ultimately it shouldn't matter if Omar is gay or straight, but if he is and Jamaicans cannot celebrate a gay athlete who has made their country proud, then please ship him to Canada as quickly as possible. We'd welcome him with open hearts and open minds.
But knowing the hypocrisy that tends to lift its ugly head in Jamaica and other Caribbean territories, Jamaicans will most likely close their eyes and end the homosexual accusations and go back to singing Omar's praises... as long as he continues to bring in the gold medals.
Follow HuffPost Canada Blogs on Facebook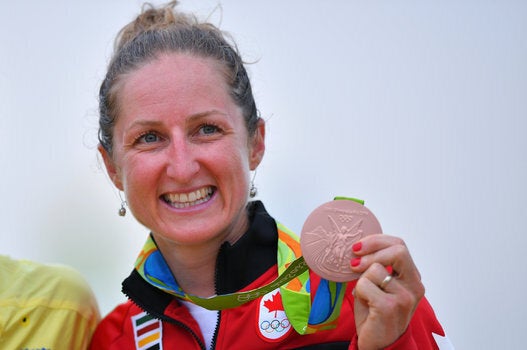 Canadian Medallists at the 2016 Rio Olympic Games