Shutterstock / Alexander Demyanenko
For years, I only dreamt of marching in a pride parade. I would turn on the TV and see streets filled with colours of the rainbow and I secretly envied those men and women who would be dancing and singing in their colourful costumes. I wanted to be there.
I remember being in my room as a teenager and searching the Internet for pride events across the world. I would watch video after video of drag queens performing on trucks and shirtless men in Speedos gyrating to loud music. I watched dyke marches and saw lesbian couples kissing one another and through my tears I would pray that one day I could experience whatever they were feeling.
Knowing what happens to my people and experiencing the impact of homophobia myself, I now live life like there's no tomorrow.
Even at that young age, I understood that pride was a celebration for the LGBTQ community and also a political stance, but I still didn't quite get the full picture until I experienced my first pride celebration last year and when I started doing work as an activist.
Pride for me is a celebration of life! Being an LGBTQ activist, I am constantly faced with the reality that our members are attacked on a daily basis. Some manage to recover and go on with their lives as best as possible, but many, especially my trans brothers and sisters, come face to face with death.
We are just in June and more than 10 transgender women have been killed already in the U.S. Knowing what happens to my people and experiencing the impact of homophobia myself, I now live life like there's no tomorrow. Pride is a reminder to never take our journey for granted.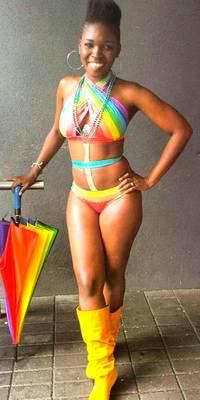 Pride is also an opportunity for us to become one! On a regular day, we go about our daily lives fighting our own battles and overcoming obstacles. Sometimes those struggles come from within our very own community as there's still a disconnect between gay men and lesbians; transgender people and drag queens; even between bisexuals and everyone else. This is especially hard to watch as we are already fighting a huge war with the rest of the world.
But pride is an opportunity for us to unite as one people and to be reminded that we only have each other and our allies. It is the perfect platform to show the world that there is strength in numbers.
Pride is equal to freedom! For many of us who were trapped in the closet, finding the courage to break down those walls is every reason to celebrate. As I marched through the streets of Toronto last year, I reflected on my journey and the journeys of my friends who are here in Toronto and back in the Caribbean and I started to cry because I know that our type of freedom doesn't come by easily.
To many of you, Pride (Toronto) may not be a big deal, but for those of us who grew up in homophobic countries, just being able to wave a rainbow flag is a privilege; one that I will cherish for the rest of my life.
Happy Pride Toronto! Happy Pride Canada! Happy Pride Caribbean! Happy Pride World!
Follow HuffPost Canada Blogs on Facebook
ALSO ON HUFFPOST: