Society has made such a big deal about the way people and things should be, that we often find ourselves questioning the least important parts of our life, while trying to meet the standards of others.
Today, instead of valuing love, friendships, our natural beauty, and the like, people are aiming to be the richest, skinniest, and prettiest. And how could I forget the 'straightest,' all because they have become so insecure about how everyone sees them.
I most certainly can relate since, once upon a time, my life in the Caribbean was all about pleasing everyone but Tasheka. Coming from a career as a news anchor on television, people always had certain expectations of me -- wearing makeup for breakfast, lunch and dinner, dressing in the latest fashion trends, keeping a certain weight and not going over it, having a 'decent boyfriend,' living in an upscale community and hanging out at the fanciest places with the higher echelon of society.
Sounds exhausting right? It is and that simply wasn't me to begin with!
Society's standards have moved so far from what is truly important, that instead of people trying to be true themselves and accepting their socio-economic circumstances, which isn't bad for many of us, we are working hard to 'fit in' and fit in I did to the point of depression.
I remember days when I was so over dating men that I asked one of my gay friends to be my fake boyfriend. That was the same friend who would cover for me when I went to visit the girl I was dating on the down low (undercover). I was truly living a double life and found myself wanting to be with this girl but remembering that my fans, my family, my church and all the little children that looked to me as their role model would not be pleased.
Imagine being in a relationship and lying to that person everyday about how much you love them when all you really want is to be with the woman of your dreams.
Now that I have established the kind of hell you live in when trying to please everyone, think about the people struggling with their weight, some type of disease, mental illness, disability, being bullied and discriminated against because of their sexual orientation, religion and even the colour of their skin. It totally sucks!
Growing up in the Caribbean and being a member of the LGBTQ community is, by far, the hardest life to live especially with laws that make you feel like an outcast for loving someone from the same sex, so it would probably take courage, something drastic or someone to make you walk in the direction of self-acceptance.
It was in 2012 when I met my fiancé that I started realizing how much I had been missing out on. I found myself laughing a lot more and wanting to experience life with this person. The time came when I couldn't hide it any longer because doing so made me angry and uncomfortable. I was in love and it wasn't the typical heterosexual relationship, but I didn't care anymore. I just wanted to be happy and free.
The moment I chose Tasheka was the moment I said "Screw you society" and this was not me being rude or disrespectful, but me choosing my happiness above all. Similarly, when you have accepted yourself for who you are, be it your beauty, your weight, your identity, orientation, expressions or anything else you feel insecure about, that's when you will begin to see that there is nothing wrong with your unique self and if you feel the need to change your circumstances, let it be on your own terms.
In everything you do, just remember that very powerful quote by William Shakespeare, "To thine own self be true."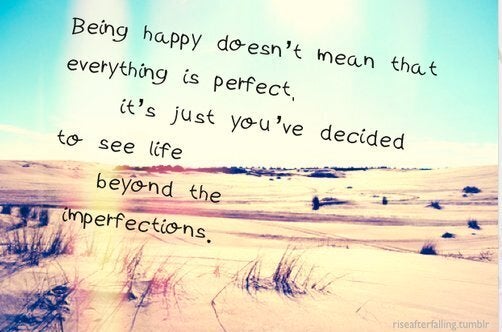 These Quotes Sum Up Happiness Perfectly