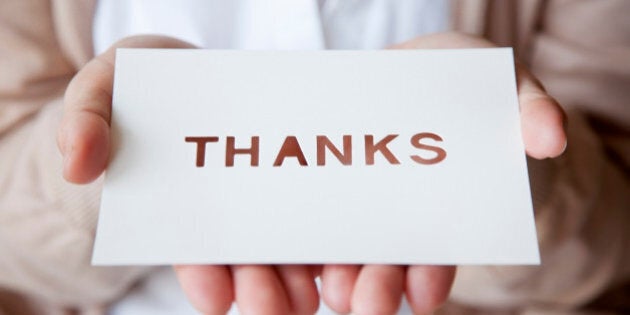 Canada has a well-deserved reputation as one of the friendliest, most polite countries in the world, and you don't have to look far to see why. Yes, we say "I'm sorry" a lot, but we actually say "Thank you" a lot more -- almost twice as often as "I'm sorry," in fact.
This is just one of the findings in a recent Canadian thank you behaviours survey. And these "thank you's" are not on auto-pilot or polite throw-aways. More than half of Canadians (60 per cent) say "thank you" in a meaningful and sincere way, rather than only 12 per cent who say it without thinking.
It's easy to say "thank you" out of habit as you charge through one activity to the next in a busy routine, but it's important to ask yourself how do you think that thanks was perceived? Each day I try and make a point to say thanks to my colleagues, employees, husband, children, parents and my barista: steadied with eye contact, underlined with weight of words, emphasized with significance in tone -- no matter how big or small.
Big and small appreciation is what we wanted to highlight the most when we surprised some unsuspecting Canadians as part of the #TDThanksYou program.
Take Linda from Toronto, for example, whose husband has Alzheimer's and relies on her day in and day out. It has been a tough road for her, and so she was surprised with a trip to England to visit her daughter and caregiving support for her husband while she was away. Then there's Crystal from Drayton Valley. When she lost her hair to cancer, whose branch manager also shaved her hair in support? Crystal received a much-needed getaway to Jasper with her family.
Personalization is the key to a meaningful thank you. The majority of Canadians couldn't agree more. Fifty-eight per cent of Canadians say a "thank you" feels most genuine when it's personalized. And we still overwhelmingly prefer a personal "thank you" to a digital one.
Generationally, there are some differences. Millennials are twice as likely as boomers to say a "thank you" feels genuine when they know they deserve it (50 per cent versus 25 per cent) or when it is accompanied by some sort of gesture such as a gift (21 per cent versus six per cent). Boomers are five times more likely than millennials to thank their neighbours (31 per cent versus six per cent).
And after the thanks is said? "You're welcome" is the most common response to being thanked, but compared to boomers, millennials are more likely to respond "no problem" (45 per cent versus 15 per cent).
Overall, Canadians agree that they are more likely to say "thank you" when offered unsolicited help (41 per cent) than when they receive a compliment (14 per cent) for example. When it comes to who we thank, friends rank top of the list at 60 per cent. Thanking family -- spouses (50 per cent), kids (30 per cent) and parents (29 per cent) -- seem to fall behind.
The Canadian stereotype of politeness is one to wear with pride, but let's set the record straight about our sorry reputation with one of thanks. And ask yourself -- who have you thanked today?
Teri Currie is Group Head Canadian Personal Banking at TD
Follow HuffPost Canada Blogs on Facebook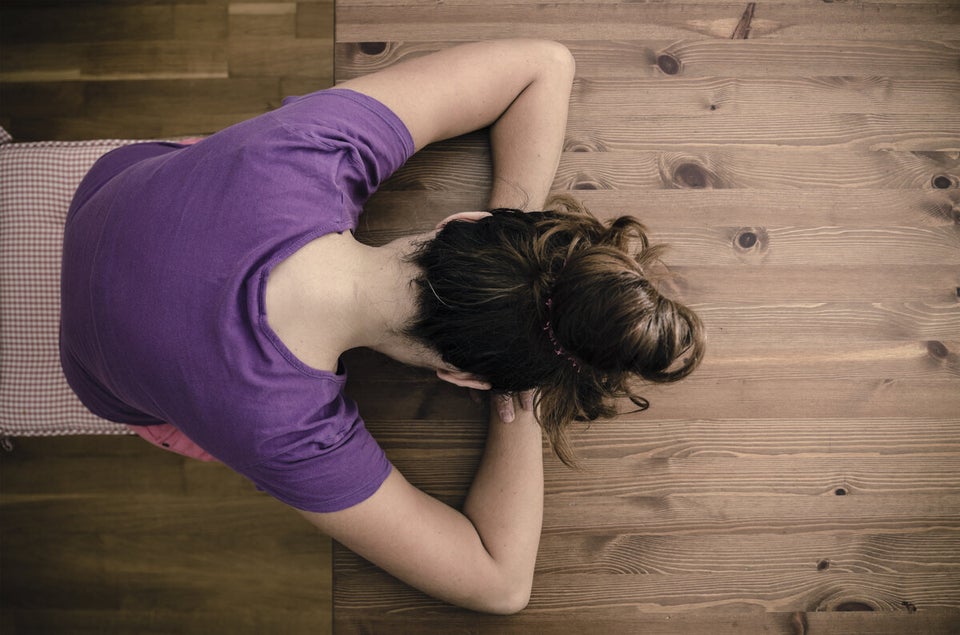 7 Reasons To Say Thank You To Your BFF