Van Gogh nailed it with his Sunflowers Series (1888). So did Andy Warhol with his portrayal of Campbell's Soup Cans (1962) and Clara Peeters with her banquet pieces. So why do art aficionados still relegate the still life form to the contemptuous annals of art history?
Throw yourself back to the 17th century. Academics in France developed the official hierarchy of artistic genres by ranking types of paintings according to their cultural importance and relevance. They deemed the most important art works to be those depicting the noble literary and religious events in human history. Because still life showed inanimate objects -- fruit, vegetables, soup cans, wine bottles, and more -- it was no match for history, portraiture, genre, and landscape.
Despite the ubiquitous success of these artists' work, some art historians and philosophers continue to dismiss still life as the lowest form of artistic endeavour -- the stuff of students, hacks, and Sunday painters.
Enter Mark Clintberg, art historian, curator, and still life specialist. The Calgary-based artist is making it his mission to celebrate and reclaim the forgotten genre by proving that still life is, well, still alive.
"The elements of still life -- commodities and their situation in space -- are a significant part of today's daily experience in capitalist settings," asserts Clintberg. "Images that follow the tendency of still life surround us, in advertisements for luxury goods, in supermarket flyers, in cookbooks, on billboards, and in many art practices of the twentieth and twenty-first centuries."
In his own work, Clintberg makes use of the still form while exploring the relationship between public places and our feelings. Take for instance 3 x 3 with Opening Tool (2014), which combines a simple copper wedge with nine copper plates treated with a vibrant green and blue patina. Both the wedge and tiles are common items, but when arranged in this way, they open up a second space beneath 3 x 3. Clintberg admits it came out of a fascination with the frailty of public monuments -- a common theme in still life.
He explains: "Many of the monuments and public artworks that we see when we're wandering in an urban environment seem to be fixed but if you think in a broader geological scale, they're very easily toppled and are not going to be around forever. This tool is meant to show that."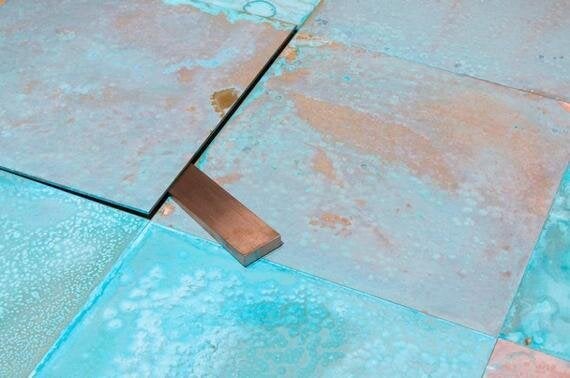 Photo: Mark Clintberg, 3x3 with Opening Tool (2014), milled copper, vedigris patina.
As lead faculty for an upcoming Visual + Digital Arts residency called Still Alive at The Banff Centre this summer, Clintberg is eager to explore the social, political, economic, and alchemical qualities of still life with other artists through a series drawing sessions, discussions, lectures, workshops, demonstrations, and studio visits. Those looking to join him are encouraged to apply for Still Alive by March 2, 2016.
Follow HuffPost Canada Blogs on Facebook