Making an original theatre piece from scratch is hard enough, but to design a set and add creative elements when your designers are spread out around the world is, well, a real accomplishment.
For the past two weeks, Too Close to the Sun theatre company has been in a production residency at The Banff Centre putting the finishing touches on their newest solo show, The Bluebird Mechanicals. It's the first time that co-devisors (and husband and wife) Talya Rubin and Nick James have been in the same room with sound designer, Hayley Forward, and video artist, Sam James, since the project was conceived over two years ago.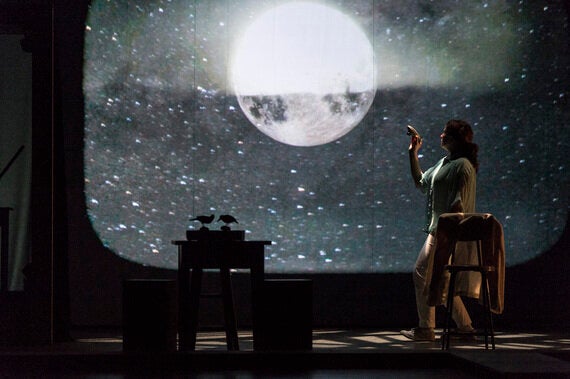 Photo: The Bluebird Mechanicals by Too Close to the Sun. Photo by Don Lee.
The company is known for installation theatre works that combine intense performances with stunning aesthetics. And while it's not unusual for their works to span the globe (the company divides its time creating and touring between Canada and Australia), it is a bit odd to introduce such important elements as sound and video so late in the process, admits Talya.
"We normally would bring them in early," she says. But because of scheduling conflicts, both Hayley -- who had worked with the company before on a previous project called Of The Causes of Wonderful Things -- and Sam were brought in a few months before coming to Banff.
"We tried to come as prepared as we could because we felt like two weeks [in residence] would not be a lot of time to achieve what we were trying to achieve. We knew we had to have as much done as possible," says Talya.
So, they started meeting regularly via Skype to sort out the details of their trip -- Talya and Nick in Canada and Hayley and Sam in Australia.
Over a period of five months, they shared notes, sketches, and video clips via Dropbox. They completed the sound design and drew a set to be built at the Centre. Finally, the day came when they stood face-to-face. And it was magical.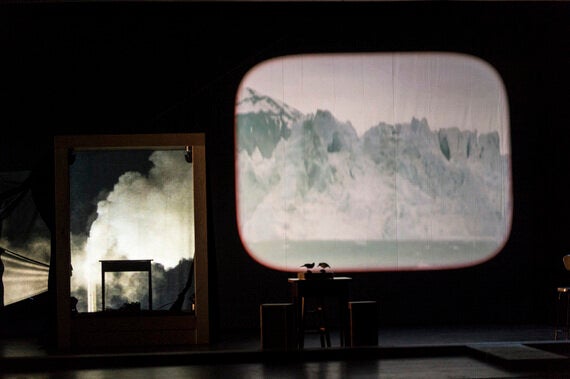 Photo: The Bluebird Mechanicals by Too Close to the Sun. Photo by Don Lee.
"There wasn't one moment when I thought, 'how frustrating' or 'I wish we could do this'. It was the opposite. [Hayley and Sam] were just flying with it! They got the work. The ability to be in the same room and to have access to this incredible equipment and a theatre to test has been amazing," exclaims Talya.
"We've managed to achieve quite a lot in the time that we've been here," adds Nick. "Before we got here, it felt far. Realizing all the elements felt like a huge leap. Just two weeks later, it feels ok, we're not that far. And we have a clear picture of where to go from now."
Follow HuffPost Canada Blogs on Facebook