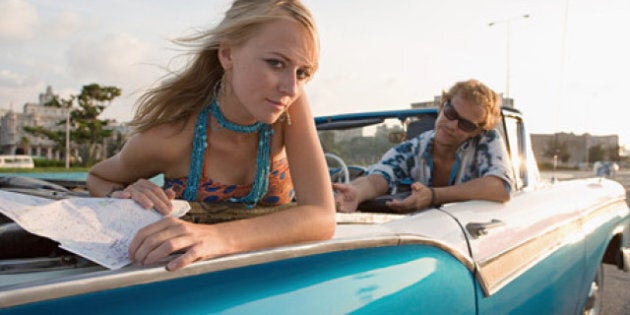 It's the weekend. It's cold outside. And work's been crazy nuts.
Your Blu-ray player and flannel pyjamas are looking particularly sexy right now.
Even though you live in the midst of a bustling city, it can be ridiculously easy to fall into a bit of a social rut. This is especially true when the weather outside is frightful (or, you know, anything less than 15 C).
Consider this your gentle reminder, a one-time wake-up call and a desperate call to action. You're young! You're free! And your city is full of some really awesome stuff. Look (and we say this with love), get off your butt and make the most of it!
Discover a New Favourite Haunt
It's all well and good to head to your favourite sushi restaurant every Friday night, but if you fall into your comfort zone and stop checking what else is out there, how can you ever know what you're missing? Be open to asking friends and like-minded co-workers for recommendations on new restaurants, lounges, pubs, clubs and galleries worth checking out. It's also a good idea to pick up alternative weeklies for tips on new hotspots and trendy, high-rated eating establishments. (Because if you haven't waited two hours for really good pizza or tacos, have you actually lived?)
Counterintuitive? We say nay! Sometimes the suburbs house some of the city's most hidden gems. From unpretentious, old-school bowling alleys to hidden arcades, multicultural food courts and mom-and-pop diners, sometimes you just can't beat the suburbs when it comes to all things kitschy and nostalgic. Torontonians, have you jammed some onion rings at the iconic Johnny's Hamburgers in Scarborough lately? Montreal, Gibeau Orange Julep awaits your lips! Let's go!
Plug Into Social Media. Hard.
Discover new places using social media. And don't forget to follow your favourite establishments on Twitter and Facebook to find out about events, specials and exclusive deals for V.I.P. customers on social media (that's you!).
It's so important to take a break from your city every now and again. Whether it's a road trip to explore a quaint nearby town and go antiquing (not just for grandmas anymore!), a few days relaxing at a friend's cottage, or a weekend roughing it in the wilderness, there's no better way to stop taking your big, shiny exciting city for granted than getting away from it all for a while.
Bust Out of Your Comfort Zone
Not a sports fan? Why not take in the ambience and foot-long hot dogs at your local baseball stadium on a lark? High culture not really your bag? Just this one time, indulge in tickets to a well-received play, ballet, or the opera. Trying new things is awesome. You'll experience an aspect of your city that you may never have seen before and you may even surprise yourself by actually enjoying it!