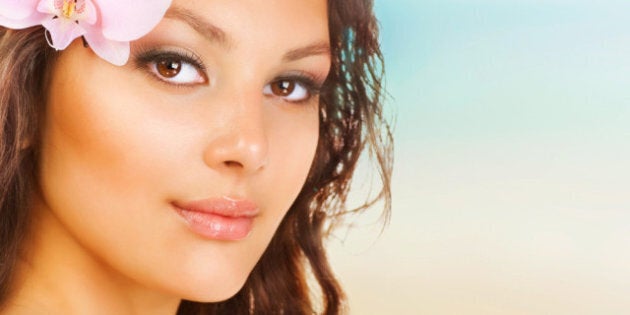 It's been ages since a deep, bronzed skin has been de rigueur, but soft tans with healthy, flushed cheeks were all over the runways this season, from Roland Mouret and Tommy Hilfiger to Isabel Marant. Here's how to get the look of the season.
Give your body a subtle golden glow
Deeply bronzed skin hasn't been popular for a while now. In fact, Cameron Diaz, Fergie and Jennifer Aniston often look like they've gotten too much sun and it's aging their appearance. A subtle, healthy-looking glow like Charlize Theron's is much more attractive and it can easily be achieved with self-tanners, which have come a long way (no need to fear becoming too orange).
Start with well exfoliated skin -- using a scrub, get rid of dead skin cells that will make your faux tan look patchy. Moisturize well (your skin, being freshly scrubbed, will really soak up the lotion). Pay special attention to areas of your body prone to dry skin such as your elbows, knees, feet and hands. Then pull on a pair of rubber gloves and take your time applying self-tanner evenly. For the most even colour results, use the same product (or ones for body and face from the same brand). If you're nervous about the colour developing into a shade too dark, try a lotion that slowly builds colour as you use it.
Give your face a sun-kissed look
For a really natural look, buy a bronzer that is matte rather than iridescent and glittery. Look for a shade that is closest to what your true tan looks like -- opt for one or two shades darker than your natural skin. To apply, use a medium-sized brush and dust on the higher points on your face where the sun would naturally tan your skin -- your forehead, the bridge of your nose and your cheekbones.
Accentuate your glow with soft makeup
A gorgeous look to go with your golden skin is to play up your cheeks with a sporty, chic look (as though you've just come in from playing a tennis match) by sweeping a tawny apricot blush onto your cheeks. Apply it a bit lower than the apple of the cheeks for that naturally flushed look. For the rest of your face, given the subtle, golden glow you've got now, you can go with nude lips (a taupe or peachy lipstick), a bit of mascara and eye liner and you'll look perfectly polished. If you want to make it a bit more glamorous, sweep some gold eye shadow onto your lids.
Scared of bronzer? Go even subtler with your glow using makeup products
If you don't want to use a self-tanner, you can give your face an even more modest bronzed look by using a foundation and mixing in some illuminator that has a touch of bronze in its undertones. Or pick up an inexpensive pressed powder in a shade darker than your skin and use that to contour your face. To do that, use a medium-sized brush and sweep it on the higher points of your face (forehead, nose and chin), and suck in your cheeks and apply to that hollow space, blending it well.