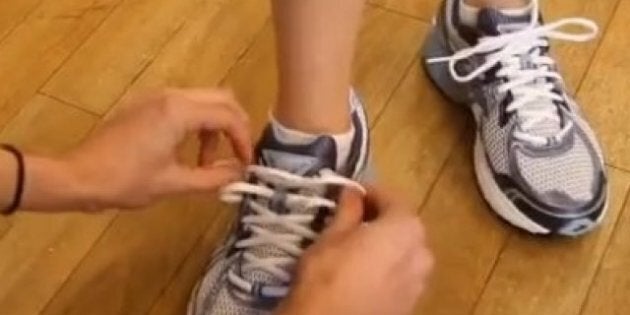 Inspired by the very public diets of Toronto's Ford brothers -- Mayor Rob and brother Doug -- a Huffpost contributor has decided to take up their Cut the Waist challenge, and shed 30 pounds by June 18. Our contributor will weigh-in every Monday with his progress (including a photograph of his bathroom scales that morning). He would like to be less public, however, about his identity.
I am going to ask for forgiveness in advance from my fellow geek peers. Ye, of the donutted and the sunlight-challenged pallor. I'm about to break ranks from my tribe, my people, my fellow socially challenged. I'd ask you to sit down before you read this, but let's be frank -- that's not really necessary, is it? OK, so here it goes. Forgive me guys. And that one girl. I have a confession to make: I. Miss. Exercise.
Oh the shame! I already feel the disturbance in the Force.
But I have to say, I really miss it. This past week I went on a longer-than-usual business trip and while I did pack my gym shoes and gym wear, all with the best of intentions, I ended up working myself into exhaustion from 12 to 15-hour work days. It was all I could do to drag myself back to my hotel room and collapse.
Some say life on the road is fun and exhilarating, gallivanting from one fancy hotel to the next. Yeah, well about that. I inherited a work ethic from my dad: first in, last to leave. I love my job and I'm not complaining. But my trainer, KickAss, reminds me that I am an athlete and that I need to start thinking more like one. What I should've done is scheduled to work until a certain time and then stopped. Hard stop. And then go running. This week I'm down one pound.
I don't remember when I first started running, maybe three years ago. I remember the inner negotiations I would make with myself to make those first baby steps. All you have to do is a mile. OK, half a mile. Jog until you're tired and then walk. Or walk the whole way. Just. Move. (You may recall from my debut blog how the motion detectors turn off the lights while I work.)
Then I got the device that changed everything: the Nike+ sensor. I could jog while listening to my iTouch and when I was finished I could download the stats to the Nike+ website. Here, my inner geek was thrilled to see an animated chart that tracked my speed (y-axis) against distance (x-axis). It was as breathtaking as a warm donut. I could see the hills (jogging speed) and the valleys (walking speed).
When I jogged, I also loved the hearing the milestones ("one kilometre", "two kilometres") and how, seductively, after crossing the midway, she changes from distance travelled to "two kilometers to go."
When you hear the glorious "400 metres to go" it feels downright rapturous. When you see how many calories you just burned at the run's end, it makes you want to celebrate with a cinnamon roll.
I learned to set goals like "Run 3K with only two walking dips in the chart" and then when I was able to run the whole way, I upped it to 4K and reinstated the two-walking-dips rule. When I was able to run 4K, I increased to five. Then six, seven, then eight.
Eventually, as I explained the idea to my doctor, I would keep upping the kilometres until I drop over dead and then next time, do one less, right? He suggested an alternative approach based on, I'm guessing, all those framed certificates on his wall. He prescribed a stress test of my heart and, based on the results, cleared me to increase my speed and distance. I run with a heart-rate monitor and when I reach my maximum heartbeat I'm instructed not to be afraid of it, that I can keep it there for a minute or two, just don't take a bath in it.
The first time I ran a complete 10K without walking I was exhilarated and in a different state of consciousness. I was high from a brain soaked in an endorphin wash and as I walked around the gym in a haze, I had a moment of pure psychosis. I heard Lance Armstrong say to me "Congratulations. That was your longest run yet!" I whipped around, nobody there. I looked up at the gym's loudspeakers. How did the gym know it was my best run? And what's Lance Armstrong doing there?
Duh. I still had my headphones on. It was the Nike+ app.
It's been a week since my last run and I miss it. And so, my fellow geeks, even if by this admission I am humiliated and asked to take the Walk Of Shame, I want you all to know one thing: As I take the perp walk towards exile, as you all turn your backs from me, I shall look at your fat and lumpy asses and think "Suck it, boys. And that one girl."