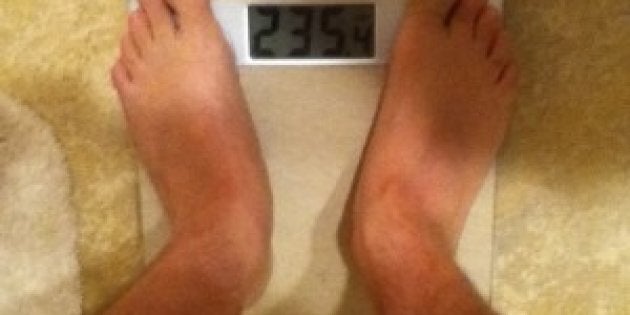 Inspired by the very public diets of Toronto's Ford brothers -- Mayor Rob and brother Doug -- a Huffpost contributor has decided to take up their Cut the Waist challenge, and shed 30 pounds by June 18. Our contributor will weigh-in every Monday with his progress (including a photograph of his bathroom scales that morning). He would like to be less public, however, about his identity.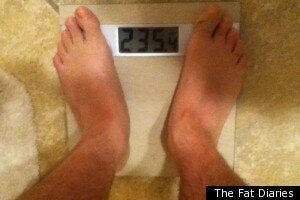 Well, it's been a month since starting The Fat Diaries and I'm happy to report my weight this morning is 235.4, a loss of 4.2 pounds since I started. Not Biggest Loser spectacular where it's common to see double-digit losses in a single week. When I started this blog I projected my per-week weight loss, both at the optimistic rate of two pounds and the more realistic 1.5 pounds. I'm excited to report that if I keep a constant loss at either rate, by this time in a couple of years I'll be negative pounds. Completely invisible. My favorite superpower.
The thing about tracking weight loss is that it's hard to know how to react when you weigh yourself each week. As my doctor continues to remind this software engineer, the body is not predictable like a computer. Just because you worked really hard at diet and exercise this week won't necessarily equate to weight loss the next. Sometimes there are plateaus and unexplained gains. You can eat and exercise exactly the same for two weeks and report two radically different results.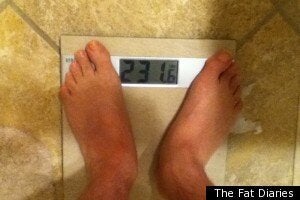 Case in point: Last Monday I weighed in at 234.4 and by Wednesday, I was at 231.6. Yes! A three-pound drop! By Friday I thought maybe I lost more so I weighed myself and saw -- gasp! -- 237.4! I had gained six pounds! Christ on a stick, what happened?
I'm a living complex carbon-based organism, that's what happened. These numbers are merely snapshot statistics that hold no true value when taken out of context. Every mother knows this: it's not the baby's temperature that interests the doctor, it's the rate of change over time.
Still, it's hard not to be disappointed when the weight loss isn't what you honestly expected. Might make a man reach for a drink or a piece of pie to drown his sorrows. And when the loss is dramatic, jubilation can lead to cockiness ("I can even lose weight if I have a drink or a piece of pie!"). Either way, the sly fox has arranged for you to meet the same fate.
This is why the best strategy is to use the WarGames approach: Don't play. Weigh in, because accountability is good. And then immediately move on to the next week. Make course corrections as necessary. Don't freak out. Don't celebrate. Don't fret. I remind myself: You're in it for the long haul. This isn't a race. Nobody can kick me off the island.
So it's been a month. Anybody can do anything for a month. Now it gets interesting.