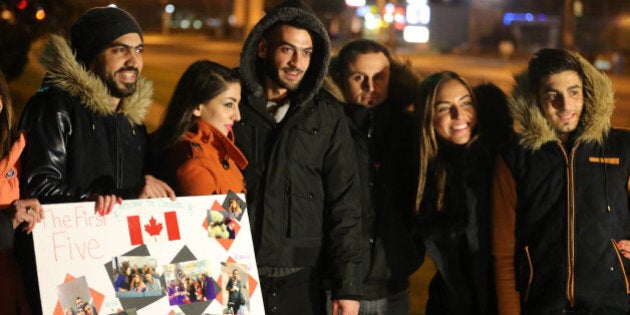 During my travels to nearly 50 towns and cities across Ontario in the past year, I have been deeply impressed and inspired by the caring nature of Ontarians. You have repeatedly demonstrated what it looks like to be truly dedicated to the health and wellbeing of our people and our communities. During a visit to Belleville in late November, I witnessed this generosity come alive in response to one of the largest crises in migration and refugee settlement since the Second World War.
On November 21, I joined residents to celebrate the 200th anniversary of the Bridge Street United Church in Belleville. This church's legacy is a testament to the work and vision of many, and the church continues to have a significant impact in its local community, largely through its food ministries.
As a gesture of thanks for attending and addressing the church's celebration dinner, a donation was made in my name to the efforts of the United Church Joint Assistance Sponsorship Group 388 in support of the settlement of a Syrian family, then living in a refugee camp in Jordan. In the weeks since, I have received reports on the travels and experiences of this family. Their story is similar to many now unfolding for these new residents and their sponsors in Canada.
This young family of five arrived in Canada on December 6. They had tried to remain in Syria, but had to leave due to increased violence and hostility to their political beliefs. The father was twice detained and was mistreated by the authorities. The family feared for its safety in Syria, and sought a better life. Like so many Canadians born here or elsewhere, they are driven by the hope of a better future.
Upon arriving in Canada, they immediately attended orientation sessions and received the necessary documentation to work, go to school, and receive health care. The three children are now attending school in Belleville, and their school is fortunate to have its own ESL specialist. I am hopeful that their experiences as students will help them successfully adapt to Canadian life.
To me, the most remarkable part of this story is how the community has rallied behind its new neighbours. I have been told of how complete strangers have been united by a desire to help in their own way: a couple who drove to a Middle Eastern food store in Toronto and brought back a carload of food; another who translated into Arabic all the labels for the spice rack in the kitchen. There were students from Albert College who moved furniture, a local handyman who installed curtains, drapes, and fixtures, as well as many whose only connection is that they have made donations. Students from the local St Michael Catholic School organized a fundraiser.
This sort of heartfelt generosity is a prime example of the kind of caring communities we nurture in all corners of Ontario. No less important is the support of places of worship, ethnic and community groups. And any definition of community must include the remarkable collaboration and warmth shown by all levels of government, the private sector, and civil society organizations that make the entrance of refugees at the airport so hospitable. It was such a privilege to witness. It says much about our values in Canada and what can be achieved by working together. It shows just how Ontario can and does contribute to the world.
What is also clear is that the arrival of these refugee families is not the end of the process, but merely the end of the beginning. With the kindness and compassion present in so many Ontario communities large and small, it is clear that these new Syrian families will receive a warm welcome and be supported as they make a new start in this vast and diverse country. As more displaced families begin to arrive in larger numbers, let us continue to offer our hands in friendship and offer this new generation of Canadians the encouragement they deserve. We eagerly look forward to the many contributions they will make to our beloved Canada.
As 2016 begins, we can only hope that for many thousands of people still living in refugee camps -- and in particular for those who will be settled in Canada -- a brighter New Year lies ahead.