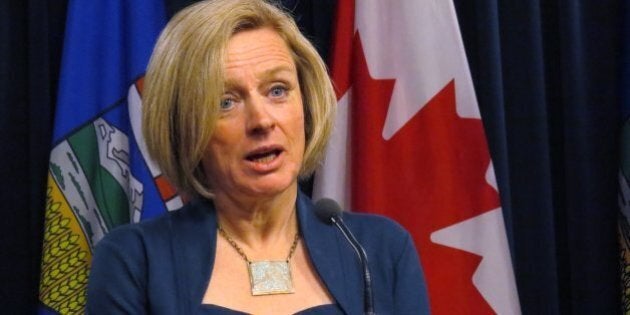 The speech Alberta Premier Rachel Notley gave to over 1,000 federal NDP delegates on Saturday in Edmonton's Shaw Convention Centre was a stunning thing to behold.
In a mere half-hour, she received around a dozen standing ovations, cracked a pretty solid joke about Donald Trump and delivered a unabashed appeal for the approval and construction of pipelines "that are built by Canadians, using Canadian steel."
But even more stunning was the fact that she completely failed to mention the rights or interests of First Nations, Métis and Inuit people.
Oil and Gas Industry Currently Critical to Alberta Economy
The Alberta government clearly has a reason for wanting to facilitate the export of more oil and gas via the proposed TransCanada Energy East and Kinder Morgan Trans-Mountain pipelines.
Notley emphasized in her speech that "hundreds of thousands of Canadians work in resource industries -- here and across Canada" and "we need to be able to get the best possible world price for the oil we produce here" via "pipelines to tidewater that allows us to diversify our markets and upgrade our products."
Alberta NDP Pledged to Implement UNDRIP, "Ensure Respectful Consultation"
Those are very nice ideas, supported by many political pundits and Alberta NDP supporters.
Article 32 of the declaration states that "Indigenous peoples have the right to determine and develop priorities and strategies for the development or use of their lands or territories."
Many First Nations and other indigenous groups have voiced opposition to Energy East and the Trans Mountain expansion -- the two projects considered most likely to be approved and constructed.
And free, prior and informed consent (FPIC) underpins much of the document, requiring that Indigenous peoples are consulted with in a way that ensures a process free of manipulation, conducted well in advance and with plenty of information provided.
Eriel Deranger, communications manager of the Athabasca Chipewyan First Nation (ACFN) suggests the NDP's push for the development of pipelines and oil and gas resources simply doesn't respect the principle of free, prior and informed consent.
"Where's the consent?" asks Deranger. "If communities want to say 'no,' then we're talking about a government that's willing to respect communities' right to say 'no' and to uphold that right," she says.
Many First Nations Oppose Energy East and Trans Mountain Expansion
Many First Nations and other indigenous groups have voiced opposition to Energy East and the Trans Mountain expansion -- the two projects considered most likely to be approved and constructed.
A letter sent by Mohawk Kanesatake Grand Chief Serge Simon to Quebec Premier Philippe Couillard in early March stated: "The Mohawk Council of Kanesatake as well as the rest of the Iroquois caucus has made its choice. Other First Nations are making the same choice."
Mike Hudema, climate energy campaigner at Greenpeace Canada, says: "Not only have First Nations not given their consent but they have said very strongly that they don't want these pipelines going through their traditional territory."
Federal Government Positioning to Implement Pipeline Strategy
On Monday, the National Post's John Ivison reported (while vaguely citing "people with knowledge of the matter") that Prime Minister Justin Trudeau has instructed cabinet ministers to prepare a pipeline strategy to "make Energy East and Trans Mountain expansion in British Columbia a reality."
The TRC also emphasizes the concept of free, prior and informed consent of indigenous peoples "before proceeding with economic development projects" and the requirement of "recognition and integration of indigenous laws and legal traditions in negotiation and implementation processes involving Treaties, land claims, and other constructive agreements."
Many First Nations Desire Co-management of Resource Development
Deranger emphasizes that First Nations communities are not anti-development: "There's this really, really antiquated notion that if you give First Nations the right to say 'no' we're going to end up back in teepees and sending smoke signals or something really ridiculous," she jokes.
Rather, she says First Nations are asking for co-management of resource development, something that has been done in the Northwest Territories, Nunavut, Northern Quebec and Manitoba (ACFN has been petitioning for a similar arrangement for 20 years).
"Co-management is not asking for everything," she says. "It's asking to be partners. Our ancestors signed our treaty agreements believing that we were signing nation-to-nation agreements, to be given equal say in the development of our lands and territories."
There has been no public indication that such conversations are on the radar of the provincial or federal government.
Alberta's Push for Pipelines "Flies in the Face of These Commitments"
After all, truly engaging with documents like UNDRIP and the TRC would require a complete overhaul of how development is conducted, could potentially pose a threat to corporate profits and prove difficult to explain to voters.
But the Alberta NDP perhaps shouldn't have promised to implement such policies if it just wanted to continue rapid oilsands development in Treaty 8 territory and ram pipelines through other sovereign territories without ensuring free, prior and informed consent beforehand.
"I do think the Alberta government pushing so hard for pipelines really flies in the face of these commitments," Hudema says. "A lot of First Nations communities are looking to see how the government deals with this situation to know how serious the government really is to its commitments to First Nations people."
Follow HuffPost Canada Blogs on Facebook