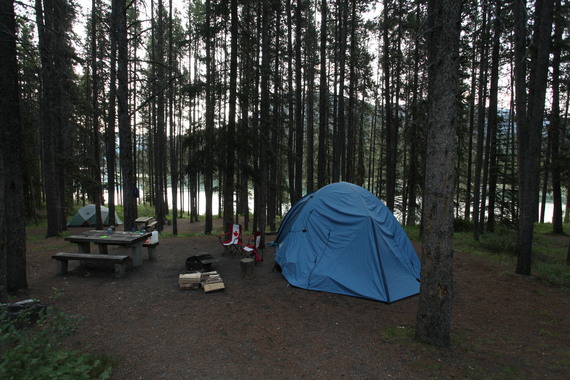 Camping with young ones doesn't have to be stressful (Photo by Quincin Chan/NCC)
Camping is many Canadian's favourite pastime in the summer. But once there's a baby in the picture, the idea of even car camping with infants and toddlers can be daunting.
Camping with infants doesn't have to be stressful. In fact, babies are incredibly adaptable. It might take a couple of days for babies to completely adapt to the different sleep environment, but once you have established a routine, they usually sleep extremely well in the tent, especially after a fun day of activities.
Here are my 10 tips to make camping with infants/toddlers less stressful for parents:>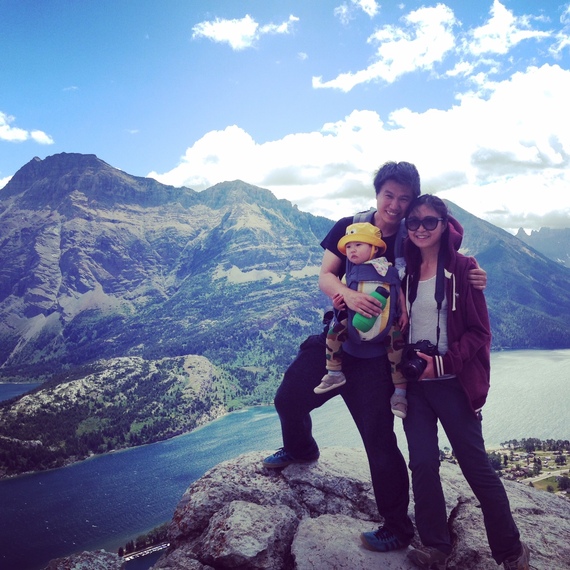 Family time in nature at Waterton Lakes National Park (Photo by Quincin Chan/NCC)
1. Lower your expectations
You are going to have less time for cooking. Prepare frozen meals in advance and heat them up at the campsite. If the park is close to town, plan to eat out for some of the meals. Let go of your rigid bed time routine for a day or two. It will be difficult to put a baby to sleep in Canada's bright summer sun at 7 p.m., but if you wait until eight, it will be a bit easier to block out the light. Let the kids play with dirt, leaves and explore. Kids will learn to be flexible and love nature from a young age.
2. Plan your day so that it's nap time while you drive.
A sample of a typical day at my camping trip to Sandbanks Provincial Park:
6:30 a.m. - Wake up and play in the tent for a while
7:30 a.m. - Breakfast
9 a.m. - Pack and head to the beach (pack the beach bag with all essentials in advance and use a wagon/stroller to carry the stuff).
10:30 a.m. - Snack, shower
11 a.m. - Get in the car for nap time in the car seat, and head out to a winery tour in the Prince Edward County (if you don't drink, perhaps look for hiking trails or a nice restaurant for lunch).
1:30 p.m. - Nurse, serve prepared lunch or eat at a restaurant
3 p.m. - Head to a local playground or go back to the beach if it's not too hot. Or opt for fruit picking.
5 p.m. - Burger dinner, grilled corn with freshly picked fruits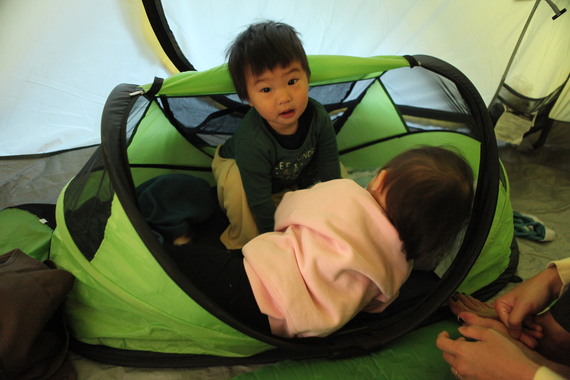 Pea pod -- a sleeping tent (Photo by Quincin Chan/NCC)
3. Sleep arrangement
Sleeping is probably the trickiest part of camping with infants/toddlers. "Pack-n-play" is an option but it takes up a lot of space and it doesn't keep them warm. We prefer a sleeping tent/cot. My little one is used to sleeping in his own crib, so he needs his own bed. The sleeping tent we have contains the baby in a small area and gives him protection from mosquitoes. And in the middle of the night if he needs to be nursed, you can easily pull him out of the tent beside you and nurse.
4. Some items that I find helpful for nap time include: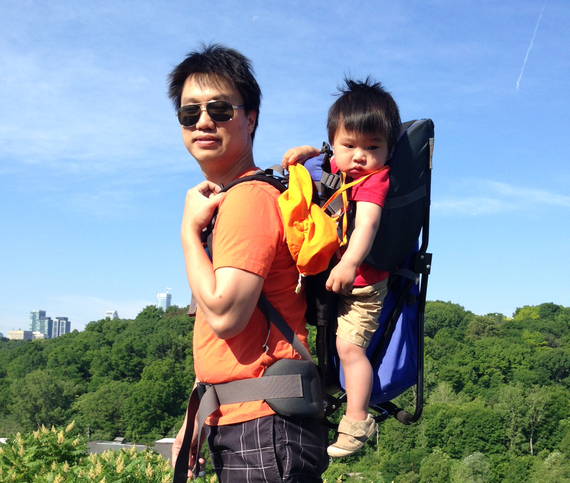 Getting around with your little one using a hiking carrier (Photo by Quincin Chan/NCC)
baby carrier
hammock
pack-n-play
swing
stroller
Bring a few and see which one works best for your baby.
5. Layers for the night time
The temperature change can be drastic when you sleep outdoors. Bring thick swaddling blankets, sleep sacks or a stroller/carrier cover. Sleeping bags aren't safe for infants and toddlers. Also make sure they wear a hat and extra socks to keep warm.
6. Extra clothes
Because things are always unpredictable with kids, you should always bring a few sets of extra clothes. You'd be surprised by how quickly you need to change their clothes, and shoes! Bring at least a pair of water shoes for him/her to wear in the shower, at the beach, or just because a puddle of water is usually there when you least expect it.
7. Glow sticks
If you have a walker, make sure you bring a glow stick or glow-in-the-dark t-shirt for him/her to wear. It's not only a fun toy, it also helps ensure the toddler is visible when it gets dark. Glow sticks are not the most environmentally friendly - they are toxic and are non-recyclable. Fortunately, there are reusable options such as LED glow sticks and glow-in-the-dark clothes paint.
8. Toys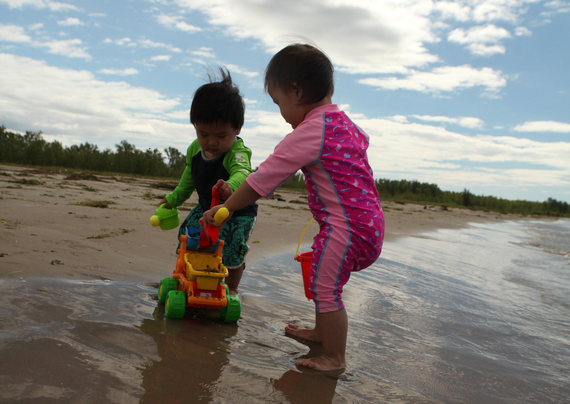 Bring toys to keep your toddler entertained (Photo by Quincin Chan/NCC)
Here are some toy suggestions, depending on your child's age: bubbles, beach toys, harmonica, bugs house, chalk, bucket of water, scavenger hunt, Frisbee and balls. Sticks and acorns also make great toys if you don't want to buy. Depending on how mobile your toddlers are, you may want to bring a blanket for them to crawl or roll around on, a fence or a screen tent to contain them in one place or a pack-n-play.
9. Sun protection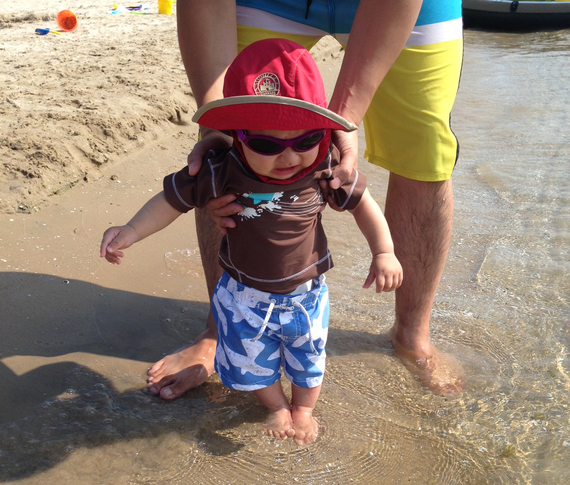 Sun protection for toddlers (Photo by Quincin Chan/NCC)
When you spend 24 hours outdoors, sun safety becomes a top priority. Here are some of the top tips from Environmental Defence for choosing the perfect sun protection:
Wear a hat and UV protection clothing.
Check the ingredients of your sunscreen and look for zinc oxide, which is an effective and safe mineral that blocks UVA and UVB. Avoid ingredients such as oxybenzone, vitamin A and fragrance.
Stay away from sunscreen sprays and powders.
Re-apply sunscreen often, no matter what the SPF is and even if it claims to be waterproof. Focus on avoiding over-exposure to sun and make sure to reapply after swimming.
10. Food storage
Bring a small portable cooler for milk and snacks or a thermos to mix formula. If your toddler relies on formula or milk at night, be sure to keep a portable cooler bag and thermos filled with hot water in your tent. It saves you the trip out of the tent in the dark and helps everyone transition back to sleep faster.
Hopefully these tips help remove some of your fears and make your first camping trip with your little one an enjoyable one! Start with baby steps and bring reliable friends to share the chores. You will become experts in no time!
Written by Quincin Chan, online fundraising and digital strategy coordinator, with the Nature Conservancy of Canada. This post originally appeared on Land Lines.
Follow HuffPost Canada Blogs on Facebook
ALSO ON HUFFPOST: