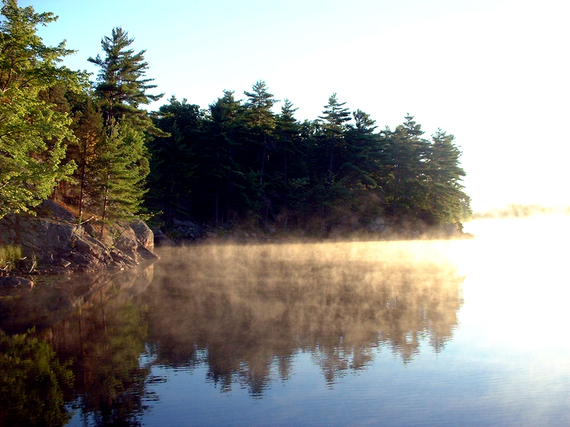 Elbow Lake, Frontenac Arch, photo by NCC
There has been a lot of attention and coverage in recent days about close relations between Canada and the United States and meetings between our respective political leaders to discuss issues of mutual interest.
Among these many common issues, one area where there has been friendship and considerable goodwill for more than 30 years is the shared pursuit of conservation. It is a huge success story that has involved vision and partnership.
The Nature Conservancy of Canada is proud to be among like-minded organizations in Canada and the U.S. such as Ducks Unlimited Canada, working together under the North American Waterfowl Management Plan. This plan is an international agreement that supports the long-term protection of wetland and upland habitats needed by waterfowl and other migratory birds.
The plan is supported in large part by funding from the North American Wetlands Conservation Act (NAWCA). The NAWCA grants program has resulted in $33.7 million in funding from the United States Fish and Wildlife Service, which has been directly invested into Nature Conservancy of Canada projects across Canada since 2001.
Every U.S. dollar received through annual NAWCA grants is matched by the Nature Conservancy of Canada with financial contributions from individuals, businesses, corporations, and family and community foundations, along with government agencies. To date, more than $161 million has been leveraged in matching funds.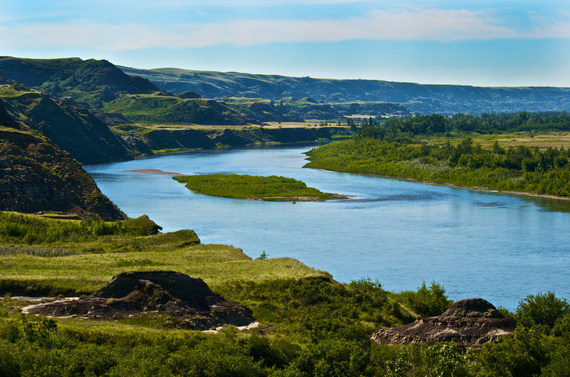 Red Deer River Natural Area. Photo by Karol Dabbs
Making a Difference
More importantly, it means 350,000 acres (141,640 hectares) of crucial habitat, including wetlands and associated upland habitat for waterfowl, have been protected from coast to coast, with valuable sites supported in every province.
Here are some examples of what has been accomplished by the Nature Conservancy of Canada across the country thanks to funding from NAWCA:
The South Selkirks Natural Area, which includes the Frog Bear Conservation Corridor lands, knits together a protected wildlife corridor through the internationally-significant Creston Valley wetlands. These lands protect the only known breeding site in British Columbia for the endangered northern leopard frog, along with habitat for many other wetland-dependent species. 42,339 acres (17,133 hectares) across B.C.;
The Red Deer River Natural Area is part of more than 49,000 acres (19,830 ha) of habitat conserved in Alberta;
The Missouri Coteau Natural Area in Saskatchewan has 130 conservation projects on 69,025 acres (27,933 hectares);
NCC's Manitoba Region has secured more than 61,000 acres in over conservation 200 projects. Within these projects over 23,000 acres (9,300 hectares) are upland habitat and over 10,000 acres (4,047 hectares) is wetland habitat for migratory waterfowl;
23,354 acres (9,451 hectares) in Ontario, including the Frontenac Arch, which includes prime habitat for mallards and wood ducks;
NCC's Quebec region protects more than 18,000 acres (7,300 hectares) of migratory waterfowl habitat in the St. Lawrence Lowlands.
Protection of lands at Musquash Estuary, located on the Bay of Fundy in New Brunswick. It is the only federal marine protected area designated in the province. There have been 15,590 acres (6,309 hectares) supported through this agreement;
20,089 acres (8,130 hectares) protected across Nova Scotia, including the Pugwash Estuary and the key Musquodoboit Harbour Ramsar site in the eastern shore region;
Percival River in western Prince Edward Island: 1,449 acres (586 hectares) conserved in total on the island;
1,392 acres (563 hectares) of wetlands across Newfoundland and Labrador, including the Grand Codroy Estuary on the island's west coast, a wetland of international importance.
The Nature Conservancy of Canada is the country's largest private land conservation organization. Since 1962, we have helped to protect 2.8 million acres (more than 1.1 million hectares) from coast to coast.
However when you look at the size of this country it is clear that there is still much work to be done to support wetlands and important habitat.
The impact is far greater than area alone suggests. The Nature Conservancy of Canada is making a very important contribution to continental conservation by directly addressing the most significant threats to Canada's spaces and species, setting clear priorities and focusing on areas most in need of conservation.
Why it matters
The protection of these natural areas not only benefits migratory birds by giving them a crucial resting spot and stopover but also people and communities by promoting recreation and ecotourism opportunities. The Nature Conservancy of Canada is pleased to help Canadians of all ages connect with our outdoors. These sites allow opportunities to walk, hike, bird, canoe, kayak, explore, learn and rejuvenate.
100th anniversary of Migratory Bird Treaty
This year marks a special milestone in cross-border conservation: 2016 is the centennial of the Migratory Bird Treaty, signed on Aug. 16, 1916. Plans to celebrate this anniversary are underway.
The Migratory Bird Treaty, and three others that followed, demonstrates the efforts by many groups to conserve birds that migrate across international borders.
Our political leaders are quite right in saying Canada and the United States have shared a long and successful history of working together. The efforts by many groups and agencies under the North American Wetlands Conservation Act to help conserve, protect and manage migratory bird populations is something outdoor enthusiasts and nature lovers on both sides of the border can feel good about.
The Nature Conservancy of Canada is just one of many Habitat Joint Venture partners contributing to this important work. To learn more about the many organizations playing an important role, visit: www.natureconservancy.ca and www.wetlandnetwork.ca
Written by John Lounds, president and CEO of the Nature Conservancy of Canada.
Follow HuffPost Canada Blogs on Facebook
ALSO ON HUFFPOST:
Canadian conservation successes in spotlight