Matt Barnes Photography
This past weekend, we embraced an opportunity of a lifetime -- a chance to kick off Budweiser's Made In America Festival. The past few months leading up to this have been a dream.
It started when we were invited to be a part of a documentary on indie bands. As part of the film, we were to perform at a small bar, in front of maybe 50 people. We did our sound check and were ushered into a cozy waiting area where we chatted up our set list. After a quick interview, we were taken to the stage through a dimly lit back route and POW! Budweiser was able to pack the venue with 800+ people screaming our name, wearing our shirts, on a stage filled with pyrotechnics, cameras, and everything! This all happened while we sat in the green room unknowingly singing slow jams.
The event was part of a new campaign for Budweiser Canada. The concert was filmed and became a national (and now international!) commercial. Since that time we have been thrust into the spotlight.
Following the commercial shoot, we were given the opportunity to open the Budweiser Music House at NXNE. After the most rambunctious of sets, we received a video invitation to perform at BMIA this weekend sharing the stage with icons like Kanye and Pharrell.
Fast Forward: Fully prepared to walk to Budweiser's Made in America, whatever it takes, yet again we were surprised with a vintage RV, complete with customized paint job and logo emblazoned on both sides. We were eye candy on the highway to the city of brotherly love as we rapped the Fresh Prince.
Adding to perfection, we were accompanied by an incredibly talented photographer and camera crew, who shot the entire experience. Philadelphia is INCREDIBLE and the festival was beyond anything we could imagine; the people, cheesesteaks, and opportunity to share what we love on a big stage. Benjamin Franklin Parkway was bustling with tens of thousands of people from around the globe all gathered in the name of music. It's hard to believe The OBGMs -- a Toronto band, looking for their big break -- were the first to kick off the whole festival.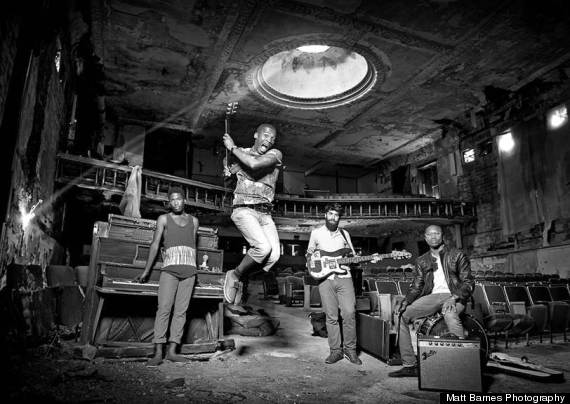 Matt Barnes Photography
We've never heard a kick drum sound so full. That huge festival sound allowed us to start the party right. Between the dancing, moshing, the sweet rattle of tambourines and the cheering crowd, we savoured every minute. There will never be an experience quite like this.
After the show was over, we met some great musicians like GlassJaw backstage and Mayer Hawthorne in the lobby of our hotel. We also made some compadres we'll have for life.
The icing on the cake was having all of our friends and family meet us in Philly. That's love. Who knows what the future holds? But it doesn't stop here. We cannot begin to explain how grateful we are for this amazing experience.
This is just the start.
- Denz, Cola, Jem, Joe
The OBGMs