I have been with my husband for 13 years, seven of which we have spent as a married couple. Roughly five-and-a-half years ago I started dating. Women. It may sound like I succumbed to something akin to the seven-year-itch, let my hair down and started to experiment a little, but the truth is rather more mundane: I joined my first baby group.
From that first semi-awkward gathering, sitting across from a row of unfamiliar faces and swelling bellies, the whole process of seeking like-minded women with whom you would want to share your precious time and the occasional meal felt like, well, a date.
Some prove memorable, others you wish you could just forget; for there is always the requisite list of duds: conversations that fall flat, chemistry that fizzles not sizzles. It can be really disheartening to invest a couple of hours of your time without having made a real connection to anyone, or having to acknowledge that the one flimsy connection you did manage to make with someone is just too contrived to go the distance. What, all that effort, and nothing to show for it?
Suddenly you're trying to position yourself near her at the next meet-up, like some crafty high schooler, engaging her in meaningful -- yet breezy, you don't want to come on too strong -- conversation. You have mentioned your potential new friend to your husband and he doesn't understand why you don't just email her and ask her to meet for a coffee. "Oh no, it's too soon," you reply, rolling your eyes and sounding like a sound bite from The Rules.
Not unlike romantic dates, there is a certain code for friendship dates. We can't help but gravitate toward other women we are "attracted" to: those who appear, on the surface, to share a certain sensibility, someone we will likely have more in common with. But, you have to read people and adhere to social cues -- and I am speaking from experience here: There is nothing worse than being on the receiving end of an over-enthusiastic woman's determination to make you best friends.
And, rest assured -- just like romantic dates -- not all your efforts will be reciprocated. A hard knock for the old self esteem. Yes, pregnancy is tiring, but dating while you're pregnant is downright exhausting. Nonetheless, baby and mum groups have long been a lifeline for me because I had my children while living abroad. Back home, I have friendships that date back as far as grade school and high school. Solid besties I can call on for advice or to just to hang out. But when I got pregnant roughly a year after moving to Hong Kong, I was working part time from home and knew very few people. Not being part of a professional environment where I could meet people organically, I was forced to move beyond my comfort zone and seek out new friendships. Even the initial contact we prospective-friends made via a local online baby forum smelled vaguely of internet dating -- commonplace now but, having boomed just after I met my husband, unfamiliar to me.
The experience proved invaluable. Some of the friendships forged from these groups I will value and nurture forever. And unique to these relationships, formed with our children still tucked up in our collective wombs, is the instant support group comprised of women experiencing pregnancy in tandem with your own. Beyond that, perfectly age-appropriate play dates once our babies were born.
My sons are now 3 and 5 -- no more baby groups for me. But as our family plans a move to San Francisco in a few months, I am struck by the realization that, once again, I will not know a soul once we move. So, enter the next phase of my girl-dates: the set-up. I had never gone on a blind date with a man when I was actually in that game, but here I go.
So far I have been given one phone number I am expected to cold call once I arrive (gasp), and two email contacts (much easier). I have only reached out to one woman via email as yet, similar in age, with two boys similar in age. Sounds promising. And instead of going through the motions in person, we are behind our protective screens, alleviating the awkwardness. I can already tell from the tone of her writing and the tips she is providing for our relocation that we have similar tastes. She would likely be one of those women I would be vying to sit near at a baby group, with whom I would attempt to strike up some witty conversation.
Granted, it can feel like you are throwing spaghetti against the wall, waiting for the right friendship to stick. But if you can hang your cynicism up at the door and silence your preconceived notions, the ­­­­payout is worth it. Like a solid marriage, when you hit pay dirt in the friend department the rewards are endless. And these gems are often all the sweeter for the hard graft you did to get there.
The Purple Fig is a community where women share personal and relatable stories; no ego, no shame. We're about life, love and all of the stuff that makes us yearn, squirm, and giggle. These stories make up the authentic and intriguing journey of a woman.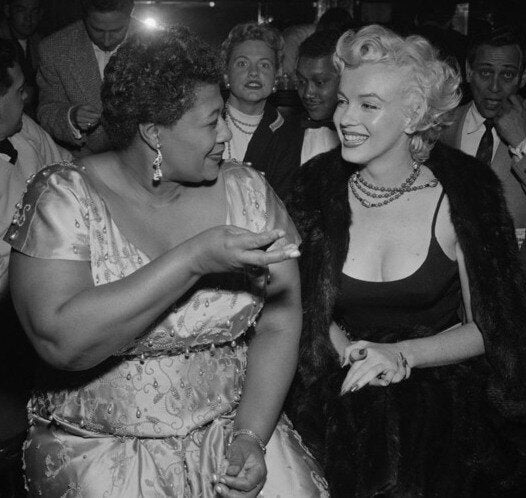 Famous Female Friendships