The day many people dread and others anxiously await is fast approaching. I'm talking about the day where countless women expect some sort of grand love gesture. A candle-lit dinner for two in a restaurant that tripled the price for its famous spaghetti and meatballs. A surprise proposal with the help of a herd of crazy flash mobbers. They day you know that celebrating friendship is just a bullshit cover up for single people so they don't feel excluded.
Valentine's Day: love it or hate it, there's nothing you can do to stop it. Whether you're in a relationship or been single for six years, cinnamon hearts and overpriced withered roses are being shoved in our faces like there's no tomorrow. To avoid the potential stress, disappointment and financial burden such an occasion can bring, here are five no bullshit tips for surviving V-Day like a boss.
1. Don't pay $40 for two stupid oysters and a sugary cocktail
Despite our genuine feelings of love and friendship we have towards one another, we all know that Valentine's is just another excuse for businesses to suck on our wallets. You're entitled to celebrating love on February 14, just don't fall for all the faux-specials lurking around. I'm totally into aphrodisiac oysters. But I won't be paying $40 for two and a cheap pink drink. I'll be purchasing a crate of oysters at the grocery store for $20 and making my own little cocktail. I'll even drop frozen cranberries in the glass -- just for show.
2. Don't binge eat all the crap you swore off in January
Need I remind you that Christmas was only a couple of weeks ago? If you want to share a box of French macaroons with your lover, I'm fine with that. Just don't forget how bloated and tired you felt at the beginning of the New Year after eating all those sugars and carbs. Your body is a temple, people! Take care of it.
3. Make things happen. Don't EXPECT anything.
Last week I was "working" from home, also known as procrastinating and reading fashion magazines. I was flicking through the February issue of Flare when I stumbled upon an interview with Vanessa Hudgens. When Flare asked her if she had any Valentine's Day plans, she replied: "I expect a nice dinner, or an exciting dinner adventure. I expect yummy cocktails or wine. I expect to eat chocolate and I expect to get flowers."
Hello? Earth to Vanessa? It takes two to tango. It's not only up to the other person to plan a special date. I have diva tendencies but unlike Vanessa over here, I don't expect my husband to take care of everything in our relationship. I expect unconditional love and respect. Yet it's also important to nurture your partner too! You want to make memories? Don't be like me when I'm working from home. Be proactive.
I'll use any occasion as an excuse to drink champagne. Cleared your credit card debt? Drink champagne! Just got dumped? Drink champagne! Feeling fabulous? Drink champagne! Hate people that are too excited about Valentine's Day? Drink champagne and shut up. Any excuse is good enough to indulge in some liquid luxury. Unfortunately for me, I'm broke and I've already used up all the champagne bottles my husband and I received as wedding gifts five months ago. Luckily for me (and you!) there are budget-friendly options out there, like a great Prosecco, blanquette de Limoux or crémant de Bourgogne. Pop and enjoy!
Too much pressure isn't good. If you're into Valentine's, that's totally fine. But it shouldn't be considered as THE day when true love is proven. I think it should be viewed as a playful and easy-going day to spend time with people you hold dear. If it doesn't live up to your high or unrealistic visions of love (i.e., no surprise proposal, no heart-shaped charm to add to your silly bracelet or worse -- no special someone to slurp a piece of spaghetti with), you risk disappointment. Just chillax and count your blessings. There's always tomorrow!
The Purple Fig is a community where women share personal and relatable stories; no ego, no shame, no judgement. We're about life, love and all of the stuff that makes us yearn, squirm, and giggle. These stories make up the authentic and intriguing journey of a woman.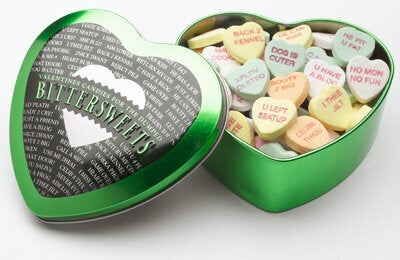 Last-Minute Valentines Day Gift Ideas For Your Ex