On a recent trip to Ottawa, I fashioned a dining options hypothesis. It came the night of, let's call it, Theresa-locks and the three restaurants...
There is a sliding scale on a continuum that begins with great food and conducive ambiance on one end and crap you can't or shouldn't put up with on the other. The hypothesis can probably be applied to any service purchase but it is particularly critical when you are entrusting your housing, time, entertainment and nourishment to others.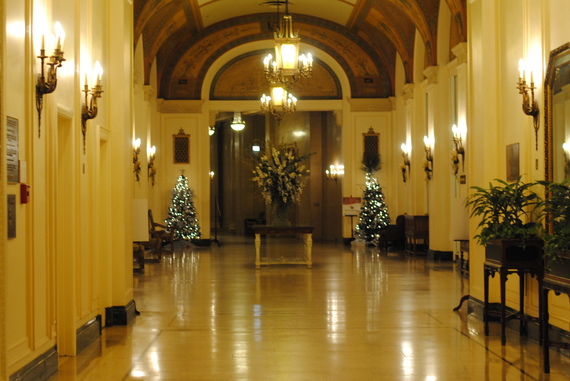 Stay
Preferred housing in Ottawa sits on the hill. Fairmont Chateau Laurier runs deep with history and long on stunning views of the Parliament Buildings that are not only the centre of this city but also the core of Canada. For about $400 per night you can walk the hallowed halls of history where scoundrels, prime ministers and the famous have played and made change. Every exquisite detail from the wrought iron in stairwells to the exact and prompt timing of your eggs Benedict is carefully crafted. Buildings just aren't made like this anymore as each sightline sparkles with the ornate and makes for sumptuous comfort.
Weigh
Dinner was a titch trickier. I had multiple recommendations for a bistro called Town where the food was told to be special. It may indeed be but I didn't get that far. I found the room so cramped and seating in a centre bench between two tables that were close enough to share a bread basket (and impossible not to overhear every word of conversation ). This, for me, was not the way to spend a Saturday night.
Next was an impressive house of a resto called Beckta on Elgin. The atmosphere was special occasion dim and muted but so was the welcome. Without a reservation on a Saturday night we were told no go but we could have a seat at the bar. That seemed suitable enough while we took the time to look at the menu. Ooops! We were told, within the two minutes it took to discuss, our seats at the bar were pulled out from under us. The eve ended up with the bailout default that most people slide toward to avoid this kind of hunt, we settle for the mediocre but ok somewhere in the middle. A popular crowded chain restaurant crammed us in and overwhelmed us with just enough beer and half decent eats to make the disappointment go away but it did not float my gustatory nor ambient boat.
Perfection vs convenience loses over hunger every time. That's my hypothesis. So for a better outcome, plan ahead, do some research, trust your inspired friends more than online reviews and make a reservation. But don't feel you have to see it through if it isn't quite right! That's the lesson. When followed my own advice, I landed at Union Local 613 on Somerset and it sparkled at the just right end of the spectrum. Ambiance, food, lighting, sound, seating and price all rolled into an ideal eve.
Play
The usual things to do in Ottawa include the National Art Gallery and a tour of those hallowed parliament buildings but for an unexpected sidestep try this: Astrolab Gallery on Sparks Street and the Agriculture Museum
Astrolab is and antique art and map shop neatly tucked away, owned and operated by a man named John for the last 45 years. A conversation with this gentleman is worth hours spent with a docent at any museum or gallery. He is informed and creative and can help you find the most unique artifact of our fair country.
The Agriculture museum houses many buildings not the least of which is filled with tame goats.(I have a thing for goats that can't be explained in normal language.) Then there is a learning centre, experimental gardens and stroll horse and cattle barns, an energy park and lots of outdoor space in honour of that which sustains us personally and ecomonically: Food, Shelter and Information.
ALSO ON HUFFPOST: