My motto is and always has been "don't die before you are dead." This tenet factors into every decision I make from whether or not to go to the gym on a rainy day (when consuming cookies and cocoa looks better) to whether or not I have the time to take a trip.
Self-employment means I get to set my own hours but for every hour I chose to do something other than work, I have to manage the stress of knowing I am not paying the rent. There are ways to do both. Here is a video of my trip to Chateau Montebello, Quebec.
So I borrowed a 2016 Cadillac CTS from the media fleet at General Motors at and boogied to la Belle Province where my colleagues at Fairmont Hotels and Resorts put me up for a bit of a rest. Resting in my entrepreneur world necessarily means blending work with pleasure and comfort with efficient luxury. Taking care of that kind of business really does make it more possible to take care of business, business.
You should know that I actually drive an eight-year-old rattle bucket that has no bells, whistles, or comfort. This would not be conducive to getting any work done; it is strictly an A to B proposition. This trip, I took the cushy passenger seat and the captain took the wheel.
I logged into the on-board 4G WiFi, adjusted my three-button manoeuvrable leather seat and set to work. He took great pleasure in the auto steering features that effectively floated us within our lane, within our set speed and auto piloted the pretty blue cocoon. This caddy buzzed his butt each time he veered out of the lane or got too close to another vehicle on autopilot. It was a nice ride to set off and explore Quebec.
From my perspective, I may as well have been in a first class pod flying direct into a castle of the past. I did find its auto shut off and restart unnerving each time the car stopped at a light. I assume this feature is a gas saving device but each time it shut off and restarted itself the car shuddered and startled me from my writing and web browsing.
In the woods, seemingly in the middle of nowhere is a massive log cabin built in 1930. Entering Le Chateau Montebello instantly transports you to a time gone by. At the core of this star shaped massive log cabin is a hexagonal fireplace with a variety of cozy sofas and settings in the lobby. The utter opposite of stuffy hotel lobby, everyone can feel cozy here.
It is easy to imagine trappers of the past and hunters of the present rubbing shoulders with dignitaries all in their winter woollies. The history and heft of the building is embracing and the history is captured in photography on wood log walls. It is a perfect place to come in from the cold and curl up with a book and a coffee or a laid back glass of Quebec beer. Rooms are spread across pods so that each has a view of the water and the woods with windows that open wide to let in the light and the breeze (or can be shuttered against the snow as the case may be.)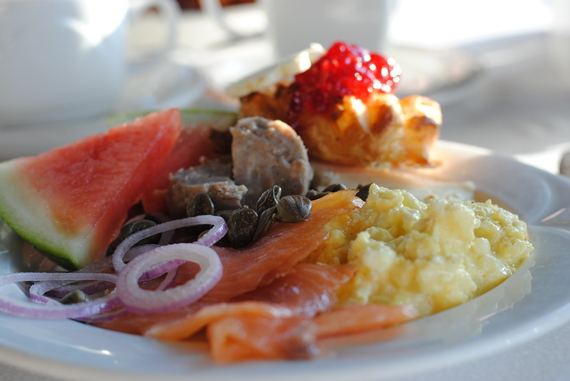 Breakfast here represents a mouthful of my Quebecois childhood with baked beans, oatmeal, scrambled eggs and crepe with maple syrup and butter. Townies concur that the best place to eat is in this dining room. Of course there are options in town that are delicious or quick or sporty but the finer event happens here with three-course meals starting at $56 per person. Of note would be the 16-ounce sirloin steak that could feed three pioneers, cooked perfectly and sauced richly. Fresh crispy skin bass was the opposite and equally delicious.
With all the eating and lounging to be done, one must balance in some activity. There are walking trails and mountain bikes to borrow and a four wheeling adventure. Indoors there are squash and tennis courts and they will even teach you how to curl. There is of course the requisite gym and a stunning indoor swimming pool. The fitness and spa building is as stunning as the main log cabin with its vaulted ceilings housing skylights and enough hand painted decor to invite lounging ceiling staring. Oops, this is the activity section....