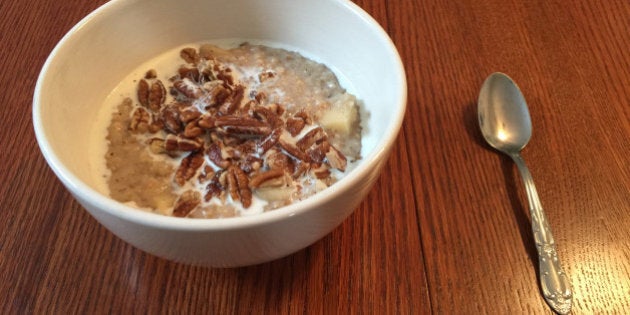 On the way up to the cottage, my university aged daughter and her friend announced "guess what? We are going to try eating vegan!" The friend has had digestive concern since I have known her as a little girl and my kid is an adventurous eater who loves animals so I support their choice. I do! But let's face it, my plans of tossing a bunch of chicken on the BBQ on Friday night and using it creatively through the entire weekend had just gone overboard.
While I waggled my finger at them at the importance of paying careful attention to protein and supplementing with B vitamins and zinc on a vegan diet, I fashioned a menu in the back of my mind.
The most critical part of the day is breakfast and making sure that it is enticing, delicious and filling with protein and fibre. Scrambled eggs for those who desire and these two meals fit the bill:
Vegan Breakfast Skillet Tofu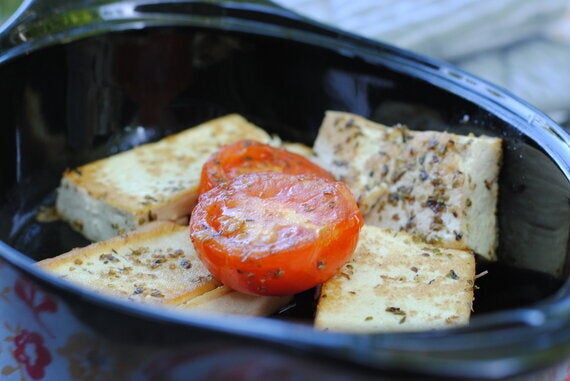 So you have an overnight guest who is vegan. Don't panic! Breakfast is a simple as an extra pan while you fry your usual eggs. And it won't kill ya to try it yourself...
Makes: 4 Servings Takes: 5 minutes
1 block tofu, firm
1 tablespoon walnut oil
2 teaspoons oregano
1 clove minced garlic
4 halved tomatoes
Walnuts for topping
Drain and slice tofu into large pieces, pat dry with paper towel.
Drizzle tofu with walnut oil and sprinkle with oregano while you warm a cast iron skillet.
Add more oil to pan and sear tofu on both sides, remove from pan to platter.
Toss in garlic and fry tomatoes for 1 minute on each side, serve with walnuts.
Vegan Sweet Potato Oatmeal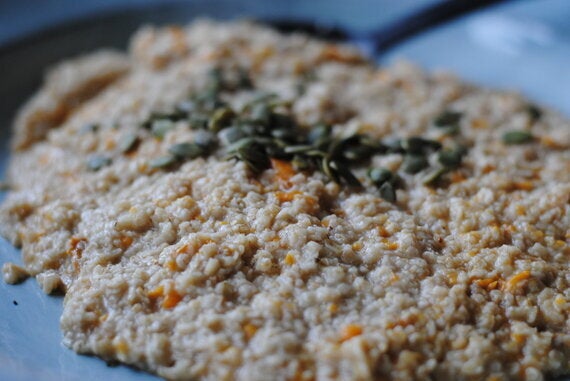 Makes: 4 servings Takes: 10 minutes
3 cups water
1 1/2 cups rolled oats
1 sweet potato -- cooked
1 tablespoon cinnamon
1/2 cup pumpkin seeds, roasted
1/2 cup walnuts
1/2 cup dried cherries
1/2 cup maple sugar
1/2 cup chia seeds
Bring water to a boil and stir in oats, simmer until soft, about 5 minutes.
Mash sweet potato and stir in with cinnamon, warm through 1 minute, serve with toppings.