My wife and our 18-month old Luke took on a Main Ingredients cooking challenge this summer and found it really fun and fulfilling, literally. So when our family was presented with this newest cook-off task, we were raring to go.
Little did we know that we might have bitten off more than we could chew. It's one thing to take some time during the weekend to try cooking a healthy meal together as a family. It's an entirely different challenge to try to make a quality breakfast during the weekday.
On a good day, my wife and I have a chance to share a bowl of cereal before we have to rush Lil'Luke off to daycare, then head to work ourselves on the subway -- all before 8:00 a.m. at the latest.
Admittedly, the most important meal of the day is hardly a priority in our family. We're too busy making sure Luke's pants aren't on backwards (and mine too for that matter) during the morning rush.
As a result, we jokingly called this latest challenge: The Amazing Breakfast Race.
The challenge: A healthy breakfast that's actually fast
Mornings are all about teamwork between my wife and me. While she showers, I wake up at 6:30 a.m. and dress Luke. Then while I shower and get dressed, she feeds him before we jet out of the house.
To complete this challenge, we woke up at 6 a.m., giving us an extra 30 minutes to make breakfast and eat. Since time was of the essence, we decided to quickly fry up a new creation: Edamame omelette stuffed with ricotta cheese and turkey breasts, with a side helping of apples and bananas. It was a mouthful.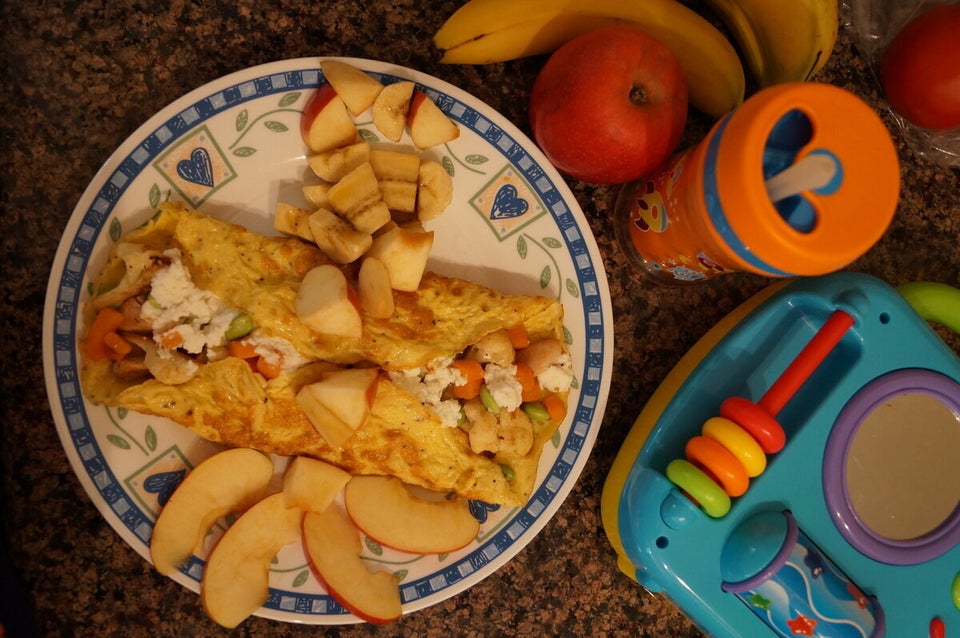 Challenge #1 : Busy Morning Breakfast
• 125 mL (1/2 cup) frozen shelled edamame
• 125 mL (1/2 cup) cauliflower florets
• 125 mL (1/2 cup) cubed sweet potatoes
• 150 g (5 oz) turkey breast cut into strips
• 60 mL low-fat ricotta cheese
The night before, prep ahead of time:
-Boil frozen shelled edamame for about 5 minutes until cooked. Drain.
-Sautéed cauliflower florets for 5-9 minutes, until tender.
-Blanch cubed sweet potatoes, drain, then sauté until lightly browned
-Marinate turkey with pepper. In a pan, sauté onion in olive oil. Then add turkey breasts strips, turning occasionally until cooked on medium-high heat. Cook the strips until their internal temperature is 85 C (185 F).
-Let all the ingredients cool and store in the fridge until the next morning (you can mix them together if you like to save even more time in the a.m.)
In the morning, it was easy to assemble the omelette:
-Gently beat eggs and pepper with a fork in a bowl. Pour half the egg mixture into a hot pan with oil heated on medium heat and distribute it evenly onto the cooking surface of the pan so covers it. Repeat process for second omelette.
-Let the egg cook a little so it starts to firm up
-Add enough of the turkey strips, cauliflower, sweet potatoes, and edamame to cover half the egg mixture. Lift the edges of omelette occasionally to let uncooked eggs run underneath.
- Add two tablespoons ricotta cheese on top. Fold omelette. Slide onto plate.
-Cut apples and bananas into desired sizes and shapes. Can be used as fruit salad on the side or decorated into something fun for kids.
The Results: Morning Glory
Since we had the ingredients already prepped, making the omelette took less than 5 minutes. My wife was shocked when she realized that making the omelette only took a little bit more time than pouring a bowl of cereal.
We actually saved some time in the morning because Luke enjoyed eating with us, instead of having to prepare a special breakfast for him. He liked the egg part of the omelette but spit out the edamame.
We barely had enough time for a sit-down breakfast, so I grabbed some whole grain bread and stuffed some omelette between them, creating an instant gourmet breakfast sandwich to eat on the go. My wife cling-wrapped her sandwich so she could eat it later at the office.
We're going to try making breakfast again using these same healthy ingredients. However, we'll have to brainstorm meal creations that are easy to pack-up and go, such as breakfast burritos, fruit and yogurt smoothies or pancakes.
When we got to our respective offices, my wife and I noticed an interesting side effect from having a filling breakfast - we both subconsciously didn't feel the need for a coffee break in the morning. I don't think Luke needed a coffee either as he settled into his work at daycare. Who knew that having a nutritious breakfast was enough of a morning "pick me up?"