And with it comes the harsh, cold, bitter weather. Fortunately, the food doesn't have to be that way. My wife and I enjoy hot, filling, comfort foods during the coldest months -- especially after hours of shoveling snow together, while our 2-year Luke throws snowballs at us.
However, our winter dishes tend to focus more on heartiness, rather than healthiness. So when I was challenged to create healthier winter comfort classics for my family, I warmed up to the idea and came up with the following dishes that could be whipped up in a cold snap.
Unlike past cooking challenges, I wanted to take my time to prepare and enjoy my comfort food. We decided to go with a four-course meal to stave off the winter blues.
MAIN DISH: Beef Stew with Black Eyed Peas
Main Ingredients Used (In Total):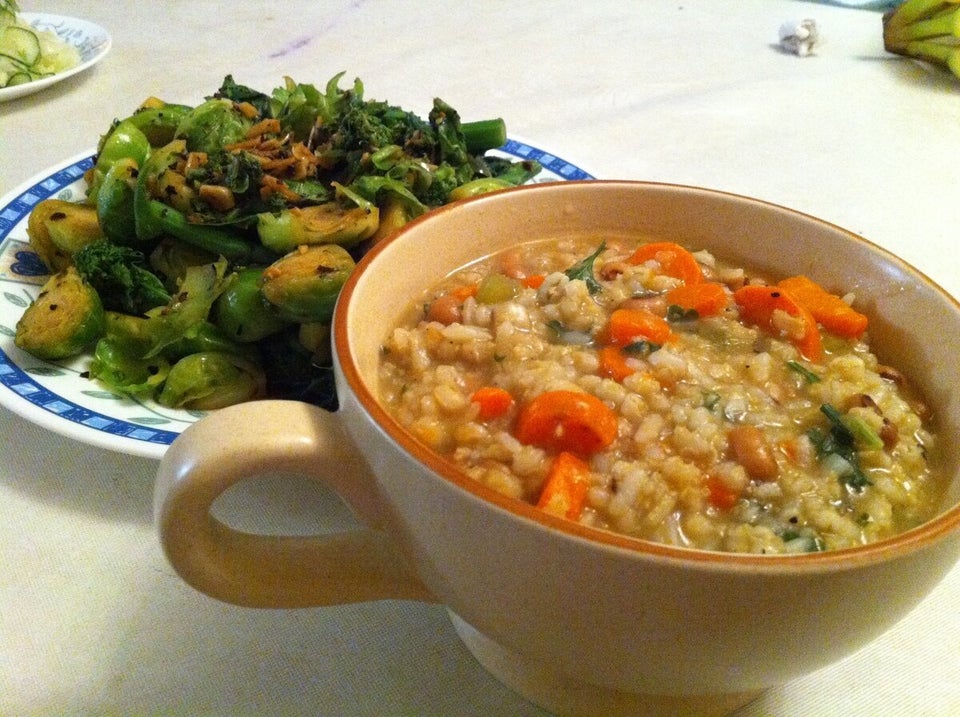 The Main Ingredients III: Challenger's Meal 4
Pomegranate
Beef
Rapini
Pumpkin Seeds
Brussels Sprouts
Pears
Black-Eyed Peas
Fennel
Barley
Brown Rice
Goat Cheese
454 g (1 lb) stewing beef
472 ml (2 cups) beef broth
250 mL (1 cup) barley
250 mL (1 cup) black eyed pea
250 mL (1 cup) brown rice
125 mL (½ cup) carrots
125 mL (½ cup) celery
12 mL (½ cup) onion
1 Tbsp. parsley
pepper to taste
Pinch sugar
Preparation: Throw cubed beef into a boiling pot of water. Bring pot to boil again. Drain beef. Add one part water, one part beef broth into pot. Add equal amount of rinsed barley, brown rice and black eyed peas into pot. Add diced carrots, celery, and onions into pot. Bring pot to a boil then reduce heat. Let simmer for about 50 minutes. Add pepper and sugar to taste. Add chopped parsley and serve.
SIDE DISH: Rapini & Brussels Sprouts in Garlic
1 bunch rapini
250 mL (2 cups) brussels sprouts
goat cheese (to taste)
1 clove garlic, chopped
½ tsp. pepper flakes
pepper (to taste)
Preparation: Trim off tough bottoms of rapini, about ½ inch from base. Halve the brussel sprouts. In a salted boiling pot of water, add the Brussels sprouts and rapini. Cook for about 6 minutes until stalks tender. Drain and run under cold water. In a hot pan, add oil, chopped garlic and pepper flakes. Add drained brussels sprouts and rapini into pan. Add pepper to taste. Pour onto dish and sprinkle goat cheese on top.
SALAD DISH: Fennel Cucumber Salad
1 fennel bulb
1 cucumber
177 ml (¾ cup) white wine vinegar
59 ml (¼ cup) olive oil
sugar to taste
pepper to taste
Preparation: Thinly slice fennel and cucumber. Mix three parts white wine vinegar, one part olive oil in bowl. Add sugar, salt & pepper to taste. Pour the dressing on the fennel and cucumber, mix well. Cover and let sit in fridge until serve.
DESSERT DISH: P4 - Pear, Pomegranate Phyllo Pastry
4 ripe pears
250 mL (1 cup) pomegranate seeds
250 mL (1 cup) pumpkin seeds
125 mL (½ cup) brown sugar
1 tsp. cinnamon
1 package phyllo dough
113 g (½ cup) butter, plus melted butter for phyllo
Preparation: Peel, core, and dice pears. In a pan, melt butter. Add diced pears. Stir for about 2 minutes. Add cinnamon, a pinch of salt, and brown sugar. Bring to boil, then let simmer until liquid thickens. Add pomegranate seeds. Let cool.
Place one phyllo on dry flat surface. Brush with melted butter, top with another sheet of phyllo. Repeat process until fourth sheet added on top. Cut pastry into quarters. Place filling in center of pastry. Fold the corners in to form a square. Brush with melted butter to secure. Place pastry onto cookie sheet. Sprinkle pastry with pumpkin seeds. Bake in preheated oven (375° F) for about 15-20 minutes, until golden brown. Let cool. Optional: dust pastry with powdered sugar.
The Verdict: Each dish was surprisingly easy to prepare and we cooked at a leisurely pace - with plenty of downtime to work on the salad dish and desert while waiting for the stew to heat up properly.
At the age of 2, my son is still a very picky eater. So it was gratifying to see him dig into the beef stew. It was easy for him to gulp down and he really enjoyed the bits of vegetables, which gave the dish diverse colours to keep him interested. He did, however, leave many cubes of beef in the bowl. Next time I'll try to make the beef softer for him.
My wife is an even pickier eater. But she had no problem with the winter comfort dishes that I prepared. She liked how the beef stew made her feel warm and full, even though she only had a small bowl. We both agreed that the rapini & brussels sprouts in garlic side dish could have used some more goat cheese but then it wouldn't have been as healthy.
Above all else, her favourite dish was the P4: Pear, Pomegranate, Phyllo Pastry for dessert. Although the P4 dessert doesn't really qualify as a winter comfort food, it's a dish I'll keep in my back pocket; since my wife likes it so much, I'll pull it out again whenever I'm skating on thin ice!