For Toronto-based landscape architect and filmmaker Joseph Clement, the man makes the house -- but the house reveals the man. Several years ago, Brigitte Shim, one of the two architects of Integral House, a Toronto architectural and cultural masterwork, visited the New York office where Clement was working. The visit changed his life. Shim and Howard Sutcliff of Toronto's Shim + Sutcliffe had designed Integral House along with its visionary owner, Jim Stewart. As Clement flipped through photos of the house at the office that day, he got a sinking feeling. He had to make a film about the house. Integral Man is the stunning and poignant documentary of an architectural masterpiece being born and of the visionary who made it happen.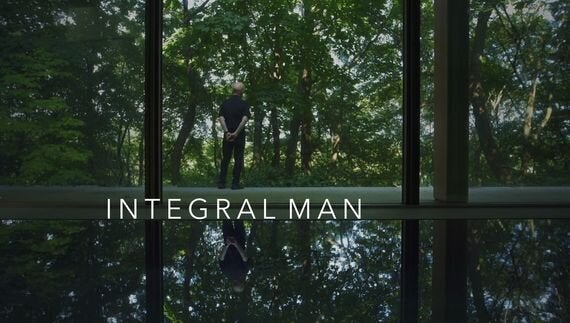 Inspired, Clement quit his New York job and joined the Ontario College of Art and Design's graduate school in Landscape Installation. Shim fell in love with Clement's idea of doing a film and introduced him to Stewart who came on board. The house's design is magnificent but it's Stewart, the man behind the house, who gives the building its life and spirit. Stewart's openness and willingness, backed by a firm pragmatism, allowed him be a force for change. He brought these qualities to his profound cultural philanthropy and activism. But what Integral House evolved into was a happy accident. As the project progressed, the design and mission unfolded. And came to reflect the man himself. "Being an accidental impresario wasn't his intent," explains Clement, "but through the creation of this incredible piece of architecture, this happenstance of architecture, humanity and art all came together." The house mirrors the man.
Having made millions as the most published mathematician since Euclid (3-4 BCE), Stewart wanted his last house to be both a living and a performance space. A life-long chamber violinist and retired math professor, Stewart was a pioneer LGBTQ activist and philanthropist. He envisioned a private home which could also serve the city's performance and social justice initiatives as a site to hold galas, fundraisers and special performances. Sure enough, in the film we see sweat dripping off the face of Canadian soprano Measha Brueggergosman singing to the sheer thrill and delight of Stewart and his guests in the almost acoustically-perfect space.
In the film, the camera follows the contours of floor to ceiling windows lined with the rhythmic placing of wood panels. These panels pulse and blinker sunlight in spectacular minute-by-minute displays. Though only an hour long, the film lingers in empty rooms so that we get to experience what it's like to envision and to be in these spaces. As we move through and linger in the spaces, we gain access to Stewart's enormous intelligence, open-hearted risk-taking and his dedication to cultural life. At one point, Clement's camera takes audiences into a cello which, unbeknownst to Stewart or his architectural team, mirrors the curves and flow of the house. Clement's intuitive filmmaking echoes the majesty of the house but even more so of a life well-lived. A film about a house became a film about a man.
When Stewart faces a terminal diagnosis half-way through filming, Clement's work takes on an unplanned urgency and meaning. In a race against time, Stewart throws one last grand party several weeks before he passes. "Welcome to my wake," he told the audience. Thanks to he and Clement, we are introduced to a meditative exploration on life, legacy and the impact of the decisions we make in life.
Integral Man premieres at Hot Docs on May 2 in the Canadian Spectrum.
Follow HuffPost Canada Blogs on Facebook