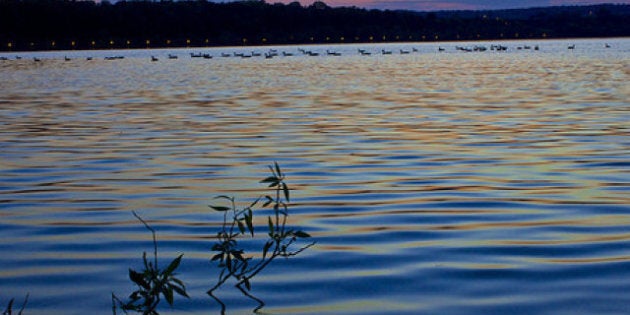 Yesterday, I visited Water: the Exhibition at the Royal Ontario Museum here in Toronto. The exhibit is educational and tactile. It inspires awe. I was there with my friend, Marjorie Ryerson, whose book, Water Music accompanies the exhibit. In the book, world-renowned musicians (Dave Brubek, Renee Fleming, etc.) express in poems, essays and texts how our liquid gold has shaped their music. Water, here, is lyrical, majestic and humbling.
Just past the steaming, dripping and freezing water-as- solid-liquid-vapor display, a large Earth dangles, blue and vulnerable, from the ceiling. "What is that?!" A little boy shrieked, using his whole body to point at the globe and hanging onto his yarmulke. Over by the meteorites (they carry lots of water) that same boy pointed back to the dangling globe and whispered to a mate, "That's where the aliens live." Fair enough.
The subject of water has been coming up a lot recently. Another pal of mine, Toronto's gifted clean water advocate Evalyn Parry plays a plastic water bottle in her song 'Bottle This.' She sparked my imagination. I have been working on a novel in which Toronto's rivers, aquifers, lakes, creeks and even our elevated wetlands play key roles. I have been educating myself on the history of water formation, usage and care in the area.
Coach House Books' HTO has been an invaluable resources with maps, testimonies and guides. I take daytrips up the Don River to Taylor Creek and then veer off into sleepy Mud Creek as far as I can make it. Along the way there are various educational displays where an urban adventurer can learn about the bees and trees, the Stagwood Sumac and the Bloodroot, the Serviceberry and the Trembling Aspen, the Night Herons, red-winged blackbirds and red-tail hawks. Each of these call our waterways home. These are largely cared for by volunteer organizations who get some space from the city to do the work that the rest of us are out there doing. This work includes clearing brush, planting and nurturing seedlings. With this work, our water systems begin to heal themselves and save us oodles of cash. This, after two centuries of industrial exploitation.
Maybe. We know it is finite and we know that it is a well that will, with stewardship, serve us well. Maybe. It depends on how we lay our oars. The next time you want to cast a vote for Harper, a supporter of the Alberta oil fields, or Rob Ford's spending cuts, I encourage you to visit the ROM's fourth floor where a beautiful and frightening show of Toronto's Edward Burtynsky's photographs of ship breaking fields, rubber tire graveyards and the densified oil filters of Hamilton, Ontario are on display as well. If you can't make it to the ROM (they have free days!), then check out Manufactured Landscapes, the documentary that uses Burtynsky's work as its subject. You might cast your vote or lay your oar differently. Maybe.
You can bet that Rob Ford, Toronto's new mayor, likes the water clean and fresh off his cottage dock in Muskoka. But Toronto's Waterfront Secretariat, the city agency charged with coordinating the renewal and revitalization of Toronto's waterfront, is recommended to be integrated into the City Planning Division. Its already teeny budget ($1.6 million) joins the sad line of proposed cuts: public libraries, public parks, public transport and public health. The operative word, as I have similarly argued elsewhere, is 'public.' We could chalk up our past exploitation as naïveté. Not now. Now, we have no such excuse. Ford seeks to sell off our public wealth in the name of balancing budgets. But budgets, like politicians, come and go. Revenue comes and goes, too. If Toronto's mayor had the vision to seek innovation, our waterfront, parks, libraries, etc. might stand a chance. Toronto could take its place as a leader in sustainable revenue generation and urban planning. There are an infinite number of intelligent and sustainable means to generate enough revenue to fill any budget gap -- if we think outside of the box. Pre-industrial thinking assumes that generating revenue equals privatization, user fees and tax hikes. Look out your window. This is the post-industrial age.
Toronto could look to herself for the answers. At Ford's 23-hour public deputation, the well of creativity that this city holds burst forth. The ways all of us are making the trickle of funding we receive multiply, stretch and do backflips ought to flood us with praise. Instead, it hardens their resolve. They voted to move KPMG's spending cuts further up the line for implementation. You think they won't? Don't blink.
Most city officials there -- but not all -- seemed very uninterested in revenue generation ideas that did not involved privatization, user fees and tax hikes. When I, for instance, suggested waste-to-energy initiatives the budget chief interrupted me, pointed behind him and laughed, "Hah, talk to them back there." At another point, "Miller killed that" was heckled.
Creativity, it was clear, is not our challenge. Short-sighted city government is. Over and over throughout the deputations, councilors and the budget officials (and Ford allies) accused deputants of not wanting to slice services but having no ideas about revenue generation. Those councilors had swimmer's ear.
It was crystal clear that day that cities like ours are surging with an enormous reservoir of creativity. We're soaking in it. At the Water exhibit, I saw water mills generating power in the East River in New York City. I learned of Bangladeshi women who are cutting cholera rates in half by straining their drinking water through saris. On Google, I see that Oslo has largely shifted their power generation from fossil fuels to organic waste transformation. They power their city infrastructure and private homes with this out-of-the-box generation. They sell the excess. In Toronto, as I learned in HTO, our grand tradition has been to bury our waste, contaminate the ground water and then run like hell when people get sick. Or, we pay millions to other regions (e.g. Michigan) to bury our waste in landfills.
Toronto has a choice. We can use our well of creativity and technical expertise to move the conversation about revenue generation from destructive and short-sighted or exciting and innovative. There are sustainable revenue generators that make the money earned from a vehicle or land transfer tax, increased user fees and cruel spending cuts look like chump change.
With a nod to the Jo-burg sci-fi action flick, District 9 -- Aliens, Unite!