When a loved one gets cancer, your whole world stops. I know we've heard this a million times before. We've all watched The Fault in Our Stars and My Sister's Keeper. Still, cancer changes everything when it happens to you. No matter how many times you've heard the story, no movie plot can compare to the pain you feel as you watch someone you hoped would live forever wither away.
I invite you to read this blog post I've written in memory of the most influential person in my life: My mother. I lost her when I was 18. You may have heard of a similar situation before, but please, keep reading.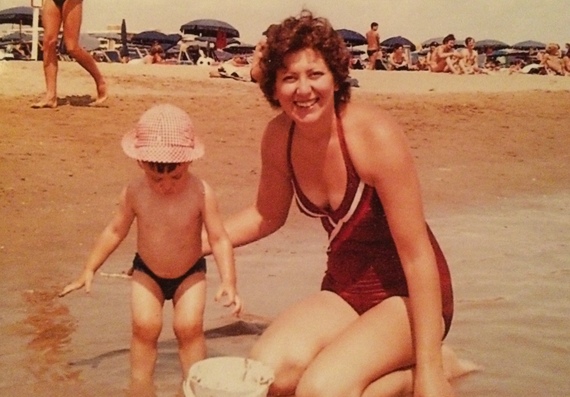 Being an only child, losing my mom was extremely hard on my dad and I. Not only did we lose a source of income, changing our life financially, but we also lost a third of our family. I lost my idol, my role model and my biggest motivator. My dad lost his wife, his best friend and his soul mate.
My mother died at 47 from an aggressive form of ovarian cancer. At first, doctors thought the mass on her ovary was just a cyst. They informed our family that the cyst could be removed in time. We waited one year for surgery.
"There was no need to worry," we were told.
When doctors opened her up one year later they found that the cyst was cancer and that the cancer had spread throughout her body. My mother lasted three months from the day she had surgery.
Doctors tried to prolong my mother's life, hoping she could begin chemotherapy right after her diagnosis. However, my mother was allergic to the drug and her body reacted dangerously to the treatment. We basically just waited. Waited for her to die.
There was nothing more anyone could do.
My mother broke the news to me when she came home from the hospital with my father. I didn't really understand death until the week after she passed, when the finality of it all set in. She wasn't coming home anymore.
The only time I would ever hear her voice again was on the voicemail we waited months to change.
My mother's memory lives in me today. Not a day goes by where she isn't in my thoughts, even after 17 years.
With this, I offer a solution: To continue to raise important funds for world-renowned doctors, researchers and scientists who are working to find effective treatments so people like my mother, whose bodies cannot receive traditional chemotherapy and radiation, can survive.
Though cancer made me see my mom in her worst physical state, I will always remember her as a strong businesswoman and a dedicated banker. She was a woman who paved the way for many in my family who wanted to pursue traditionally male careers, encouraging them to chase their dreams and show the world that women are powerful, too.
The world needs more people like my mom. We can't let them all slip away.
Having just turned 35 with a stepdaughter of my own, I want my mother's legacy to live on. I also want to remember my wife's mother, who had her uterus removed because she too had cancer. Thankfully, treatment worked on my mother-in-law and she has been a survivor for years. We need more of these stories.
Today, February 4, is World Cancer Day, a global initiative to raise crucial funds and awareness for all cancers, all over the world. I ask that we join together in this fight to conquer cancer in our lifetime so more people can overcome the disease, just like my mother-in-law.
To do my part, I am taking this wish with me to the streets of Toronto. I will walk 25KM in one day in the inaugural Shoppers Drug Mart OneWalk to Conquer Cancer benefiting Princess Margaret Cancer Centre this September because I don't want anyone who is diagnosed with cancer to face an immediate death sentence.
If my mom was still alive, I know she'd be walking with me. She can't, but in her place, I invite you.
ALSO ON HUFFPOST: