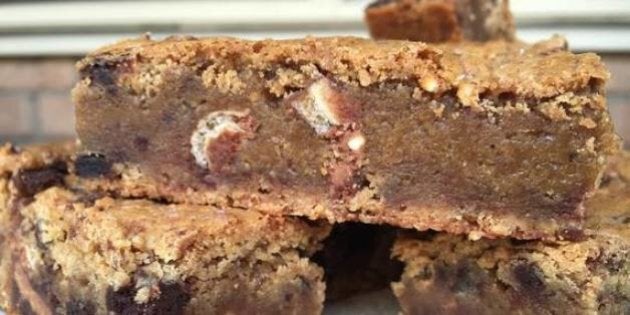 To me, summertime means shorts, sun, and swimming.
And, a bounty of food to graze on -- especially when you're adrift in conversation at the latest barbecue or picnic gathering.
IMHO, as a veteran potluck dessert-bringer, I've learned that squares are your most reliable companions. They're the archetype of the ideal sweet to bring to a party. Meanwhile, cheesecakes, cakes, cupcakes -- all gleefully dainty -- but so spectacularly fussy. They're needy; they require rapt attention and refrigeration -- something that's not always available. So, unless it's someone's birthday, I opt to bring something that is already pre-portioned for devouring unceremoniously, but pleasurably nonetheless.
While I'm disclosing my summer sentiments with you, I also must confess that I've got a thing for blondes. Brown butter blondies, that is (of course you saw that coming). To me, the browning of butter to a hazelnut-hue tempers the sweetness of this square. For a "dayam, son" reaction, I up the game and fold bittersweet brownies into the batter. This results in a gloriously marbled treat.
Plan to polish these off with some coffee ice cream or cloud-puffed whipped cream (if you want to go the extra mile).
Note: I adapted this recipe from Bon Appetit. As well, I offer measurements in weight (which I find much more reliable) as well as my baking notes.
Brown Butter Brownie-Blondies
A layer of brown butter "goo" is sandwiched between rich blondie layers.
½ cup (4 oz.) salted butter
¾ cup (6 oz.) packed light brown sugar
1 teaspoon pure vanilla extract
½ teaspoon kosher salt (if you're using table salt, reduce amount to 1/4 teaspoon)
⅓ cup (1.5 oz.) all-purpose flour
1 cup (8 oz.) unsalted butter
2¼ cups (11.25 oz.) all-purpose flour, plus more
1½ cups (9 oz.) brownie pieces or combination of dark and milk chocolate chunks, coarsely chopped (homemade or store-bought brownies, just make sure they're bittersweet and of a good quality)
1 tablespoon instant coffee powder
1½ teaspoons baking powder
1½ teaspoons kosher salt (reduce amount to 3/4 tsp if using table salt)
1¾ cups (14 oz.) packed light brown sugar
1 teaspoon pure vanilla extract
For the brown butter mixture:Cook butter in a medium saucepan over medium heat, stirring often, until butter foams, then browns, 5-8 minutes. Transfer brown butter to a medium bowl; let cool slightly. Add egg, brown sugar, vanilla, and salt and beat until mixture is light and falls back onto itself in a slowly dissolving ribbon, about 3 minutes. Fold in flour. Set aside.
For the blondie: Place metal oven rack on second last rung. Preheat oven to 350°F.
Butter a 13x9" metal baking dish and line with parchment paper. Set baking dish on a baking sheet.
Whisk baking powder, salt, and 2¼ cups flour in a medium bowl. In another bowl, sprinkle about 1/3 cup of this flour mixture over the brownies (or chocolate, if using) and toss to coat (this will ensure that the pieces won't sink to the bottom of the bars).
Melt butter and brown sugar together. Add eggs one at a time, beating between additions; mix until pale and fluffy, about 2 minutes. Mix in vanilla and coffee powder.
Add in flour (including the 1/3 cup used for brownies). Fold in brownie pieces. Scrape two-thirds of batter into prepared baking dish; smooth top, pushing batter to edges (an offset spatula helps with this). Alternating, dollop brown butter mixture and remaining batter on top. Smooth out (don't worry, it doesn't have to be perfect).
Bake until blondie is golden brown and slightly puffed up in the centre (a tester will not come out clean). Rotate pan half-way through cooking. Start checking around 25 minutes. Total max cooking time should be no more than 30 minutes. Let cool on a wire rack before slicing (a serrated knife works best). Serve with coffee ice cream, if desired.
Do ahead: Blondies can be made one day ahead. Store tightly wrapped at room temperature.