I dread(ed) going to all-inclusive resorts.
And before you send confused glances my way, I'll offer some context to explain why: I felt that the people who went to these places prioritized the free-flowing, tipsy-inducing beverages over the food -- but worse, that resorts themselves succumbed to the same idea.
However, I'm always open to exploration and discovering diamonds in the rough -- call me an optimist -- but you never know, your next great meal could be had at an all-inclusive spot. And so long as people opt for an out-of-country bachelor or bachelorette party, you may soon find yourself at one of these resorts.
With this rationale I decided to throw caution to the wind and test the waters with a (relatively) new resort in Mexico. The Hyatt Ziva Cancun opened in January of 2016, with a fancy makeover whose price tag was estimated at $85 million dollars. The hefty costs have come with some perks for hotel guests: for instance, the resort is situated on prime real estate, as Ziva is located on the tip of the Yucatan Peninsula and offers 270-degree views of the Caribbean Sea.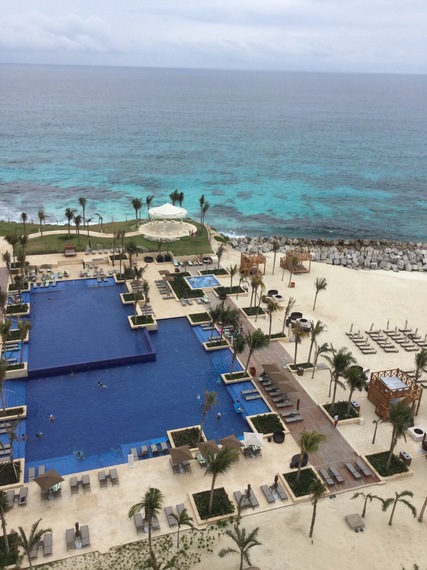 But as beautiful as the glimmering waters and pristine sandy beaches are, I cannot eat the view. A gal's gotta have some sustenance -- so bring on the food.
The Lay of the Land:
There are nine restaurants and seven bars that offer a spectrum of international cuisines and drinks. Although restaurants are part of the all-inclusive package, dinner reservations are essential. Hot spots like La Bastille, a French fine-dining spot (for adults 18+ only), fill up fast. However, with the exception of La Bastille, lunchtime is more casual and walk-ins are accepted at all locations, flip-flops and all.
As your willing guinea pig, I sampled my way through as many eateries as possible. Sure you could try all the food yourself (it is all-inclusive, after all), but why waste room in your stomach on the inferior eats?
Here are my top recommendations for what you should and should not devour:
Eat this:
OK -- technically, it's all about the drinks here. But the Tequila connoisseur session is something not to be missed. It's not advertised -- but it is available -- just ask someone on duty there. It's a free, 30-minute seminar if it is less than four people, and a small charge if you have more than that in your group.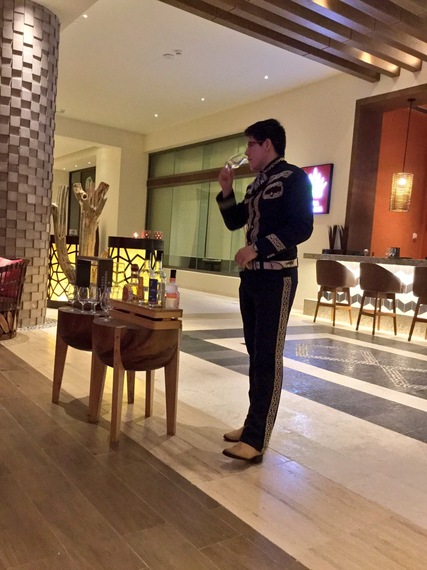 You'll be greeted by a cheery fellow named Eduardo who is the resident tequila sommelier. While he may be youthful in age, he's wise in the ways of all things tequila. On your tasting journey, you learn about the art and craft involved in producing a fine tequila (and that it is not just a drink you take shots to get drunk in college with).
Eduardo explains that although there are 1,068 varieties and counting. To be labelled a true Mexican tequila, it must use Agave Tequilana a.k.a. blue agave, the base ingredient required to make a quality, distilled beverage.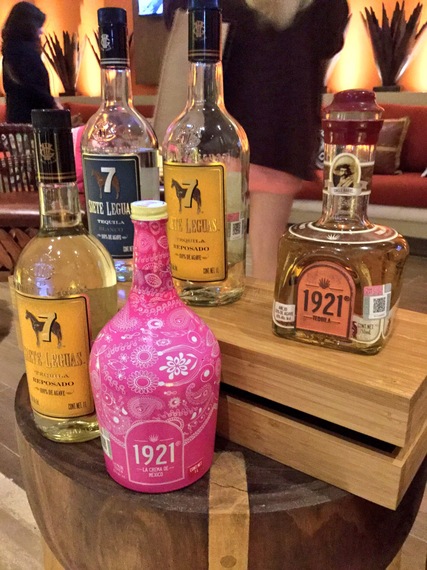 In terms of tasting, you learn the procedure is akin to enjoying a fine wine: this involves inhaling aromas, noting colour, lustre and viscosity... and then finally taking a sip -- which you hold in your mouth for three seconds before swallowing to detect layers of flavours (e.g. butter, chocolate, vanilla).
Bonus: Ask Eduardo to offer you each style to determine what you enjoy best.
Blanco (white): Clear in colour and not aged.
Reposado (gold colour): Aged between two months and one year in white oak barrels.
Añejo (amber colour): Aged between one and three years in white oak barrels.
Not that:
I can't say what was incredible and what inferior simply because I was never attended to at this restaurant. I headed into Tradewinds for breakfast one morning and was promptly given a seat by the hostess as well as a menu. As I was perusing the list of dish specials, I also noted that it wasn't busy inside. However, no server ever came by.
I waited 25 minutes and by that time, my tummy grumbled ferociously at me, so I got up and left. I informed the hostess what had happened. She was very apologetic and offered to rectify the situation but at that point, I was pretty much over this place -- so to speak -- and went to the buffet instead. This is an unfortunate situation; it would have been nice to have tasted the Chaya and paddle cactus scrambled eggs I was keen on.
Eat this:
I'm one of these rare birds that doesn't prefer to be seated out on a patio (*cue collective gasp*). This is partially due to my upbringing (my parents only ever chose to eat indoors at restaurants) and also -- there are just too many variables to be cognizant of -- cigarette butts, cigarette smoke, wind gusts, hot sun, sun burns, etc. But I pretty much didn't have a choice with Habaneros (it is an outdoor eatery). Fortunately, there was an ample amount of shade by the bar and a welcoming, mild breeze.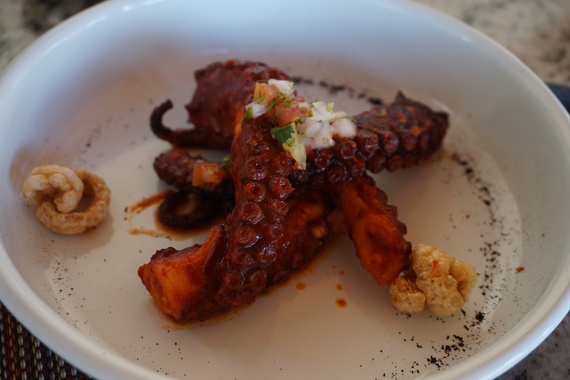 The best bets to order are the Ceviche de Pulpo and Arrachera a las Brasas de Mesquite. The former arrives as stacked coils coated with chipotle tomato sauce. The octopus is so soft and meltingly tender, a knife isn't even required. The latter is a smoke-kissed, grilled flank steak that is as juicy as it is flavourful.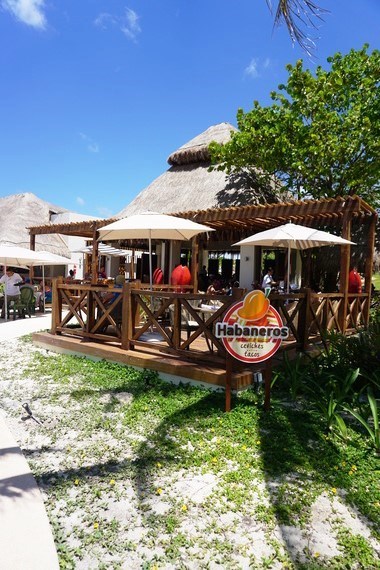 Not that:
Dessert at Habaneros is forgettable and offers inaccurate descriptions on the menu. I tried a custard-like cake with a bit of lime flavouring which tasted like sadness and regret. Save your stomach and instead order a half piña colada and half strawberry daiquiri, a.k.a. Miami Vice.
Eat this:
I should preface this recommendation by saying that I don't drink beer. I'll always choose wine over suds. So, why should non-beer drinkers and beer lovers come here? The brews are remarkably delicious.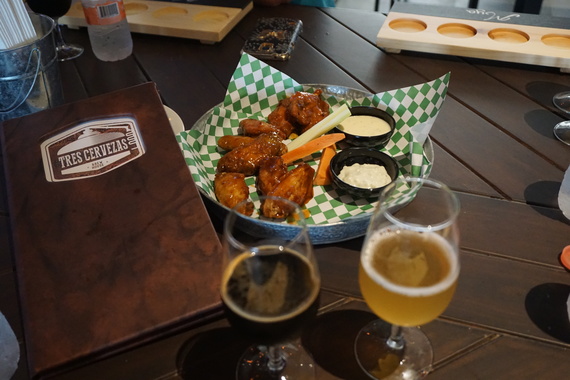 The credit goes to Juan Jose Garcia who is setting a precedent in the world of beer. The first of its kind, Très Cervezas is a microbrewery on Ziva's resort property that makes their own craft beers on site. Using barley from Mexico and hops from the United States, they always offer three unique brews on tap. Head Brewmaster Juan, who has 10 years of experience in the art of the brew, is creating renditions of styles he admires, for instance, witbier (wheat ales) that are popular in Belgium and Porters from England.
However, there's a big issue that's yet to be addressed: Since Garcia rotates brews so often, none of his creations have names, none of them are bottled -- and none of them are sold anywhere on or off the property. This is a downer because it's unlikely you'll have an opportunity to taste the exact same brew again.
Also -- you can't buy any to take home as souvenirs for friends and families. Currently, Garcia says their focus is on crafting great beer. But as popularity gains traction, hopefully they'll consider bottling and selling their beer in the future. In the meantime, it would be helpful if they simply gave each brew a name.
The featured wheat ale I tried was mild and contained pleasant notes of orange peel and coriander. And then I moved on to a rich porter, which Garcia uses toasted barley for. He infused the brew with local pepper, vanilla beans and chamomile; it tasted like a deep, dark chocolate cake.
Not that:
This Italian restaurant prides itself on trattoria-style dishes including freshly made pizzas that come out of their wood burning oven, fresh pasta, seafood, and grilled meats.
But there were numerous inconsistencies with regards to cooking: one of my friend's barolo risotto with mushrooms arrived creamy and heavenly. Meanwhile, my other dining companion had ordered the other rice dish: pesto risotto with asparagus tips and blistered cherry tomatoes. It was obvious that the rice was undercooked; there was a hard, unpleasant crunch when each of us tried a spoonful.
The mains also lacked finesse. My pork bistecca with sauteed mushrooms, onions and bacon was severely overcooked. The meat was devoid of any juices, dry and leathery in texture. Fortunately, service from the outset was gracious; the server noticed something was amiss and offered to exchange the dish for something else.
Eat this:
They've recreated Candyland inside Pastele with colours of the rainbow including goblets filled with sugary treats, dainty tea cakes and a chocolate waterfall to top it all off. But if you get carried away with all the sugar, you may just end up in a diabetic coma like I almost did. As tempting as gummies and candies are, they're pretty run-of-the mill. It's best to save your stomach for the housemade gelato (new flavours on rotation, daily -- my personal favourites were Nutella and coffee) and piping hot, made-to-order waffles.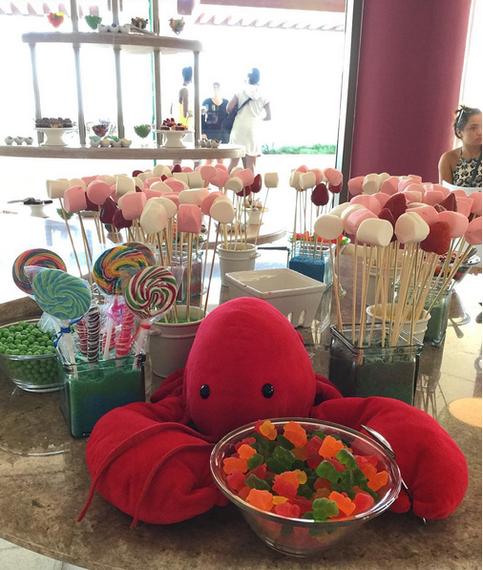 Overall thoughts: Certain eateries excel over others; however, I do appreciate the diversity of cuisine offered on site. Even though I didn't take advantage of the bottomless cocktails, I definitely drank my weight in cappuccinos and lattes at Casa Cafe -- in my humble opinion, their drinks were far superior to those overpriced big-box coffee shops in North America (and best of all, it was part of the all-inclusive resort feature).
But it is apparent that some of the chefs just aren't as well-versed with certain styles of cooking. If I returned to this resort, I'd definitely fill up at Habaneros and eat the entire menu; this dining spot offers fresh seafood, authentic Mexican flavours and great views of the sea.
Follow HuffPost Canada Blogs on Facebook
MORE ON HUFFPOST: