Janet Zuccarini is a force to be reckoned with. This savvy entrepreneur has amassed a culinary empire known as Gusto 54; the restaurant group includes a portfolio of eateries: Gusto 101, Trattoria Nervosa and Pai restaurants, as well as Gusto 54 catering.
I had an opportunity to chat with Zuccarini, someone who helped grow Toronto's fledgling dining scene into a dazzling multicultural marvel.
We spoke over a meal highlighting the new summer menu items at Trattoria Nervosa created by Executive Chef Elio Zannoni, who oversees food development and execution at all Gusto 54 restaurants. Nervosa is a bustling Italian eatery in Yorkville that recently celebrated its 20th anniversary. I asked Zuccarini about her wisdom in running a restaurant business, trends she's observed, plans for the future and more.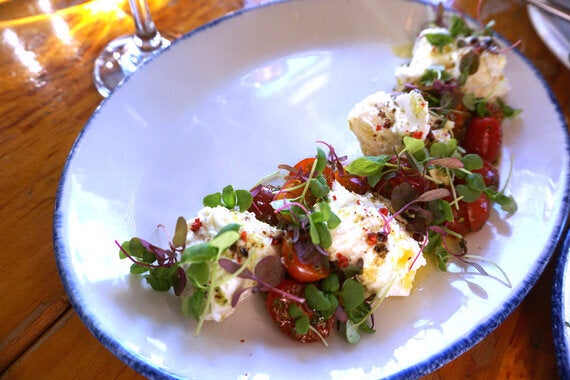 Caprese estiva with buffalo mozzarella, heirloom tomatoes, pink peppercorn, cubebe pepper, basil oil
As a veteran of Toronto's dining scene, what trends have you seen in the market with regards to dining? How was it like when you first opened versus today?
Zuccarini: A major difference that I've discerned is the trend towards people having highly individualized dietary needs. When I opened 20 years ago, you would never hear the words "gluten free," "low carb" or "vegan," whereas nowadays you have to be mindful of catering towards individual dietary preferences.
Another difference I've noticed is the degree to which the dining scene has evolved over the past 20 years -- the simple fact is that Torontonians have acquired a more sophisticated palate. Restaurants in our city are becoming more and more world class every year, so it's more crucial than ever to remain continuously connected to what's happening in the world as far as dining trends go.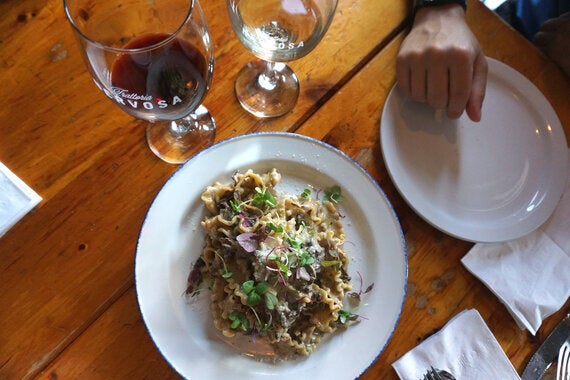 Mafalde ai funghi with portobello, porcini, crimini, oyster mushrooms, parmigiano, truffle paste, light cream sauce
Have you had to make any changes to service, menu, chef, staff or restaurant interior design to keep up with customer demands?
Zuccarini: I'm always doing my best to make the necessary changes to reflect my customer's needs and wants, as well as keep up with what is current and relevant. Nervosa has definitely evolved over time, but it's also a stalwart fixture in Yorkville and, as such, hasn't changed dramatically throughout its 20 years. That being said, everything has its time and I am working on a major renovation and expansion project with Partisans Architecture and Design firm. When discussions first began, I requested that they ensure that the yellow house on the corner remain intact while building something fresh and modern around it. What is planned right now is very progressive and artistic; I feel it will be a beautiful addition to the Yorkville neighbourhood.
What do you love about Toronto's dining scene... in particular with Yorkville and Nervosa since it's celebrating its 20th anniversary?
Zuccarini: What I love most is that we have an exciting and vibrant dining scene with so many authentic, multi-cultural offerings. Throughout the 20 years that I have had Nervosa, I've witnessed quite a bit of change in the Yorkville neighbourhood, and I know we are about to see a lot more. I'm looking forward to having Eataly open up and I'm extremely happy to see new restaurants moving into the neighbourhood, such as Bar Reyna, a new Middle Eastern restaurant.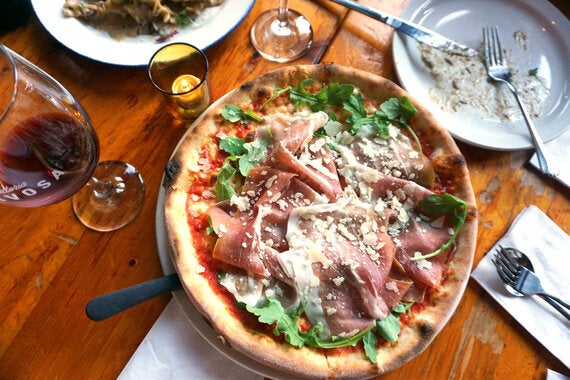 Prosciutto e rucola with tomato sauce, fresh mozzarella, San Daniele prosciutto, arugula, shaved parmigiano
What advice do you have for restaurateurs to stay afloat and do well in Toronto's dining scene?
Zuccarini: Offer something that people want and make sure you pick the right location to accommodate that offering. Be realistic about your projections and if you're not sure, ask someone who has garnered experience in the business. Don't be afraid of the business side; too many people get into the restaurant business because they "love food" or they "love hosting." It's the hardest business in the world because the margins are very slim, so if your labour or food costs jump up even slightly, you're cutting into that already small profit margin. Always pay attention to detail. Analyze your business daily or weekly, not at the end of the year. Never mistake a busy restaurant for a successful one. You can be busy and have great reviews, but can you turn a profit doing that? This is another set of skills that you will undoubtedly require.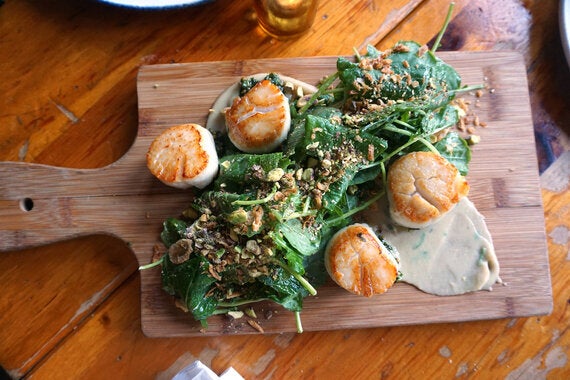 Capesante with seared scallops, chickpea puree, baby kale, artichokes vinaigrette, pistachio, crispy shallots, mustard seeds
What do you attribute to your success and long restaurant run?
Zuccarini: I think that, on a foundational level, marrying my passions for business and food, in conjunction with my education and my entrepreneurial spirit, have played significant roles throughout my career in this industry. In addition to this, I would say that not being risk averse, having a strong work ethic and drive for excellence, travelling the world, and always searching for innovation have certainly contributed to my success. I have worked my 16 hour days, but it has never felt like work.
What's in store for you next? Where do you see yourself and your business in five years' time?
Zuccarini: We are opening 5 more restaurants within the next year, which means doubling my business. I'm excited and I feel very ready for this kind of growth. We are opening Gusto 501 on King street east in Corktown, Chubby's Jamaican Kitchen on Portland across the street from Gusto 101, Felix in Venice, California, and two more Pais are under construction.
I have a drive for excellence and I want Gusto 54 to be the best restaurant group to work for, period. I want to take care of the people who work for me and help them to develop and better their lives. Money does not drive me, but being the best I can be in this business and towards my team and my customers -- that is something I believe that the universe supports.
Follow HuffPost Canada Blogs on Facebook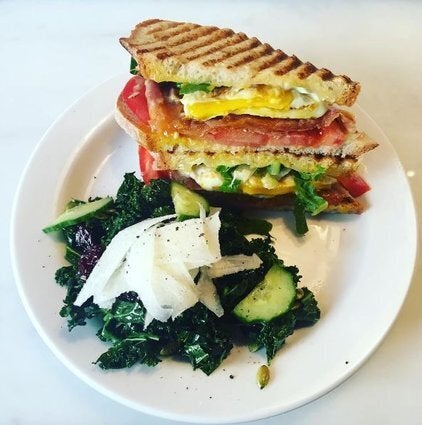 New Toronto Restaurants For Summer 2016