Kupfert and Kim is homegrown brand of Canadian talent: it is a company whose quick-service food shops throughout Toronto offer vegan and vegetarian fare. And now, with its newest entry -- a fast-casual eatery at the corner of Richmond and Spadina -- success stems from individuals with unconventional backgrounds that, interestingly enough, are not rooted in the food service or hospitality industries.
I met with co-founders Mark Kupfert and Daniel Suss at their weeks-old eatery. With floor-to-ceiling windows to welcome in natural lighting, the space carries a Scandinavian sentiment. In addition to 36 seats, it features a geometric beveled ceiling and copper-based fixtures by Denmark-based Norm Design.
There's also a sprawling black-and-white mural showcasing fresh produce. In addition to its current menu offerings, an expanded weekend brunch menu is set to debut in the near future. To go with all the dishes, there's a healthy list of drinks and cocktails available, including kombucha on tap. The liquour license is still on its way, so biodynamic wine, gluten-free beer and cider will be coming soon!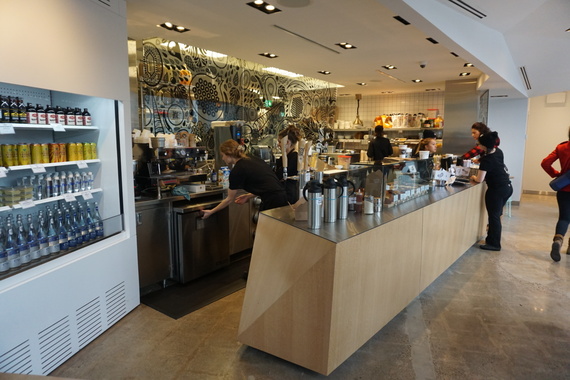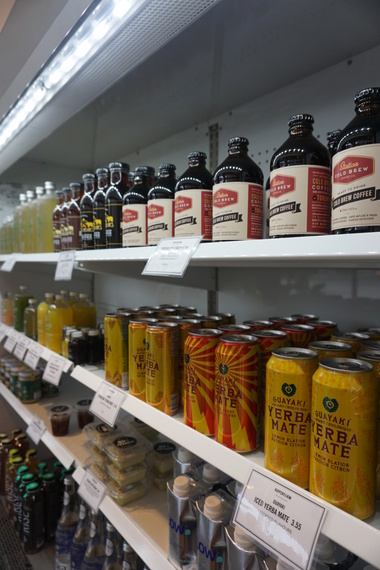 Suss looks like a bit of a lanky kid. He's dressed down in a hoodie and jeans; in fact, I thought he was another customer studying for midterms at the table with his meal. But no, the 33-year-old is a modern-day renaissance man with numerous talents hidden up his sleeve. From being in a band in Montreal with co-owner (and friend) Kupfert, as well as a (former) corporate lawyer, he's now overseeing all store operations AND preparing for the birth of his second child with his wife, Ji-Hae Kim (yes, that Kim -- all the eateries bear her last name). No pressure, of course.
So, how does a band member/lawyer turn into a budding food entrepreneur? One of the contributing factors would have to be his upbringing in a moderately health-conscious, vegetarian home. Then, after graduating from McGill with a law degree, he came to Toronto.
While practicing at Stikeman Elliott LLP, Suss noticed a severe drought in unprocessed meals offered near his office. He and Kupfert began researching, noting ideas and food eateries they admired -- ones they wanted to model their brand off of, not unlike organic spots in California and New York. Soon, the two were committed to launching and running an eatery full-time.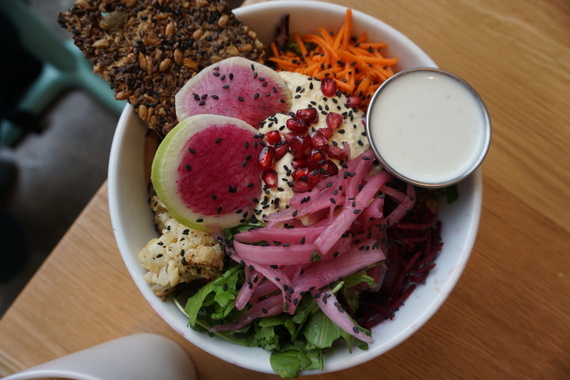 In January 2013, they opened their very first location in the PATH system, offering their trademark wheatless and meatless dishes in the financial district: hearty bowls with nuts and seeds, beans and peas, or tofu and tempeh.
The aim? Offering the city an option other than meat or processed foods, with dishes that add alternative sources of protein and flavourful vegetables to people's diets. As for the "wheatless" component, anything with conventional all-purpose bleached flour is replaced with enriched whole grains, e.g their waffles use buckwheat flour, rolled oats and chickpea flour.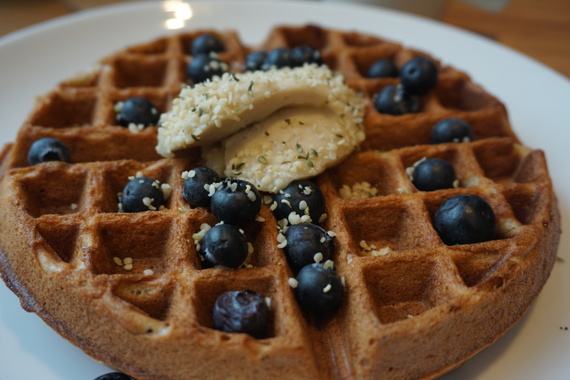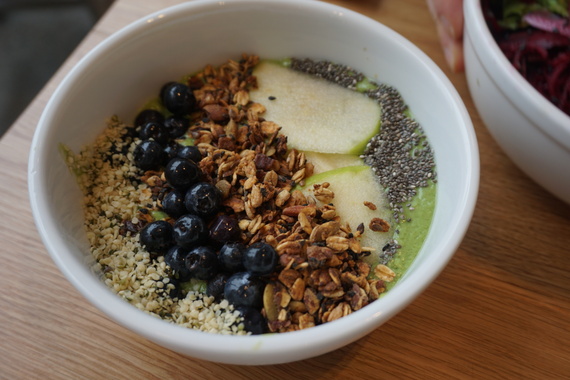 Considering all the sourcing and quality control necessary, price points are still made to be accessible and reasonable -- from $2 or $3 for small baked items, to $7 to $12 for larger plates. Along with a vibrant array of greens, everything is sourced locally whenever possible -- they feature a chalkboard sign that spotlights suppliers and farmers they have relationships with. Although they don't have an official chef, they do have a baker, Robb Zania, who creates the muffins, pastries, waffles and energy balls on the menu.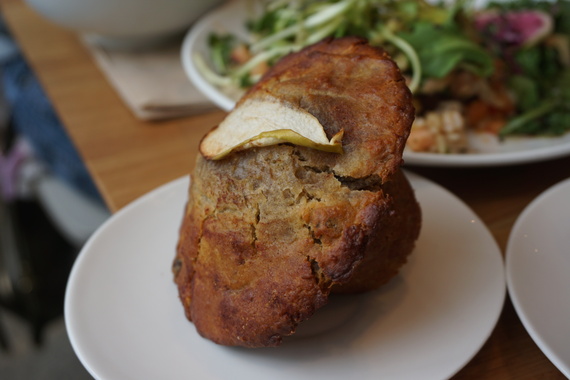 As for the savoury items, it's primarily a compilation of ideas culled from cookbooks, family recipes and general R&D. Recipe and testing for each dish can take anywhere from two weeks to three months. They're constantly tweaking and listening to customer feedback. Also, since they eat with the seasons, certain ingredients in dishes are always being rotated and cycled through.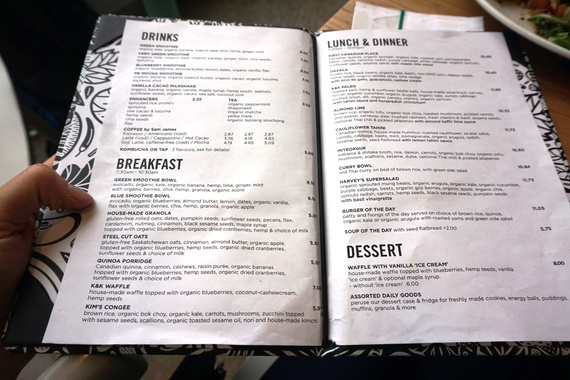 Based on availability and a desire to minimize their carbon-footprint, two-thirds of their food is organic. Everything is non-GMO. Particularly when sourcing ingredients, they ensure the produce is pesticide-free and that it adheres to a pledge of avoiding the "Dirty Dozen" list of foods that are more likely to be riddled with chemical and toxins.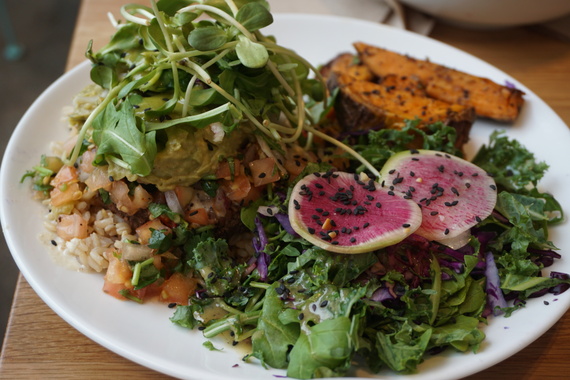 Within moments of speaking with the co-owners, it's apparent they're strong advocates of sustainability, vouching for a carbon tax on food and eating less meat. I mention Michael Pollan and their eyes light up. You could say that their personal mantra is the same as Pollan's: "Eat (real) food. Not too much. Mostly plants."
Despite their passionate appeal, they suddenly remember themselves and politely apologize. The duo are not ones for preaching conversion. Suss and Kupfert's aim is just to offer another choice to the city -- not just for vegetarians and vegans, but for those who are seeking quality foods to enrich their diets with. Even the most staunch of carnivores can enjoy meals here (points at self) -- and they'd like to appeal to more of these individuals. They succeed primarily by integrating familiar foods with lesser-known ones. Also, cooking foods properly and adding dashes of seasoning certainly helps.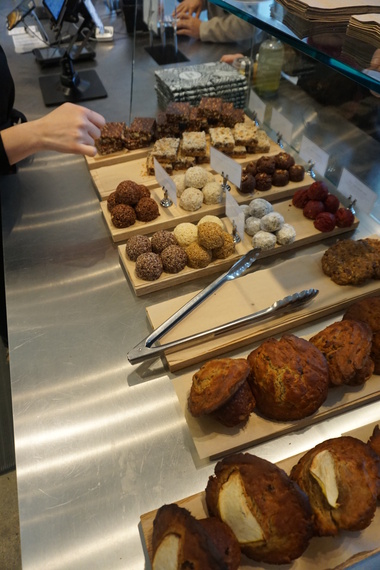 The savoury food is markedly good. And satisfying. I don't actually yearn for steak to be on that protein bowl. And while I do miss the bun component on my "burger" (patty with a bean blend) dish, the saving grace is the accompaniments: sweet potato wedges, a salsa topping and fresh avocados.
As for the baked goods, do keep in mind that all our lives we've been consuming all-purpose bleached flour, so the texture of, say, their gluten-free apple cinnamon muffin is a tad denser than we're accustomed to. That said, there was a lingering taste in my mouth because of the alternative flours used. While prominent in taste, it was not off-putting. Just a bit of an adjustment. Aside from this, it was a flavourful treat.
I also like that they've embraced the fast-casual concept at their Richmond and Spadina location. The eatery style is on the rise in this city and will only continue to grow because service is swift and food arrives quickly.
I visited on a Saturday, around noon -- the past two weeks have been steady business -- but today they're slammed with a slew of people. It's an endless string of lineups that quickly recedes as orders are taken and customers quickly sit at their tables with orders arriving within five to 10 minutes. It is apparent that Kupfert and Kim are being welcomed to much fanfare and are only growing in popularity because the vegan and vegetarian market is undeserved.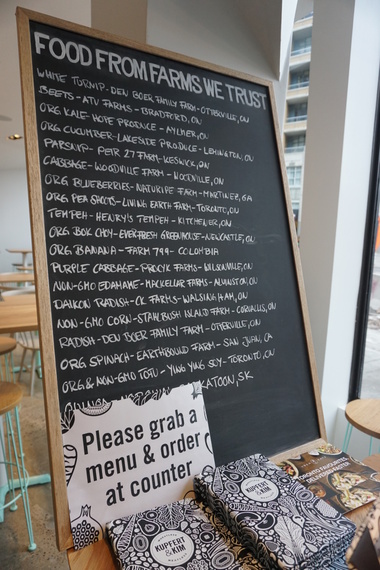 Currently, most of what is out there in the city is either overpriced, sparse in offering satiation, or tasteless. But this is my perception. However, Suss and Kupfert are optimistic. They say that their competitors do some dishes really well -- but that they're just different takes on the cuisine. And since the community is so small, there's room for everyone at the table.
All they want to do is nourish and foster a sense of camaraderie. I admire their outlook and lack of concern for competition -- considering Fresh is across the street and Freshii is situated beside them on the same block. But it doesn't faze them. They've made great strides in the market.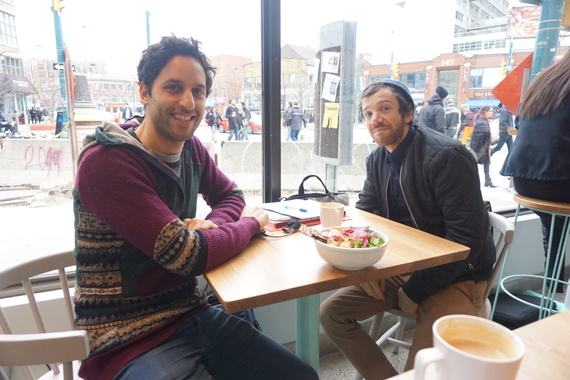 It's been a marvel to see their meteoric growth within two short years. And what is on the horizon for the intrepid food entrepreneurs? There's talks of opening a location in Montreal in 2016, where they're both from. You can look forward to a collaboration with Chef Matt Blondin (OMAW), who will be creating a seasonal bowl filled with familiar ingredients and fresh flavours. The proceeds will be donated to Action Against Hunger (ACF Canada).
MORE ON HUFFPOST: