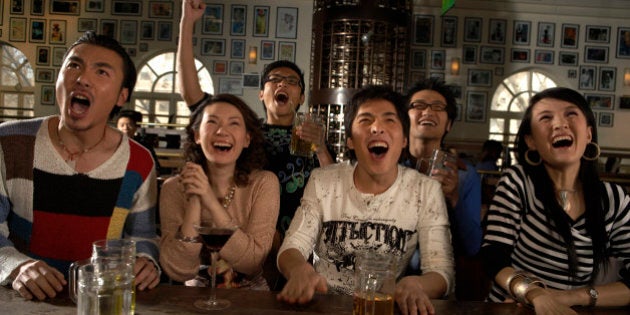 Up until now, Real Sports Bar & Grill and the Toronto Blue Jays shared some uncanny qualities. Both are well known brands and ongoing support for these entities are due to hopes for a positive experience. But instead, we end up with subpar sentiments -- the former with drab and dismally made bar food and the latter with season after disappointing season. Certainly, in their respective fields, they have elaborate displays and fans who rally to support them regardless of the outcome -- but in the end -- the performance is just underwhelming.
But before you heckle me, l will open a window of empathy. I agree, it's easy to fall into the trap of complacency. Even in the face of waning affection, seats will always be filled. But that's precisely the unfortunate tactic Real Sports relied upon all these years. Who wouldn't be lured by the wall-to-wall sports porn filling up the 39-foot HD screen, and the 200 HD televisions scattered about the 25,000 square foot space with shrines aplenty bowing to all things sport. But for me, it wasn't enough. After numerous bad meals there, Real Sports was permanently benched in my eyes.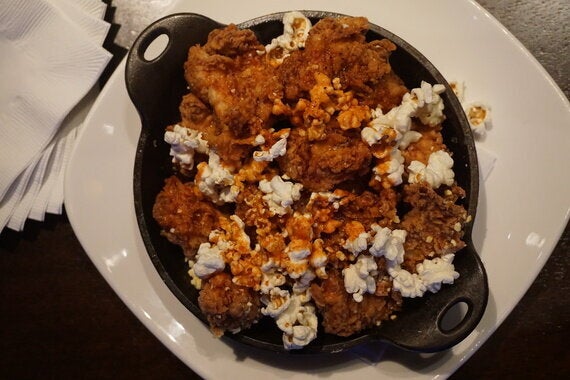 Popcorn Chicken: Popcorn dusted fried chicken in sweet, hot chili sauce
Enter a ray of hope: similar to the Blue Jays' trade-deadline moves, the Real Sports menu lineup and game plays were looked at with a critical eye and given a dire overhaul.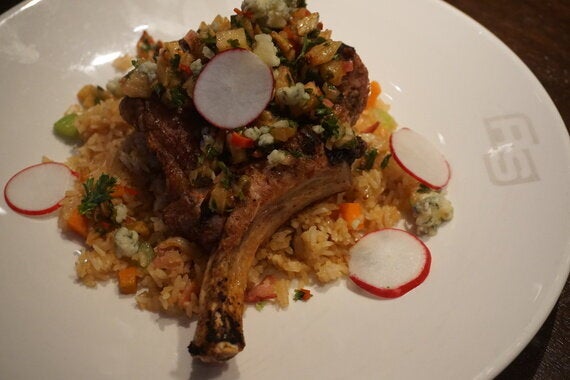 Hawaiian 5-0 Pork Chop with Bacon Fried Rice, pineapple and blue cheese salsa
Chef Matthew Sullivan was aware that the menu had become static. Nothing had changed since the restaurant's opening in 2010. So after six months of R&D, he shaved the roster down from 120 items to 85. He cited that in the past, menu items were "intentional" -- that is -- designed to be made and sent out to the masses in a flash. But now, dishes have their own "face" as Sullivan describes; they have their own personality and unique flavour profile.
Chef made sure that the eight dishes we sampled still resonate with the overall brand and feel of Real Sports - and most importantly, pair well with any of the 126 draughts on Tap.
In my opinion, you and your cheering squad will adore the popcorn chicken. It's the Josh Donaldson of dishes. Truly an MVP crowd-pleaser with pulverized ACC popcorn for the breading, then to add to the crunch factor, a healthy toss in a mix of sriracha, honey and sherry vinegar. Another deep fried favourite was the Cauliflower bites. Sure, it may be the runt of the veggie litter, but when bolstered with a buffalo chicken-style buttermilk dredge -- it's a tasty trooper.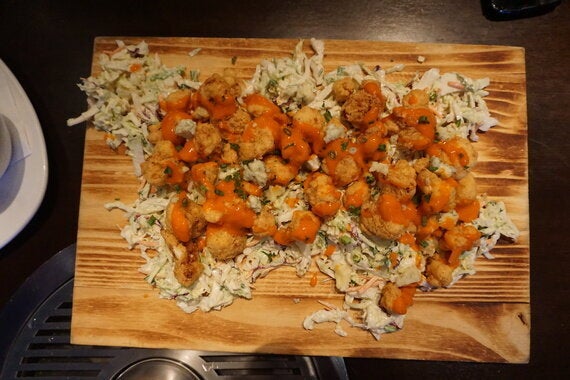 Buffalo Cauliflower, Fried Southern Style with Buffalo Sauce, Coleslaw, Blue Cheese
For something with refinement, the spinach ricotta dip and the Hawaiian 5-0 pork chop is a welcome departure from the fried field day we've had so far. It spotlights the chef's attention to more nuanced flavours. The former is a blend of ricotta and rich stracciatella. It's topped with roma tomatoes and cold pressed olive oil. It's wicked good -- and admittedly, surprised it came from a sports bar. Meanwhile, Mr. Porkosity is a heritage breed from a local Ontario farm. Fancy! And again, I'm pleasantly surprised. It's cooked slightly passed medium (medium rare is best to retain juices, in my opinion), so it is boardline dry-- but passable. It's served with bacon fried rice and grilled pineapple salsa.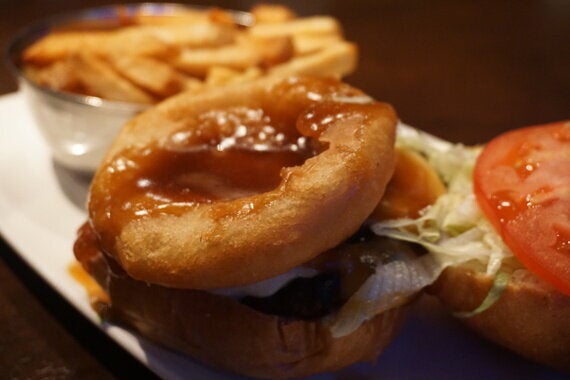 CDN Burger with gravy basted with cheese curds and an onion ring
But with any large restaurant operation, consistency is king. Case in point, the kitchen let us sample the turkey meatballs with pasta and burger dishes. For now, I'd let the staff work out the kinks before trying these items. For the former, the strands were like soft putty -- overcooked and near mushy. And the meatballs were overly bready. The Canadian burger didn't fare any better; despite its aggressive scale of toppings (Cheese curds from Quebec! Fat onion ring slathered in gravy!) the patty itself was overcooked, dry and coarse.
Despite some "foul balls" -- overall, I was content with the results. What was once a dud is turning out to be quite the contender.
Photos courtesy of Tiffany Leigh