Living in the west end of Toronto means that it's easy to get sucked into that area's restaurant vortex. So it isn't often that I'm able to venture to the east end of the city and explore its dining scene. And what a shame that is.
The Peasant Table is self-described as a gastropub that specializes in Northern Italian cuisine and includes regional influences from the Adriatic Sea and Eastern Europe. The owner, Chef Boris Babic, is a veteran of Canada's culinary scene for over 20 years; most recently, he was with A1 Autostrada and Michael's on Simcoe.
Babic chose the Riverside District to open his restaurant. But this neighbourhood holds a bit of culinary notoriety; it can be tricky to attain success in this area as a restaurateur. Unlike west-end spots where awareness and patronage can build very quickly, on the east side, it requires a bit more patience and for families to warm up to new spots. However, Babic isn't concerned. He knows the community and its residents like the back of his hand because he happens to live a few blocks down the street from his restaurant.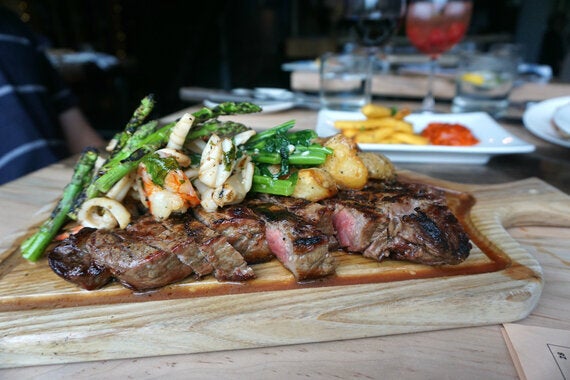 Babic does have additional aces up his sleeve to win over the crowds. Along with seasonal menus, a uniquely curated drinks list, sourcing locally from companies like Cookstown Greens and Abate Poultry Farm, one of the primary elements is offering an unbeatable deal. Case in point: the surf and turf for two on the menu. At a jaw-dropping price, it's a steal and probably the cheapest price in town for this kind of dish. On the plate: 14oz Black Aberdeen rib eye steak from Nebraska. It is wet-aged in house for 45 days, grilled and served with a mountain of grilled shrimp and calamari. Completing the meal is a forest of broccoli rabe, charred asparagus and a gold rush of crispy smashed potatoes.
Another draw would have to be black ink cod fritters with smoked paprika aioli -- but with a slight lament: they look like lumps of coal. Aesthetics aside, they're nuggets of creamy pleasure. The beer batter makes for an ethereally light and puffy fritter. Crispy on the outside, the cod itself is flaky and tender on the inside.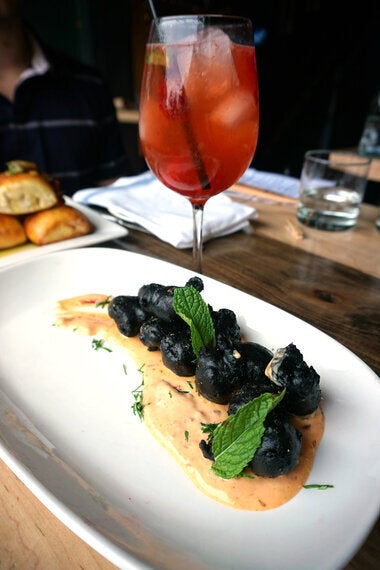 Black ink makes an encore in the form of homemade pasta. The nero di sepia is a simple but divinely delicious dish. Ample amounts of grilled calamari and shrimp get tossed with al dente pasta. It's finished with roasted tomatoes, parsley, chili flakes and agilio e olio.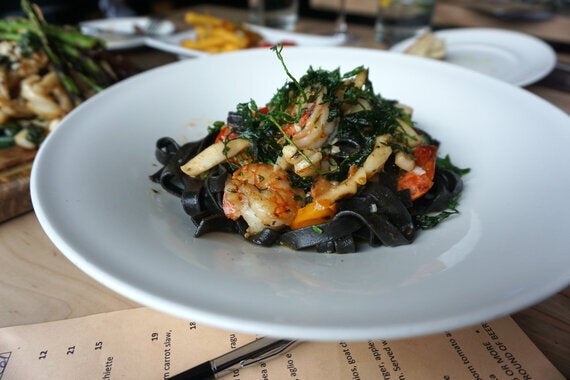 While the mains and seafood-oriented dishes were strong, the antipasti and salads needed work. The burrata, direct from Italy, was undoubtedly creamy and unctuously rich. It was paired with poached pears and truffle honey prosciutto -- but the latter component was burnt and taking a bite of it obstructed any ability to further enjoy the other items on the plate.
Then there was the barbabietola salad with gold and red beets, spinach, quinoa, goat feta, sunflower seeds, red onion and orange thyme vinaigrette. While it was a spectrum of vibrant colours -- and even with all its ingredients -- it was a flavour dud. The beets weren't sweet enough to balance the other ingredients on the plate; as a result, the raw onions and salty feta overpowered the dish.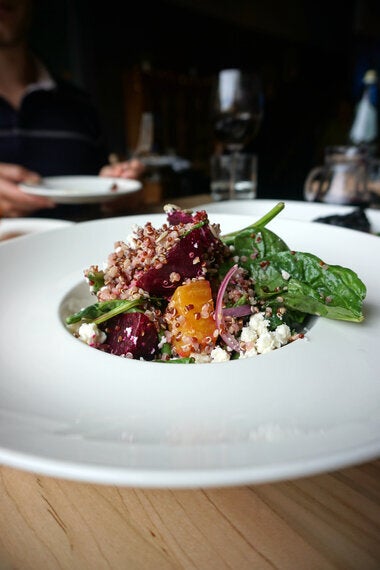 Despite a technical execution issue and a salad misstep, The Peasant Table offers an array of comfort and modern dishes with generous portion sizes. It is a welcome addition to this neighbourhood and I'm keen to make a return visit to try more items on their menu.
Follow HuffPost Canada Blogs on Facebook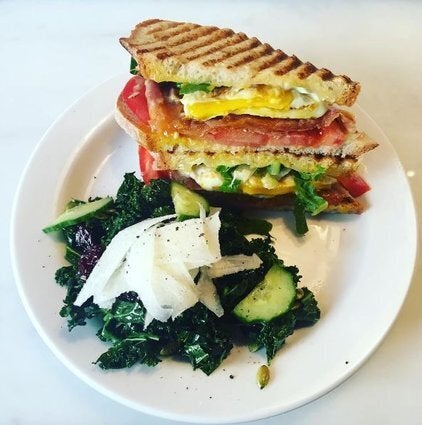 New Toronto Restaurants For Summer 2016