The best of Culinary Cinema will be curated by the Toronto International Film Festival's (TIFF) Food on Film Series with specialty screenings running from March to the end of June.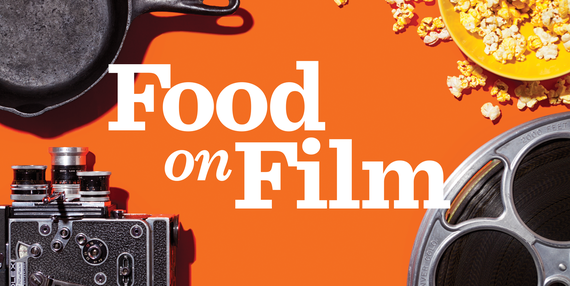 I had an opportunity to speak with Mitchell Davis, Executive Vice-President of the James Beard Foundation, and his involvement with Food on Film. He and Naomi Duguid will be kicking-off the multi-series long event which begins on March 2nd with a screening of 'The Cook, the Thief, His Wife and Her Lover.' Each film will be followed by an insightful discussion about the movie and its successful ability in not only captivating an audience, but how certain food films are more enriching when they interweave commentaries on society and culture-at-large.
Why did you (James Beard Foundation) want to participate in this series?
We think food is a cultural art form-- so is film, and we have a lot to show each other. Actually, a few years ago, the Dean of our annual James Beard Awards Gala was a student of film... and in some ways, they (food and film) have always been intertwined-- increasingly because food is everywhere these days. There are so many films about food-- it is always a fascinating topic.
Have you seen 'The Cook, the Thief, His Wife and Her Lover' before?
Yes. I saw it when it first came out in 1989, and just the other day-- to refresh my memory.
Without spoiling that you'll chat about with your audience after the film, can you tell me one thing viewers should take away from watching the film?
What's interesting is that the film is 27 years old-- and so much has changed in the realm of food, certainly in North America with the advent of food TV, as well as the explosion of interest from people of every cultural milieu and age. But what surprised me (when I recently re-watched the movie) was that it is timeless. Not only the food parts in the film (which contains masterful cinematography), also just the political allegory in the film is as resonant today-- as it was during Thatcher's England-- and even as far back as 19th century France.
You're saying that the film was able to comment on the political climate back then and that it still has power to speak to our current political state.
Yes, one of the criticisms of Thatcherism was that her policies benefited the rich and dismissed the poor. And here we are (in the United States), in the midst of a crazy political time-- and we're dealing with the same issues. Donald Trump and Bernie Sanders and their respective platforms are about the rich and poor- the 1% and the 99%. So, I was surprised how much that level of the movie holds up.
Also, the food holds up well in this film.. despite it being a historic pastiche of time. It is a bizarre presentation -- but still able to convey a serious tone. Most remarkable is that, for me, it still carries shock value. In fact, it was incredibly difficult to watch then-- and still incredibly difficult for me to watch today. I think this is really impressive.. because it is marginally outside what was considered acceptable at that time.
In speaking to your point about our increasingly "foodie" and technologically-inclined society (e.g. television food competitions and food as theatre instead of learning how to cook), why should people take an interest in "older" films like this?
I think because people will find that what they see on TV and in this film are more similar than different. They both use food as a device-- a metaphor or analogy for instance-- to paint a broader picture and tell a story. Food and cooking in isolation are static--- so unless there's a human connection-- experiences we can share in-- to make it dynamic, the viewer will lose interest. Both this movie and shows like Top Chef do this well.
Food is adding cultural value to our society and I feel this can benefit everyone. It is entering that realm where practical/general knowledge is able to enrich people's lives. The same applies with film-- the more literate you become of it-- the more you get out of life, so to speak.
If people have a taste for this kind of cinema, what other food films do you recommend them watch?
With a Ph.D in Food Studies, Davis will be exploring this film's issues in greater detail. Sociological and cultural implications will be discussed with the audience on March 2nd. For tickets and to see the schedule of upcoming food films, visit TIFF's website.
Follow HuffPost Canada Blogs on Facebook