Sky Noir Photography by Bill Dickinson via Getty Images
As promised, here's the rest of my edible tale. But first, a fun fact: Did you know that Central Florida boasts the most amount of James Beard nominated chefs for this year? It's promising to learn that these individuals are being recognized on an international scale for their talents.
So, our whirlwind media tour soon lands us in Disney Springs. Formerly known as Downtown Disney, the rebranded Springs is a reflection of an aggressive expansion to include over 150 restaurants, shops, and entertainment venues in total. This grand project is expected to be finished in summer 2016; and upon completion, it will more than double the current offering of 70 retail outlets. In the meantime, the construction itself isn't too intrusive. While it's somewhat crowded, the pathways are wide enough for groups and families with strollers to walk through.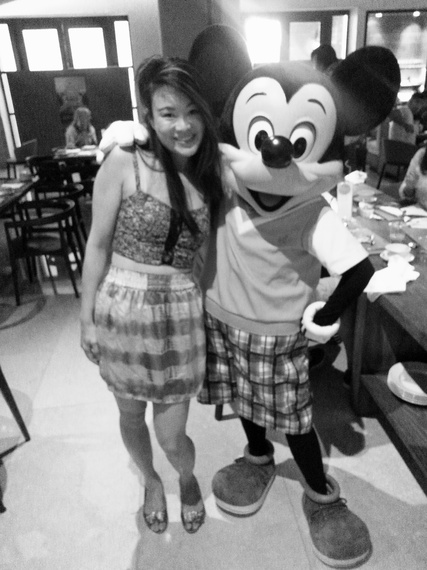 Before we head to Iron Chef America's Morimoto Asia for dinner, we make a slight detour to The Boathouse. As a 40s and 50s themed restaurant, as you may have well guessed by the name that indeed, the place is swimming with boat and sailing paraphernalia. The restaurant is filled to the gills with people but the service is still prompt. The ideal game plan here is to order several seafood platters and share. My favourites included the sweet and crisp Coconut Baja Jumbo Shrimp and the Hoison Chili Calamari with Bell Peppers, Jalapeno, Serrano Chili. It's an addictive combination of sweet and heat.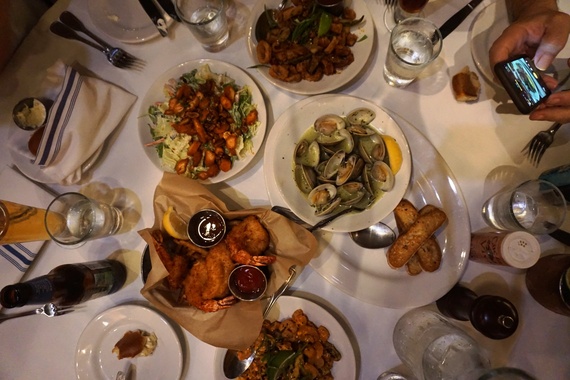 While we didn't have dessert, I'd definitely advise you to save some room for it. They have two massive specialty desserts that are sure to make nearby diners envious. Gibsons S'mores Baked Alaska is a bruleed wonder with mountains of ice cream hiding below the meringue's toasted surface. Or there's the Florida Sunshine Cake: sweet yellow cake, bright orange cream cheese frosting and finished with toasted almonds. Whichever one you choose, it's best to conquer them with an army of friends.
To scrounge up an appetite, we spend some time in an Amphicar ride. Part car, part boat, it's all righteous amusement to floor the vehicle right into the splashy waters -- and not fear for sinking to the bottom of the lake(!). In fact, we bob on our merry way -- circling around Disney Springs. The ride is 20 minutes long -- definitely enough time to soak up the sights and the sensations of riding a floating car, no less!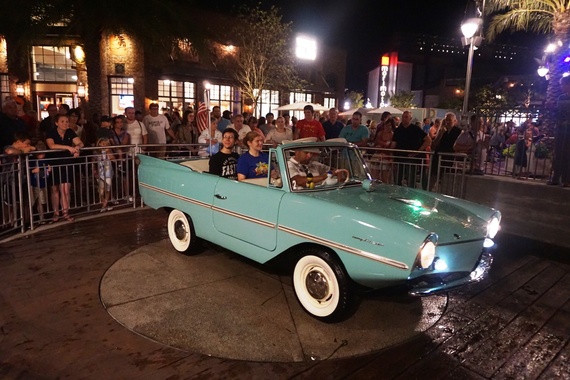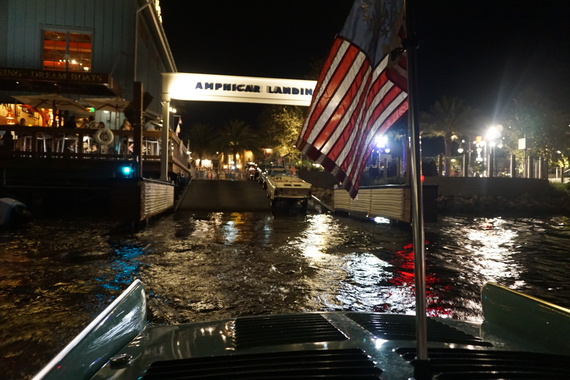 And soon enough, dinner await us. It's not difficult to find Morimoto Asia. It's a beacon of white light with Chef's name emblazoned on the side.
Inside, it is gorgeous. Although it's a warehouse space, they've decorated it with contemporary glamour. Elaborate, glimmering chandeliers at 20 feet, dangle from up high. The two story restaurant boasts an open kitchen, a sushi bar and two cocktail bars. There are many secluded nooks where you can enjoy the company of your loved ones without feeling crowded.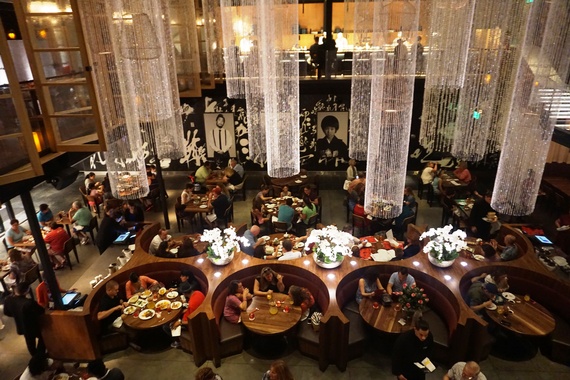 In spite of all the hype, the main issue is whether the food lives up to the name. While it has only been opened for a month or so, the star-studded dishes - the Peking duck and the ribs -- generally shine with flavour. The Peking duck is not carved table side but sent to us fanned out on a platter. The meat is sweet & tender with crisp mahogany, lacquered skin.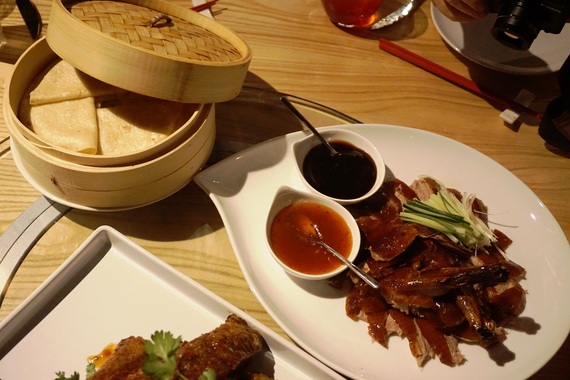 The ribs are infused with Asian spices and lean towards a sweeter flavour profile with an ample coating of hosin sweet chili glaze.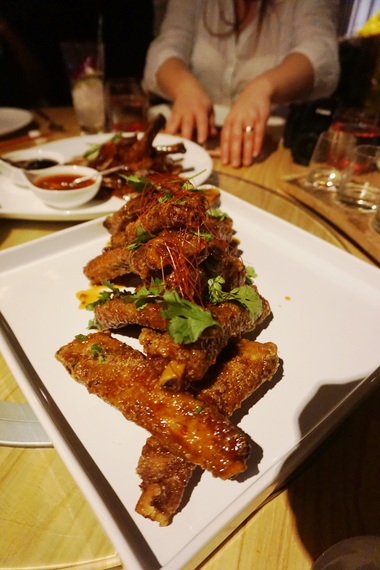 House-made dim sum is also offered during lunch and dinner service but they are dull in comparison to the other dishes of the evening that pack a bountiful dose of pleasure. But the sushi and sashimi platters are a vision of beauty; sliced with deft precision, the fish is fresh and vibrant. And make sure to try one of their many sakes on offer ( I vouch for the Crazy Milk sake); it's a welcome array of zingy to creamy varieties.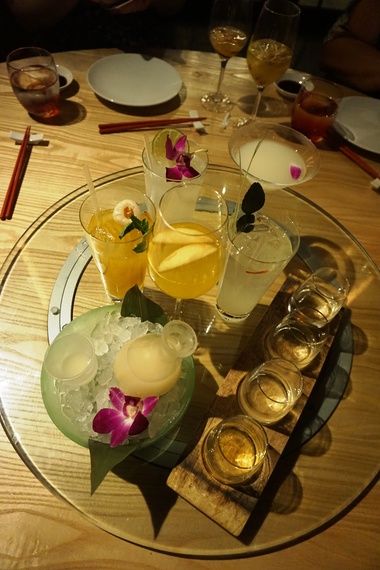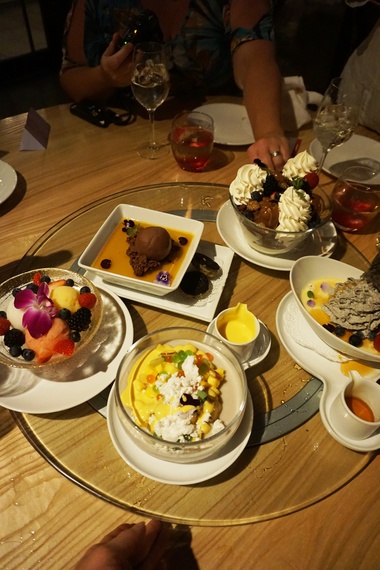 *There's not enough dessert on this table :P *
When you're not in Mickey's kingdom, head to Winter Park for picturesque settings and extensive estates sprawled out on thickets of lush greenery. They contain a storied history you'll hear all about on Scenic Boat tours. The guided tour is an hour long on Lake Osceola where you'll traverse through three of the seven interconnected lakes via man-made canals. You'll learn about the residence, the history of Winter Park and some unique facts about the area today.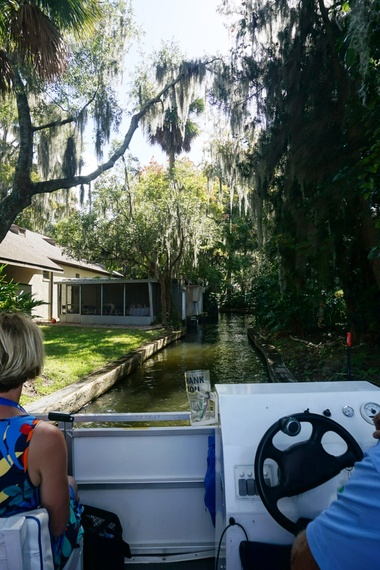 And afterwards, head to Swine & Sons for lunch/ brunch. Situated on a homely strip plaza, inside, the smells of baked goods and artisan foods descend upon your olfactory nerve endings. Fall into plush biscuits sandwiched with gooey cheddar, egg, tomato jam and house-made Canadian bacon. They pride themselves on making artisan sweets and charcuterie that feature local ingredients, as well as offering a range of unique craft beers and wines.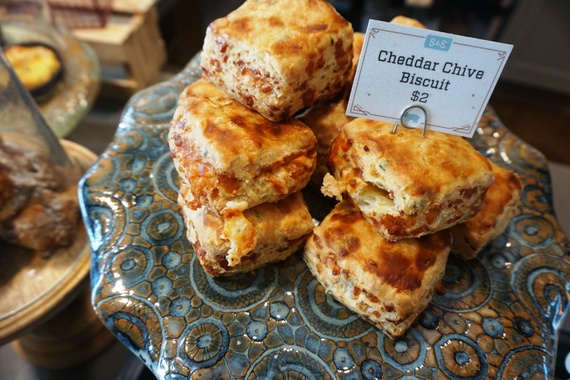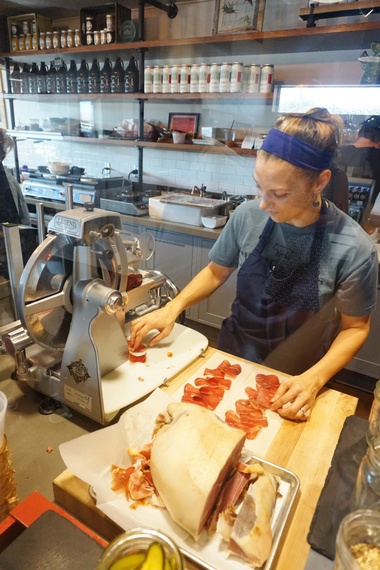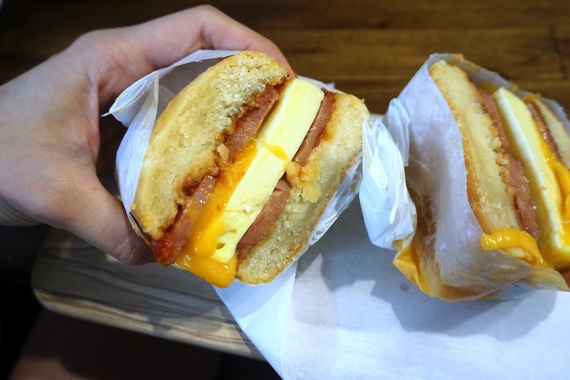 We return to our resort and are given a few special treats: first, a patio luncheon by the water. PB&G Grill serves up their signature rotisserie chicken, as well as pulled pork and brisket from their smokehouse. The cocktails here are also irresistible. For someone who typically prefers wine, even I couldn't resist the allure of a creamy piña colada. It's a casual eatery with a summer BBQ atmosphere; the variety is plentiful and plates made ideal for sharing.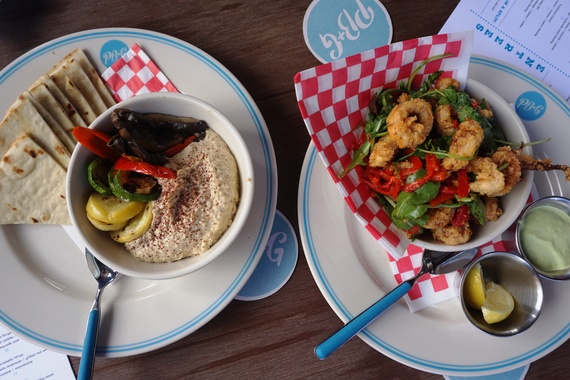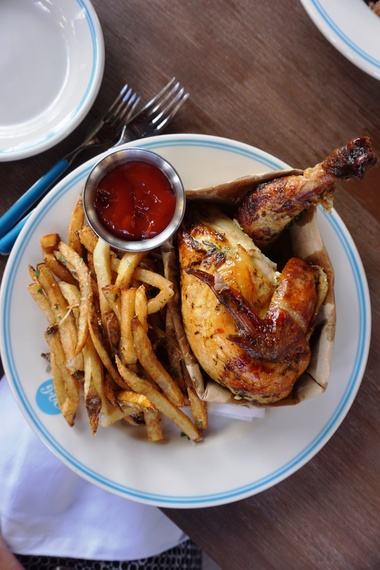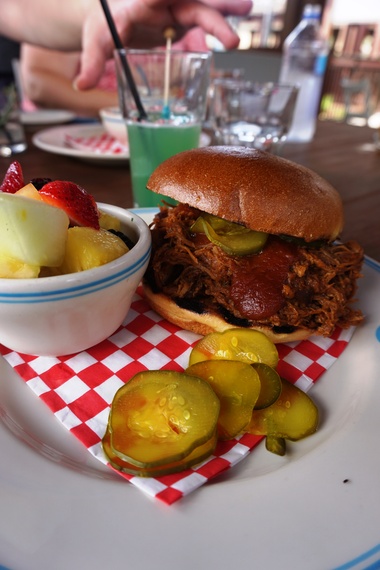 Next, we get a tiramisu demo with Pastry Chef Peter Whitley then a mixology lesson and tasting with Executive Chef Fabrizio Schenardi (who also oversees Ravello, the resort's Italian Restaurant). We taste intoxicating elixirs of his own Bicerin and Limoncello creations.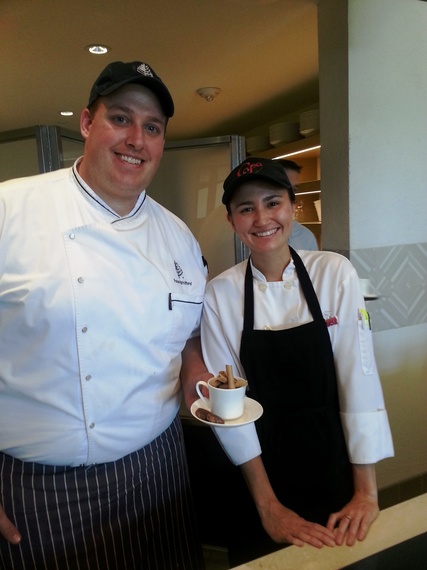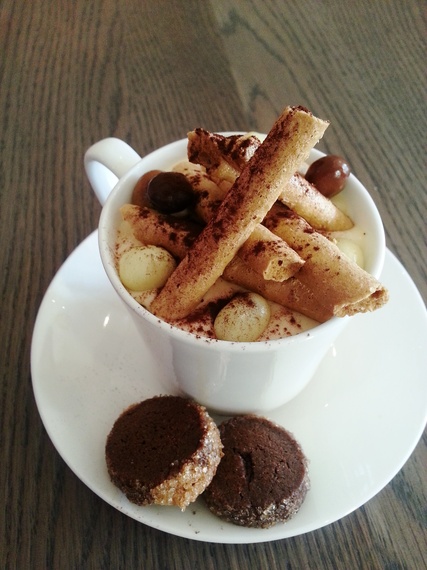 Chef Schenardi then leads us through his kitchen operations. A behind-the-scenes glimpse into the massive labyrinth of hot and cold lines, bakery and pastry sections, storage facilities, and prep stations reveals a few fun facts about this facility:
Ravello produces 8030 lb of pizza dough per year
Fresh pasta produced at Ravello in first year of operation: 5000 lb
Capa weekly usage of Wagyu beef: 20 lb & weekly usage of prime cut of beef: 500 lb
Gelato and Sorbet production per year: 18,000 lb
All restaurants and foodservice combined use 10,000 lb chocolate per year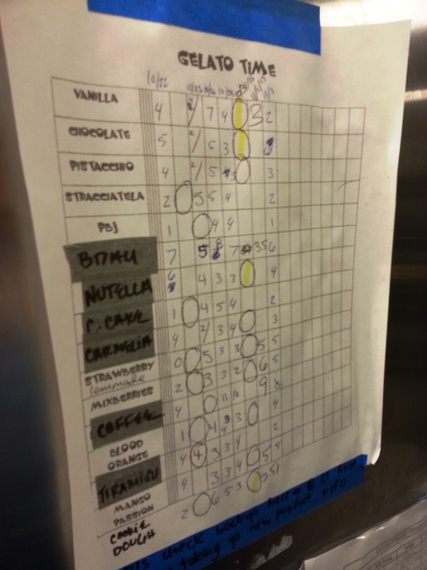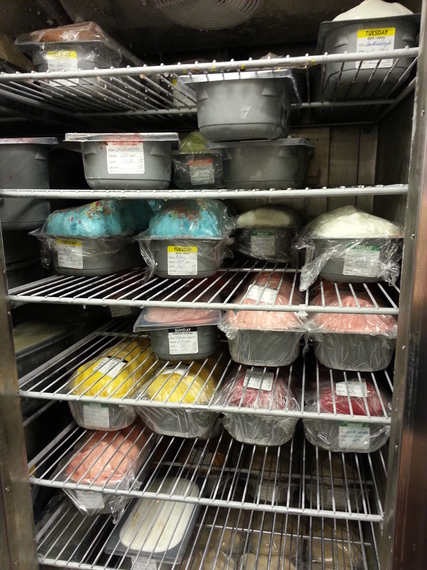 After our exploration, we depart for Soco Thornton Park for our last dinner together in Orlando. Executive Chef Greg Richie, who fronted restaurants for Emeril Lagasse and Roy Yamaguchi, spearheads Soco's cuisine. Situated in the heart of downtown Orlando, this Southern- inspired restaurant offers contemporary takes on the food of Richie's youth. From Grilled Heritage Pork Chops to Pecan-Crusted Carolina Fluke, many dishes conjure memories of my beloved New Orleans and its soulful spirit. Here, they're spun out of their classic form; for instance, Grilled Meatloaf on Lobster Mashed Potatoes and Chicken-Fried New York Strip cooked to a juicy medium-rare.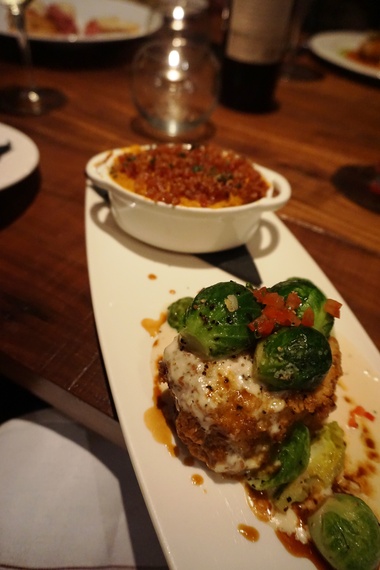 On our final day, it's a bittersweet moment and my euphoric state is a culmination of many experiences during these past few days. I've made many great friends and I hope my story will inspire you to book your next trip to Orlando -- not only for Disney -- but for all the vibrant food in the off-the-beaten-tracks that await you.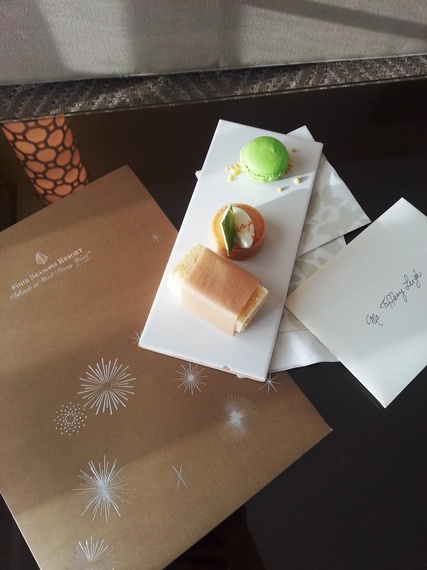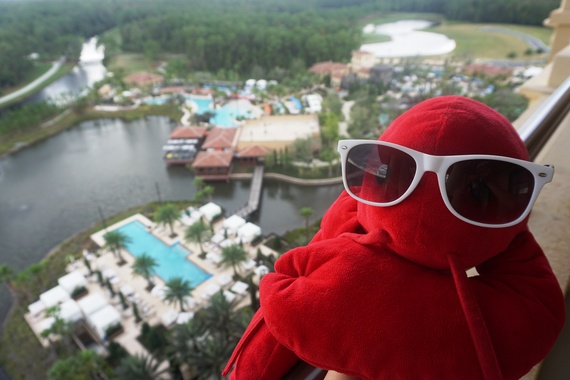 *#PinchietheLobster*
Disclosure: Travel and accommodation were provided by Visit Orlando.