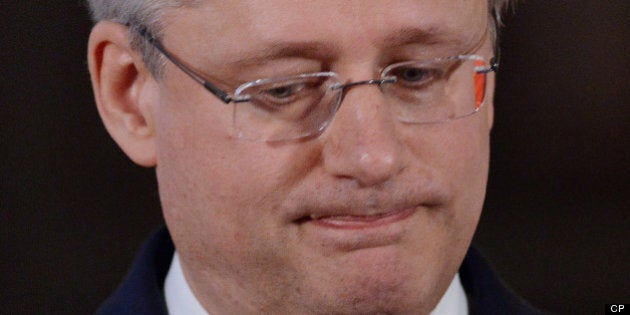 What we have here is a refusal to communicate.
We have a prime minister who refuses to explain why three of his Conservative senators have been forced to resign from his party over apparent financial malfeasance.
We have those same Honourable Senators who won't talk either, but continue to collect all their lovely senatorial perks and privileges while sitting silently as independents.
We have a prime minister's chief of staff who quit after contributing some $90,000 to one of those senatorial imbroglios and, like his former boss, won't explain why.
There's nothing new in all this deafening silence, you know.
Only last year the Prime Minister's Office (PMO) won the much un-coveted Code of Silence Award from the Canadian Association of Journalists:
"...for muzzling civil servants and cabinet ministers, blackballing reporters who pose tough questions and building a huge apparatus designed to staunch the flow of information."
And this year, the Centre for Law and Democracy warns us Canada is a ridiculous number 55 among 93 nations (just ahead of Angola and Thailand) when it comes to us getting information from the Feds.
Information we taxpayers have paid for. Information that belongs to us.
Meantime, the federal government employs some 4,500 highly paid information officers whose duties, I assume, include giving us information about what our government is doing in our name. Instead, they're dishing out propaganda. Reams and reams of propaganda.
When the Harper government wants to talk about how wonderful it is, you can't shut it up.
Consider the enormous $78.5-million it spent on advertising and public relations in 2011-2012.
Nearly a third of those millions was spent trying to persuade Canadians that the government's much hyped Economic Action Plan is working. That it's good for us. That it will save us from becoming a basket case like Greece and all those other miserable European nations that obviously never have never had the advantage of an Economic Action Plan anywhere near as splendid as ours.
Now, I read lots of newspapers and magazines. I watch TV news, listen to radio news, check on a multitude of social media sites. I've read and seen the hugely expensive slick, silly, vapid, pointless advertising dished out by the government.
I have long, beery conversations with people, particularly of the journalistic ilk, who worry about this country and its economic future.
But I still can't answer the question -- what the hell is this Economic Action Plan all about?
According to Finance Minister Jim Flaherty it's "to connect Canadians with new high-quality jobs, to provide long-term predictable funding to build roads, bridges and commuter rail, and to make significant investments in our manufacturers and small businesses".
But surely, this is exactly what the government is supposed to be doing anyway! That's why we give it $555-million a year to pay for Member of Parliament and Senator's salaries, benefits and staff.
It's the government's job, for god's sake!
It would be news if it wasn't trying to do all these things.
And why any government would spend all those millions of dollar on propaganda in these perilous times when Canada and the world face more recessions -- and possibly worse -- is beyond the comprehension of a simple blogger like me.
To quote the Scottish king who was himself a lousy propagandist:
It is a tale told by an idiot,
When it comes to codes of silence, His Worship the oafish mayor of Toronto, Canada's financial centre and biggest city, has learned a lot from the nation's chief magistrate.
Rob Ford too ignores demands that he explain himself and his actions. (He's accused of just about everything a mayor can be accused of including -- but not limited to -- racism, sexism, smoking crack with hoodlums and sheer, bloody incompetence.)
His late Friday statement after a week of silence that he doesn't use, nor is he addicted to crack, was far too little, far too late.
He even starred in all his glory on the late night satirical Jon Stewart and Jimmy Kimmel shows in the U.S.
And now, just like the Big Man In Ottawa himself, instead of coming clean and explaining himself to the people who elected him, Mayor Ford has fired his own chief of staff.
The world used to ignore Canada as a polite, frozen wasteland where the national sport is making love while standing in a canoe and singing Rose Marie. Now we're seen as a country of corrupt politicians and incompetent clowns.
The upside to all this, of course, is that, just for a change, we're getting lots and lots of free publicity. The downside is that all this free publicity is really, really bad publicity.
We are to laugh at. To be pitied.
And if we're chiefs of staff, we should certainly be looking around for a safer line of work.