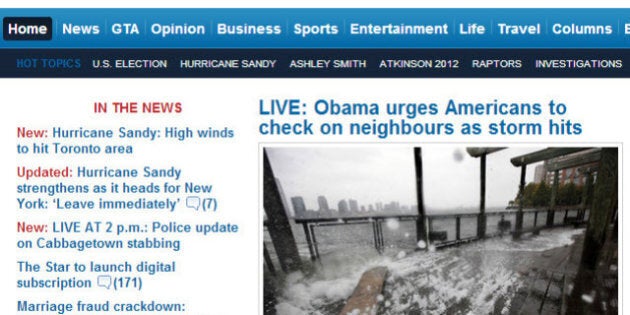 Tim Knight writes the regular media column, Watching the Watchdog, for HuffPost Canada.
"The first rule of politics -- never believe anything until it's been officially denied." - Sir Humphrey Appleby in Yes, Minister
The Toronto Star is an odd bird. It's owned by five trustees, all sworn to continue the left-wing social priorities of one of its first editors, "Holy Joe" Atkinson, who died more than 60 years ago.
Among those principles are support for social justice, individual and civil liberties, and the rights of working people. Which sounds delightfully quaint in this age of cynical disdain for traditional general interest news and information outlets (much derided as mainstream media).
Anyway, just before our recent over-sentimental overindulgence in gifts, food, drink and religion, the Star came out with a massive two-page spread titled "A Culture of Secrecy."
It's a splendid rebuttal to the myth spreading through our culture that newspapers like the Star are doomed. That there's no longer any need for such grandiosity as its massive headquarters at 1 Yonge Street. That "citizen journalists," the various aggregators like HuffPost, along with Twitter and Facebook, will be able to handle our every information need. That the Internet can do it all.
The introduction to the article details some of its targets:
Publicly funded bodies that won't answer the simplest of questions.
A government that goes out of its way to thwart the public's ability to monitor its actions.
Huge fee estimates for information.
Civil servants gagged.
Data destroyed.
The article goes on: "In their efforts to get to the truth and shed light on information Canadians need to know, journalists seeking answers on how our governments and public institutions operate are increasingly being hampered by legal, bureaucratic and political barriers."
Then it details 15 of the more egregious examples of our wretched, undemocratic Canadian culture of official secrecy.
When you read the list (I highlight seven below), you might remind yourself that it's only because of traditional journalistic culture, training and dedication, along with sufficient resources and dogged patience, that the Star was able to keep working on these stories long after governments first hid them. And ask yourself which of them could or would have been exposed by "citizen journalists," aggregators, Twitter or Facebook.
F-35 Stealth Fighter: The denials piled upon lies about the real cost of that sleek, shiny, stealthy, ever-so-macho fighter jet stopped sounding believable many months ago. Yet the Defense Department and Conservative ministers kept on lying. First government estimate was $15-billion just for the planes. Latest estimate from the Auditor General is $45-billion to own and operate the planes over 42 years. The Star writes that the publicity and new numbers sent "federal officials back to the drawing board and [launched] a new search for Canada's next fighter jet."
Ashley Smith: When she was 19 she killed herself in a Kitchener prison segregation cell while prison guards watched, under orders not to intervene. For long months, the federal government, federal lawyers, prison staff and doctors united to block investigation into her suicide. Eventually, after considerable publicity, video showing her being physically restrained by guards was released. The Star writes approvingly: "Last month, the new coroner dismissed a motion to narrow the scope of the coming inquiry."
Dahla Dam: Canadian taxpayers spent $50-million to have Quebec-based SNC-Lavalin rebuild the Dahla Dam in Kandahar province, Afghanistan. The Star writes: "Critics say the work falls far short of what was promised," so tried to find out how the money was spent. The Canadian International Development Agency (CIDA) refused to explain "because this information is considered third-party information under commercial privacy."
Federal Budget Cuts: Parliamentary Budget Officer Kevin Page (along with all the opposition parties) has spent a lot of time trying to find out exactly how the Harper government plans to cut $5.2-billion from its latest budget. And mostly failing. Because of that, the Star writes: "Page said he had no choice but to seek a reference from Federal Court on whether he has the jurisdiction to order departments to provide detailed budget implementation information." Meantime, we the taxpayers wait to find out how our government will spend our taxes.
Canada Post Bonuses: Canada Post reported it lost $327-million in 2011. Given that poor performance, the Star wanted to know if staff were given bonuses. Canada Post refused to answer, citing competitive trade secrets, confidentially and privacy. The Star discovered that 7,402 employees, including 23 senior managers, got bonuses -- "but is still being kept in the dark about how much was paid."
Toronto's Schools: A Star investigation revealed that taxpayers pay extraordinarily amounts to maintain Toronto's schools. For instance -- $143 to replace a pencil sharpener, $2,900 to replace an electrical outlet. The Star asked the Toronto District School Board for details, was told the information would cost $3.6-million. After lots of negative publicity, the Board finally handed it over. For free.
Mayoral Day: The secret comings and goings of Toronto's embattled mayor are not as spectacular as some of the above mentioned governmental abuses of office. Even so, it took Freedom of Information requests for the Star to discover that Rob Ford "meets almost solely with councilors who are supportive of him... that he regularly makes time for corporate leaders but hardly ever for non-business advocacy groups, and that he had only one appointment on his schedule -- a "private" meeting -- on the day of a Pride flag-raising he said he was too busy to attend." Meantime, Ford appeals a judge's decision "that ordered him out of office over a violation of Ontario's conflict-of-interest laws."
Things are so bad that for the past two years the Canadian Association of Journalists has given the Harper government its much-uncoveted Code of Silence award. (He didn't appear for the ceremony.)
And in a recent survey of freedom-of-information rankings, Canada tied way down at 51st, right behind such shining, democratic stalwarts as Angola, Colombia and Niger.
The survey was polite but firm: "As a country that was once among the world's leaders in government openness, it is unfortunate that Canada has dropped so far down the list. Partly, this is the result of global progress, with which Canada has failed to keep pace."
The Star article is a gutsy indictment of our various levels of government and how they literally steal information we the citizens pay for -- information which, of course, rightly belongs to us.
It's a long sad indictment of governmental lying, hiding and outright deception.
That great Scottish writer Sir Walter Scott warned us about such perfidy more than 180 years ago:
"Oh what a tangled web we weave,
When first we practise to deceive!"