7activestudio via Getty Images
Imagine a world where everyone who needs a kidney gets one. A two-year-old Victoria, B.C. girl, Hailey-Ann, and her parents are living this reality right now. March is Kidney Health Month and is an opportunity to highlight the realities of kidney disease and the need for organ donation.
There are currently 3,500 British Columbians on dialysis and 50 per cent will die while waiting to get a kidney transplant. This is the reality of kidney disease.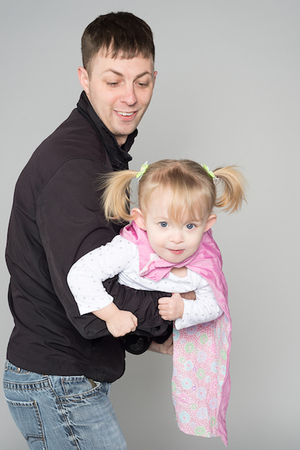 Kidney disease is a serious condition that can affect anyone at any age, including children. This Kidney Health Month is focused on kids and kidney disease, especially how this disease can affect children and their families both physically and emotionally. Twelve children are on dialysis in B.C., almost 150 with non-dialysis chronic kidney disease and another 50 are in post-transplant care. These numbers may appear small, but the impact on their lives is significant.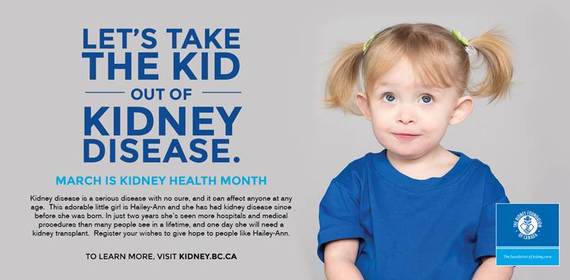 Kidneys play three essential functions that are key to our overall health and well-being. The kidneys regulate the fluid levels in your body so when your kidneys aren't healthy then your body retains water, which commonly causes blood pressure issues. Your kidneys are the waste removal mechanism in your body. Then finally your kidneys produce important hormones that help with things such as red blood cell production.
"Kidney disease, like any serious condition, can bring about many different feelings in children, including confusion, anger, fear and sadness," says Dr. Morrison Hurley, pediatric nephrologist. The former Board President of The Kidney Foundation of Canada, BC & Yukon Branch suggests that children want to be 'normal' and this is more difficult while coping with kidney disease, dialysis or transplantation. "Families may have to make changes to their schedule and lifestyle. These young patients and their families need special understanding and support," said Dr. Hurley
Children who suffer from pediatric kidney disease face many challenges. The condition can make them feel tired, nauseous or generally unwell. This can affect their lifestyle in plenty of ways, including decreasing appetite or causing them to dislike foods they previously enjoyed. These children may have restricted diets in order to help manage the disease.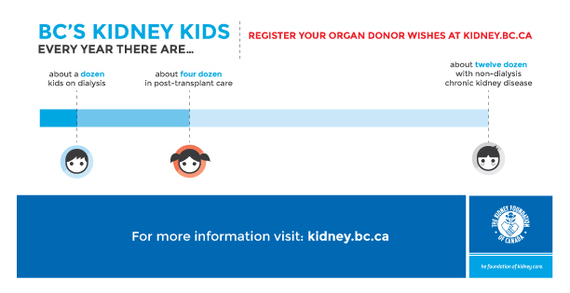 Children may also experience physical challenges that include slower growth due to the dietary intake, unhealthy bones or a resistance to growth hormones. Kids also may have difficulty concentrating on their schoolwork. For these reasons, it is essential children and their families work closely with their doctor and medical team.
Our slogan for the month is "Lets take the KID out of Kidney Disease" because kids should be focused on enjoying their childhood, not faced with the challenges of their disease. To help kids with kidney disease just be kids, The Kidney Foundation of Canada, BC & Yukon Branch, offers Kidney Kids Camp. Every summer, children with kidney disease ranging in age from eight to 18 spend a week at camp, paddling, swimming, hiking and enjoying other kid activities.
The Kidney Foundation pays for camp fees and transportation so there is no cost to families. Over 400 kids have participated in the program since it started in 2005. Kidney patient, Jason Luc, 12, has this to say about Kidney Kids Camp: "There's two things that I like most about the Kidney Camp that I've gone to for the past three years and that's the activities and the food. I love the zip lining, canoeing and horseback riding. The food is really good and the desserts are the best!"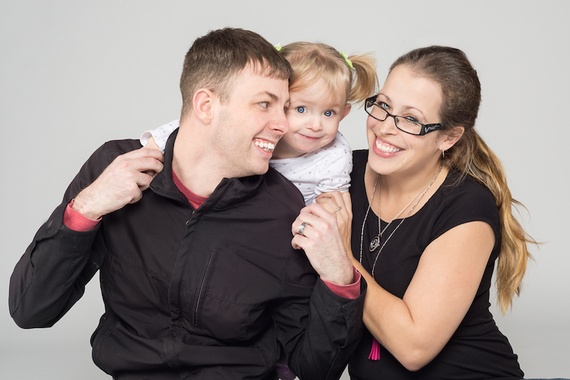 Current statistics show that while 95 per cent of British Columbians say they support organ donation only 20 per cent have actually registered on B.C.'s organ donor registry. Today there are 562 people in B.C. waiting for a life saving organ transplant, and an estimated 450 of those are waiting for a kidney. Sadly many of these patients will die waiting. Patients wait an average of four years for a new kidney.
The Kidney Foundation's Saving Lives Through Organ Donation campaign has set an ambitious goal to increase kidney transplant and organ donor registration by 50 per cent in five years. Join us, register your wishes and make this a reality. There are 562 reasons to register your organ donor decision in B.C., each of them waiting for an organ transplant in B.C. Heroes aren't born, they're registered.
Follow HuffPost Canada Blogs on Facebook
ALSO ON HUFFPOST: