Wendell (Woody) Cormier, a paranoid schizophrenic homeless man from Toronto, got up to the microphone last Thursday and told the audience bluntly, "If you force a man to stay outside and freeze to death, and then blame the cold; it's like making a man walk the plank and blaming the water for him drowning."
With that concise simile, Woody captured the very essence of how we all have a collective responsibility when anyone in our community "fails economically" and becomes homeless.
He may have been labeled "crazy" by some but OMG he sure wasn't stupid.
There are those on the right who often preach a simplistic gospel of "personal responsibility" coupled with the belief that the "free market fairy" will come down and solve all. But the reality is that there comes a point -- a true tipping point -- where one's life can spiral out of control into homelessness and a number of forces kick in that make it impossible to climb back out. These include predatory lenders, biased justice systems, employers requiring applicant addresses, acute depression, loss of family supports, and on and on. At this point, no amount of personal responsibility ("Just get a job!") is sufficient. A helping hand from our collective community is required.
For most of us sitting at the comfortable vantage point of our suburban living rooms, homelessness is something far away from our normal purview, and on those rare occasions when it does cross our minds, there is unfortunately often embedded deep in our capitalist western psyche a strong core belief in Social Darwinism: the belief, unfathomably, that it is acceptable for the personal failure of one of our citizens to result in their slow, lingering death.
Homelessness will easily take 20 years from your life. Even if all is going well, anyone -- yes, anyone -- can suddenly find themselves in the midst of an economic downturn, a natural disaster, a family crisis, or some other situation where circumstances beyond our control conspire badly against us. It can happen blindingly fast. And even if fortune favours you and you don't experience homeless directly, you pay for it indirectly with high taxes. There is mounting evidence that people living rough (sleeping outside) on the streets are surprisingly expensive to all of us.
In a 2005 study comparing four Canadian cities, Steve Pomeroy estimated that it costs $66,000 to $120,000 per person per year for institutional responses to homelessness (e.g. prison, psychiatric hospitals) as compared with $13,000 to $18,000 for supportive housing.
Woody was speaking at the Canadian Alliance to End Homelessness conference I attended last week in Montreal. We had just finished watching a screening of the movie LOWDOWN TRACKS, a film by Juno award-winning musician and activist Lorraine Segato and written and directed by award-winning filmmaker Shelley Saywell, that traced 5 homeless people and a group of homeless youth called the Rail Yard Ghosts living rough in Toronto, all of whom had a powerful connection to music. They played. They sang. They wrote music. They were the buskers we walk by everyday in the subway stations. And their talents were amazing. (Check out the movie trailer below.)
When the lights came up, we were told that three of the stars in the film (Woody, Bruce Bathgate, and Anthony Van Zant) were with us in the audience. Much to our delight (and hoots and applause), they each got up and jammed for us live and told us in their own words the harsh realities of their lives on the streets.
For me, it was a moment -- a moment I will never forget.
Like a doe-eyed groupie, I went up to Woody afterwards, shook his hand, and told him that he was "awesome!" (Seriously, not my most articulate moment!)
We have come a long way in our understanding of the myriad of causes of homelessness and we know what works to fix it. It all begins with the Housing First approach, which starts with a simple principle: get a person housed THEN deal with their issues; not the other way around.
Ending Homelessness is now a national movement whose momentum is increasing daily. Across Canada, we are seeing success after success of the Housing First approach. We see community after community adopting "10-year plans to end homelessness". MP Marc Garneau indicated at the conference that the Liberal government is seriously considering earmarking $20 billion in investments in affordable housing. A great investment it will be, one that will yield manyfold cost savings in social services, will improve the lives of thousands of Canadians, and will create a better, even more inclusive society for us all.
On Monday, I'm very proud that Mayor Don Iveson announced that my hometown of Edmonton -- which has already housed over 3,500 people using Housing First -- joined dozens of communities across Canada in the 20,000 Homes Campaign, "a national movement of communities working together to permanently house 20,000 of Canada's most vulnerable homeless people by July 1, 2018."
For the first time, I am actually optimistic that it is realistic for Canada to end chronic homelessness in this generation.
And what about the stars of the movie?
Katt Budd and Maryanne Epp, also stars in the movie, found housing during the filming.
The morning after their jam session at the conference -- and to the huge delight of the conference delegates -- it was announced that Toronto had found permanent housing for Woody, Bruce, and Anthony! (Awesome job, Toronto!!)
And I think the news is just going to get better and better.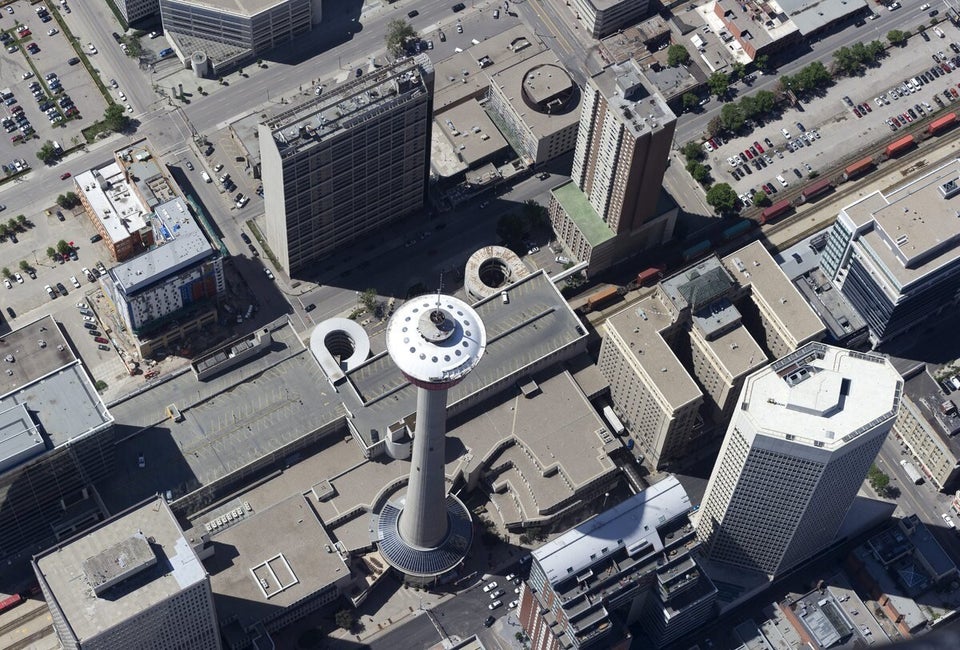 Best To Worst Poverty Rates In Canada