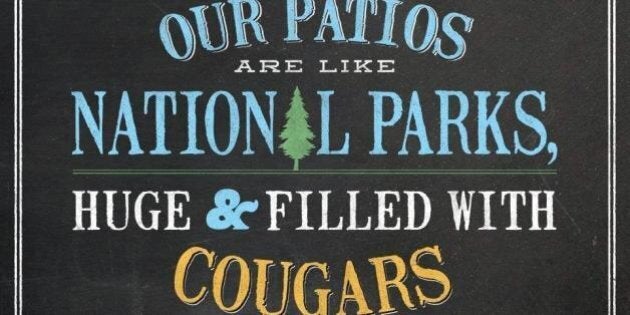 "Our patios are like national parks. Huge and filled with cougars."
Take that in for a moment. Inhale the uninspired triteness of the sentiment. Weep for the budget spent on producing such drivel.
This is Jack Astor's latest brilliant burst of marketing genius and apparently the best they could come up with as incentive to get you on their terrace this summer.
The ad is also available in badly written French too (hey proofreaders, you don't need an 'et' after an ampersand. THAT'S WHAT AN AMPERSAND'S FOR!!) and can be found right here in Montreal, if anyone is wondering.
But why are you getting riled up? It's just a silly, tongue-in-cheek joke, right? Just some sassy, spunky marketing. After all, a restaurant and bar can't possibly just focus on its food and alcoholic beverages to draw people in, could it? It must focus on the plethora of cougars apparently found on its terraces! Because the vast majority of suburban parents who take their kids there for cheap kiddie meals are just dying to frequent cougar-infested hang-outs.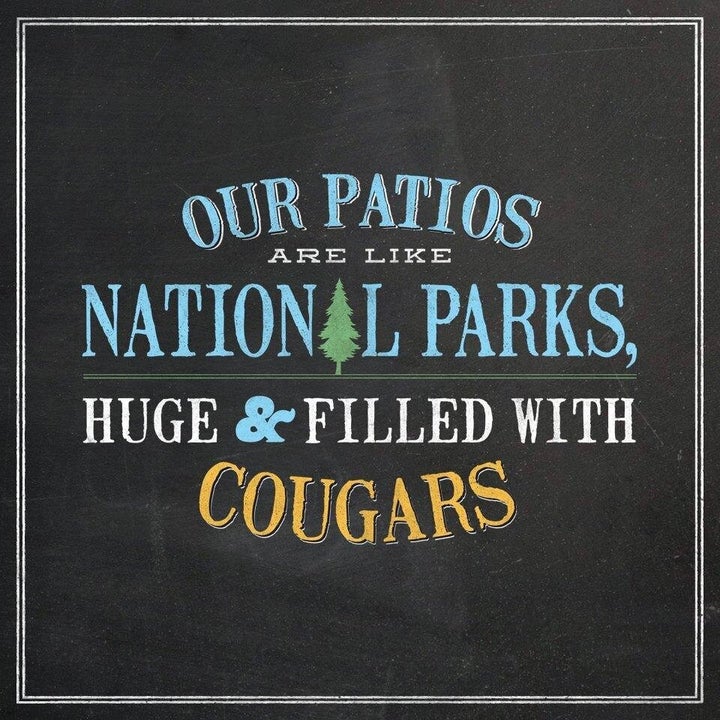 This campaign just stinks on all levels as far as I'm concerned. Not only is it tacky and sexist, I don't see it as effective in any way. Who is it supposed to attract? Inexperienced 18-year-old suburban boys sitting around sipping on their Coronas, munching on their sizzling fajitas while waiting for a desperate, sexually voracious cougar two tables over to stalk them, pounce, and do bad things to them?
Sounds fascinating. Let's all join THAT party!
But back to the cougar issue I have.
Here are some common definitions for you.
Cougar: An older woman who frequents clubs in order to score with a much younger man.
Cougar: Noun. A 35+ year old female who is on the "hunt" for a much younger, energetic, willing-to-do-anything male. The cougar can frequently be seen in a padded bra, cleavage exposed, propped up against a swanky bar in San Francisco (or other cities) waiting, watching, calculating; gearing up to sink her claws into an innocent young and strapping buck who happens to cross her path. "Man is cougar's number one prey."
Now here's the term for older men who date younger women for casual sex. They're called... men.
The term 'cougar' is so derogatory, ageist and sexist, it baffles me that some women use with it pride. I suspect they may derive some sense of misplaced power and control from the notion of being in charge, but there is absolutely nothing flattering about being compared to an overly sexualized predator out on the hunt for helpless animals.
'Cougar' is too over-sexualized and too predatory an image to apply to a broad section of women. It's just one particular type of woman, not all women that necessarily date younger men. It's an offensive stereotype and cliché that insults and belittles.
On a personal level, it also irks me because I have dated younger men my entire life. Not on purpose or because I prey on them (I'm the laziest and least aggressive pursuer in dating history, trust me), but I've always simply been attracted to younger men and found their interests to match mine.
But, judging by some of these loose definitions, I'm a cougar, because I'm a 35+ woman who has always -- with very few exceptions -- dated younger men. Even though I never wear padded bras, I'm never "on the hunt," I'm in better shape than most of the men I've dated and you will never find me "propped up against a swanky bar." Oh, and you will absolutely never find me on a Jack Astor's terrace. Mainly because their restaurant/bars are usually found on suburban strip malls and hanging out at strip malls is a thousand times worse than being called a cougar.
But beyond my own personal disdain for the term, this pathetic ad falls well within the types of sexist humour (just like Montreal bar Nacho Libre's "I like my violence like I like my beer: domestic" Facebook and Twitter debacle last year) that are simply not benign amusement.
"This type of sexist humour and advertising can affect men's perceptions of their immediate social surroundings and allow them to feel comfortable with behavioral expressions of sexism without the fear of disapproval of their peers," writes Thomas E. Ford, a faculty member in the psychology department at WCU. "Specifically, we propose that sexist humor acts as a 'releaser' of prejudice."
Basically what Ford is trying to say is that sexist jokes not only allow men (and sadly, women) to believe that sexist behaviour falls within the bounds of social acceptability, it also reveals people's deep-rooted -- and often undetected -- prejudices about a woman's place in our world.
Cougar jokes are demeaning and serve to put older sexually active women in their place for engaging in casual sex with men. There's a palpable scent of sneering, reprimanding derision in the air when the term is used. Even when people attempt to use it as something empowering and positive, it ultimately isn't.
While racist and homophobic jokes are no longer tolerated the way they once were, and people have become sensitized to the discrimination they represent, demeaning jokes involving women continue to get a free pass.
It's still somehow OK for ads like this to get the green light and appear in metros cars and in newspapers and on the side of a bus and no one even bats an eye.
Jack Astor's logo is an ass. As in a donkey's ass. I've never felt any which way about the company, but after today, I feel like that logo suits them perfectly.