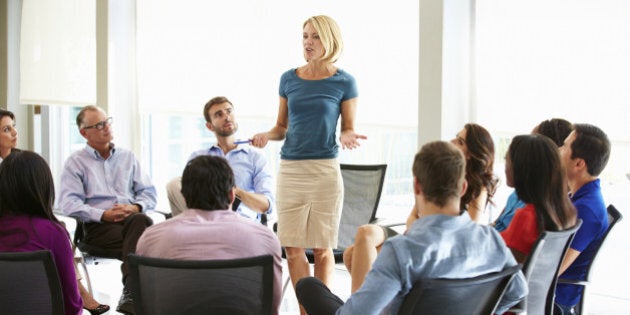 Plenty of praise has been written about women's natural abilities as business leaders, yet females still hold few senior executive roles. It's time for women to execute better as they climb the corporate ladder, by leveraging their real strengths and networking strategically to earn a place at the top.
Early in my career at a multinational manufacturer, I got a taste of the challenges a woman might face in the corporate world. I was assigned to a travelling consulting team in which I was the youngest, and only female, among a squad of men. We were sequestered together for a grueling series of week-long road trips, which extended from daily breakfast meetings to late night debriefs over Styrofoam take-out platters.
I soon realized that I wasn't going to make my mark in that testosterone-fuelled testing ground by trying to talk over the guys. Instead, I drew upon my own strengths, and built professional relationships, to convert a minivan of men into allies and mentors. I've continued to apply those tactics throughout my career.
Leveraging women's unique strengths:
While no two women are alike, I certainly concur with experts who state that women are very well equipped for leadership. As a change strategist who has led operational transformation across the telecom, auto and financial sectors -- and currently within the highly traditional legal profession -- I've applied many skills that are often unique to women.
I've witnessed how women respond well to organizational change - an essential characteristic in today's often-tumultuous conditions -- in their ability to multi-task and adapt. While men traditionally hunted and fought, women's historic roles as mothers, caregivers and gatherers helped them build key skills such as listening, empathy and communication.
By applying these so-called 'quiet leadership' traits, women can create transparency, spark collaboration and build trust, which contribute immeasurably to business performance.
In contrast, men can charge into meetings and push through their agendas without building consensus, which frequently leads to failure. Similarly, I notice how men may just expect their staff to work whatever hours it takes, in some cases without consideration of their personal commitments. This, in turn, leads to team discontent and poor productivity. Women are generally more attuned to such potential issues and they tread with greater care to achieve better outcomes.
Unfortunately, many women still refuse to accept their distinct qualities as strengths that they can and should apply. They feel the need to blend in and emulate the guys' approach, even though conformity feels uncomfortable. And ultimately, when you are not being yourself, others will see through your attempts and you'll fail to win their trust.
It was during those cross-country road trips with the guys, hunched around laptops in stale-air conference rooms, that I realized the only way I could gain their respect was if I followed my instincts and did what I could do well, in my own way.
Networking for women, for results:
At this point you might ask, "But won't women continue to be overlooked for leadership roles if they quietly do what they do best in a crowded arena of men?"
My response: Absolutely, unless women learn to network better and speak up when they need to.
Based on my experience, I see that few women take the time to network with adequate purpose and structure. They may join a women's networking group, of which there are many excellent organizations, but they often treat it as a social gathering. Or, they limit their networking efforts to other influential women, who are, sadly, in short supply.
I'd encourage women to see networking more strategically than 'working the room.' Instead, network to find one or more good mentors, or sponsors, to open doors to your next career move. Keep in mind that women should seek male mentors and sponsors too, to benefit from their perspectives and diverse contacts. Since women might be intimidated seeking a man as their advisor, you may want to forge connections through other trusted contacts, including male colleagues who know you well and will vouch for you.
Then, make sure that your networking efforts are not just informal coffee conversations. Before meeting a contact, prepare an agenda or a one-pager that summarizes your strengths and goals. And be clear when asking a mentor or sponsor for help. Explain what skills you want to develop or who you want to meet from their network. By making it easy for your mentor/sponsor, you'll find that most people will be glad to help you along.
During my intense consulting road trips with the guys all those years ago, I identified potential allies in the group and built rapport so they wanted to help me succeed. I do the same today, whether by approaching peers offline, or talking openly with my boss to obtain his encouragement. Basically, I speak up and ask for help, rather than trying to go it alone. Men do this in their own networks without hesitation, and women should too.
Although everyone must choose a strategy that feels right for them, in light of the slow pace at which females are entering the upper echelons of corporate Canada, I'd suggest that women should revise their current approach. If trying to walk and talk like the guys isn't working, it's time for women to be themselves, be confident applying your own strengths, and network with focus, to make yourself heard.