With the last of the snowfall behind us (hopefully) Canada's gardens are starting to see signs of life. Residents in Victoria and Vancouver have been enjoying cherry blossoms for weeks, but the rest of us have waited through a long winter for the first blooms of spring.
Now that the blossoms are here, there's no better place to enjoy them than in Canada's stunning public gardens. With so many to choose from it was hard for us to narrow down our favourites, but we've tried our best. From coast to coast, all are stunning in their own right.
British Columbia
VanDusen Botanical Garden, Vancouver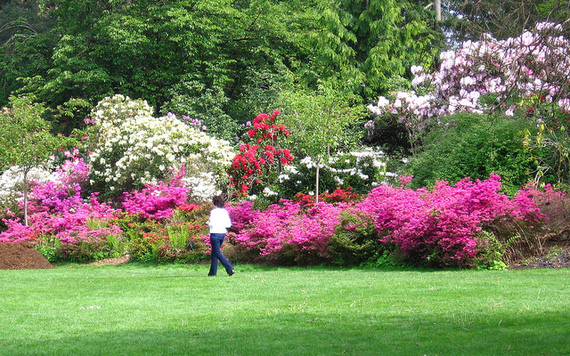 Strolling past the Rhododendrons, VanDusen Botanical Garden. Flickr photo by Marcin Chady
The garden has 22 hectares of elegant landscapes with plants from ecosystems as far-ranging as the Himalayas and the Mediterranean. In the spring, this garden is filled with rhododendrons, magnolias and camellias. Don't miss the striking Himalayan blue poppies that bloom in May.
See Travelzoo Vancouver deals here.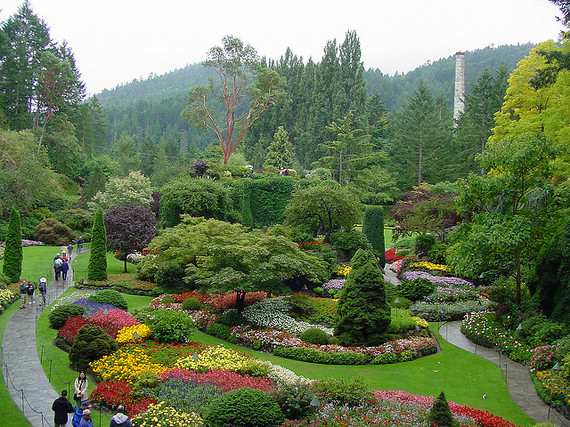 The colours of Butchard Gardens. Flickr photo by TravelingOtter
This stunning garden features thousands of spring bulbs and flowering trees. Every spring, more than 50 species of plants begin to bloom. Walk below the yellow buds of the laburnum trees and take time to see the numerous striking colours of the azaleas, wisteria, trilliums and blue poppies.
See Travelzoo Victoria deals here.
Other notable B.C. gardens
Milner Gardens and Woodland, Qualicum Beach
Nitobe Memorial Garden, Vancouver
Alberta
Nikka Yuko Japanese Garden, Lethbridge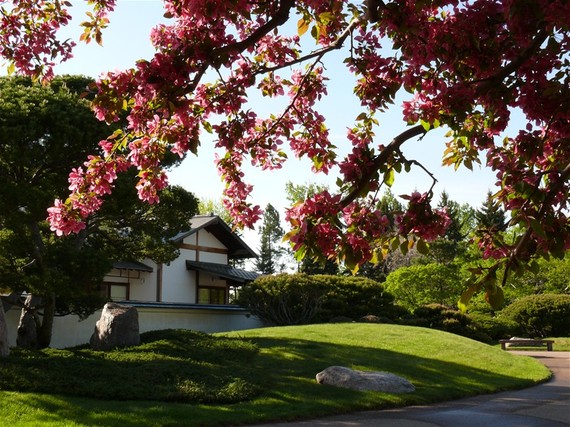 The crabapples in bloom at Nikka Yuko. Photo courtesy of nikkayuko.com
Nikka Yuko traces its roots to Japanese-Canadians that were forcibly transported from British Columbia to this area during World War II. Created as part of Canada's 1967 centennial, it remains one of the most meticulously maintained Japanese gardens in the country. Look for flowering lilacs, crabapples and dogwoods.
Other notable Alberta gardens
Muttart Conservatory, Edmonton
Saskatchewan
Patterson Garden Arboretum, Saskatoon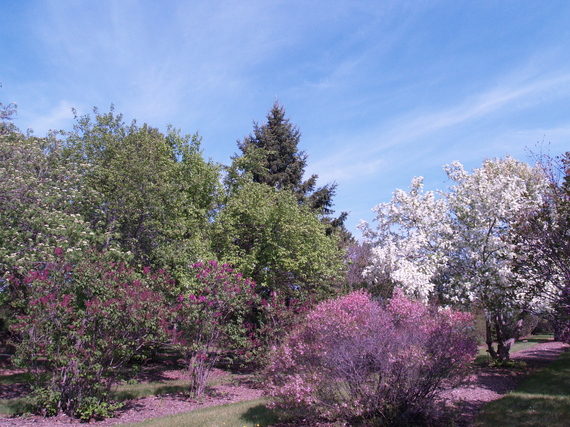 Trees in bloom at the Paterson Garden Arboretum. Photo courtesy of The University of Saskatchewan
The Patterson Garden Arboretum located near the University of Saskatchewan campus is open to the public free of charge year-round. Species from northern regions around the world are on display, including lilacs, crabapples and flowering vines.
Other notable Saskatchewan gardens
Regina Floral Conservatory, Regina
Manitoba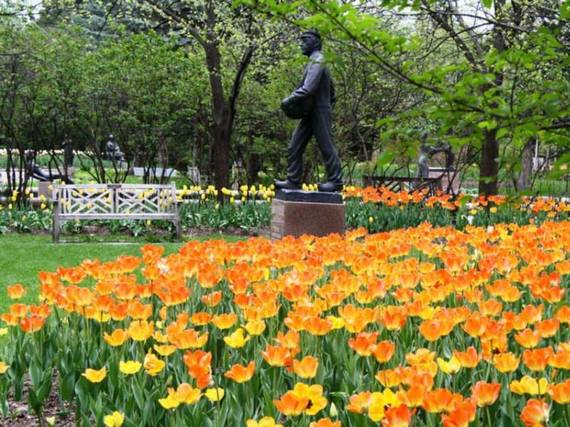 The tulips below the Leo Mol statue, Assiniboine Park. Photo courtesy of assiniboinepark.ca
Assiniboine Park's 450 hectares include numerous flowering gardens, a conservatory and a forest. See thousands of tulips blooming in the Leo Mol Sculpture Garden or stroll beneath the cherry blossoms in the English Gardens.
Ontario
Niagara Parks Botanical Gardens, Niagara Falls

Tulips line the entrance of the Niagara Parks Botanical Gardens. Photo courtesy of niagaraparks.com
This 40-hectare garden fills with rhododendrons, azaleas, tulips and Japanese cherries. This region, near the Niagara River, is also known as the daffodil capital of North America. Niagara Parks plant over 30,000 daffodils every year -- more than in any other park in the continent.
See Travelzoo Niagara Falls deals here.
Royal Botanical Gardens, Burlington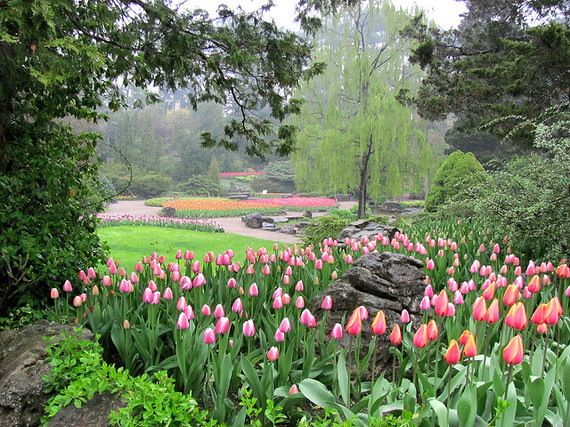 Spring at the Royal Botanical Gardens. Flickr photo courtesy of RichardBH
One of the premiere gardens in the country, the grounds are home to more than 1,100 species of plants. The gardens also feature rock gardens, an arboretum, perennial gardens and various nature trails, each with differing landscape designs. Every spring, the garden comes to life with flowering lilacs, cherry trees, maluses, magnolias and irises.
Other notable Ontario gardens
Quebec
Montreal Botanical Gardens, Montreal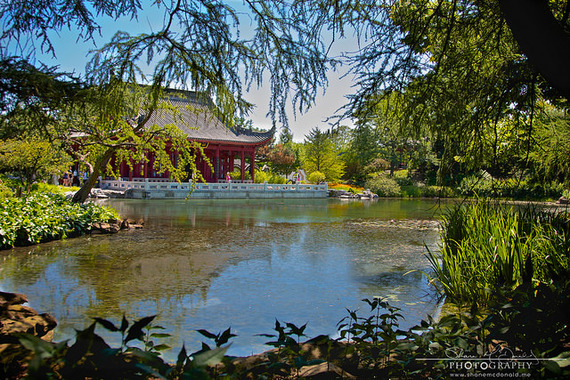 The Chinese gardens at the Montreal Botanical Gardens. Flickr photo by Shane McDonald
This is one of the biggest botanical gardens in the world, with more than 22,000 species and cultivars, 10 exhibition greenhouses and more than 30 thematic gardens. Spring brings a kaleidoscope of colours to the gardens. See the delicate alpine plants, cherry and crabapple blossoms, hyacinths, irises, tulips and peonies as they bloom back to life.
See Travelzoo Montreal deals here.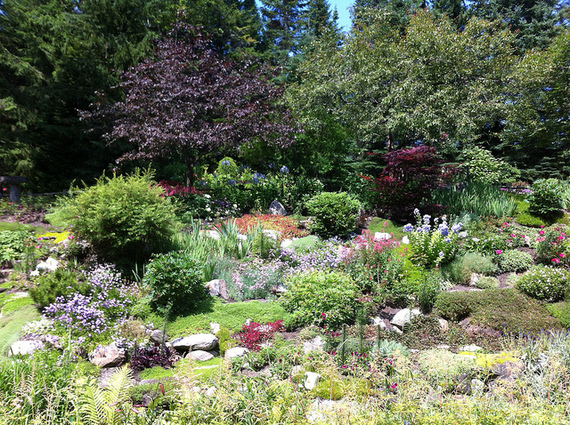 Reford Gardens in bloom. Flickr photo by Tristan Smith
This garden was created between 1926 and 1958 by a local avid gardener named Elsie Reford. It is home to more than 3,000 varieties of native and exotic plants. The grounds are open at the end of May until the end of September.
Other notable Quebec gardens
Les Jardins de Quatre-Vents, La Malbaie
Newfoundland and Labrador
Memorial University of Newfoundland Botanical Garden, St. John's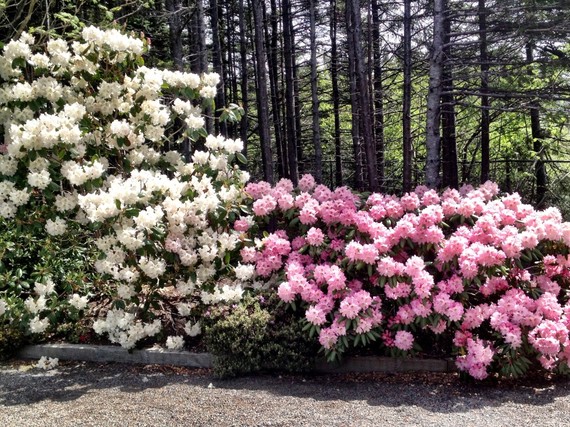 The famous rhododendrons at the Memorial University of Newfoundland Botanical Garden. Photo courtesy of destinationstjohns.com
Founded in 1971, this botanical garden includes almost 45 hectares of property comprised of rock gardens, peat gardens, a heritage garden, a Koi pond, an alpine house and numerous nature trails. While there are numerous species of plants, the garden is most famous for its more than 200 varieties of rhododendrons.
New Brunswick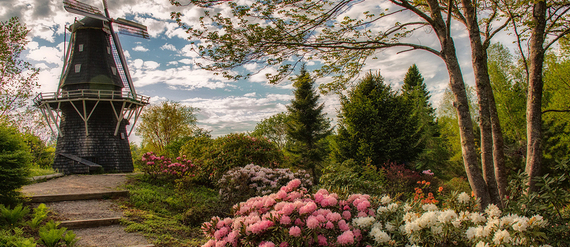 The Dutch windmill at Kingsbrae Gardens. Photo courtesy of kingsbraegarden.com
Kingsbrae is home to more than 50,000 different types of perennials. There are numerous gardens, including one designed for the visually impaired, with plants featuring interesting smells or textures. In the spring, you can walk through the collections of anemones, daffodils and azaleas or sit beneath the flowering crabapples and magnolias that dot the grounds. This garden also has a small children's farm and a genuine Dutch windmill (1:3 to scale).
Other notable New Brunswick gardens
New Brunswick Botanical Garden, Edmunstun
Nova Scotia
Annapolis Royal Historic Gardens, Annapolis Royal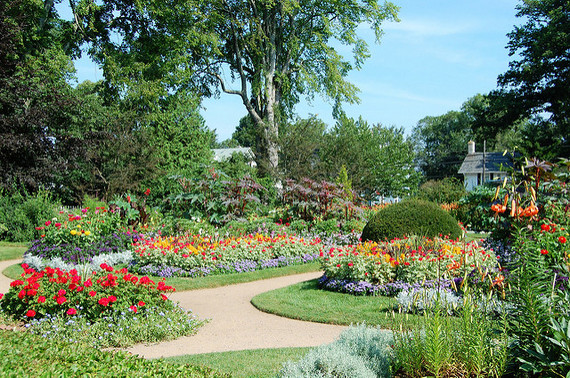 The manicured flower beds at the Annapolis Royal Historic Gardens. Flickr photo by InAweofGod'sCreation
Voted the 2015 Canadian Garden of the Year by the Canadian Garden Council, the gardens are located in the historic area known as the first permanent European settlement in North America, and they help to tell the history of the local area. There are various themed sections, including a Victorian garden and a 17th century orchard. The magnolias fill the park with a sweet aroma in early May, while the azaleas transform the green walking trails with bursts of their bright pinks, reds and purples.
Other notable Nova Scotia gardens
Halifax Public Gardens, Halifax
Yukon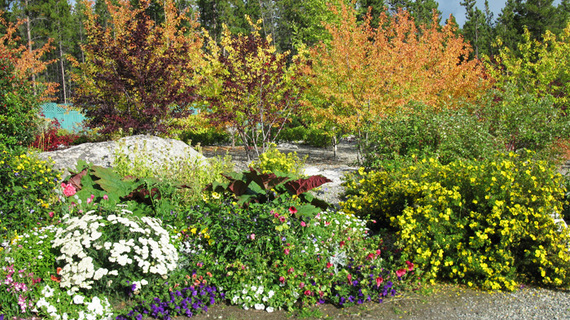 The surprising colours of the show gardens at Yukon Gardens. Photo courtesy of yukongardens.com
Yukon Gardens is home to Canada's only northern show garden, featuring native and domestic trees, shrubs and a large display of perennials, including thousands of hardy Yukon plants.
Andrea Chrysanthou is an editor of the Travelzoo Canada blog and is based in Toronto, Ontario. Travelzoo has 250 deal experts around the world who rigorously research, evaluate and test thousands of deals to find those with true value.
Follow HuffPost Canada Blogs on Facebook
MORE ON HUFFPOST:
13 Must-See Botanical Gardens