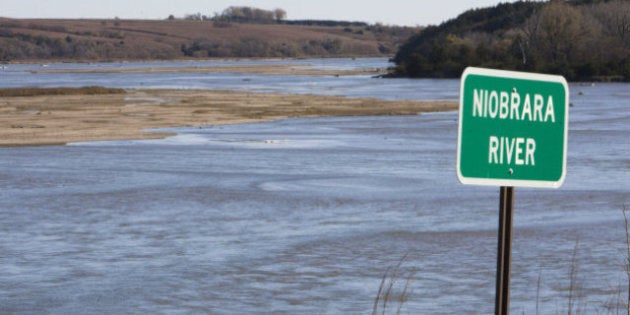 Polluting the political process is one thing but get out of my kids head!
Last night I arrived home after several weeks of traveling in Canada and Europe. Over dinner at our local Chinese restaurant, I caught up with what my kids had been up to and how they are settling back into Canada after our big move from Amsterdam last month. After hearing about their proud soccer moments and new friends, the conversation turned to my book tour across Canada and my meetings in Europe with Greenpeace climate and energy campaigners from around the world. With a face shining with excitement my eight-year-old son Quinn turned to me with what he though was very exciting news, "Mommy, isn't it great that they have figured out how to do the oil sands better? Now we can get oil that we really need while leaving the forests and even the butterflies are okay." "What?!" I spluttered showering my husband in green tea. "What. Are. You. Talking. About?"
Quinn explained earnestly, "Well, I saw it on TV. A lot. There are nice people who have fixed it and now really like their jobs and they've figured everything out so that all the nature is fine because after they get the oil we need they pat dirt back on and plant flowers and trees."
To be clear, if the numerous government and independent environmental non-profit reports detailing how the tar sands is one of the most polluting and destructive projects on Earth were not enough to convince you that the industry has not "found a way to make oil sands better" this week the federal Environment Commissioner came out with a report that besides concluding that the Harper government has no plan to even achieve its own weakened targets on climate change, it also reviewed tar sands project approval and concluded that "decisions about oil sands projects have been based on incomplete, poor or non-existent environmental information that has, in turn, led to poorly informed decisions."
The thing is, after extensively touring the tar sands, meeting with First Nations chiefs, scientists and reading dozens of reports on the billions of litres of toxic water we pump out of the tar sands each day and how it is the fastest growing source of global warming pollution in Canada, I was pretty shocked when I returned to Canada and came face to face with the new 'Ethical Oil ' moniker favored by our government and the insidious billboards claiming that "Clean Air Matters" to the "Oil Sands Today" or that "Land Matters."
I was actually pretty impressed with the industry's attempt to simply cover up the destruction by claiming to care. Smart. After that, learning that the federal government had handed the oil companies $2.9 billion in taxpayer money (in subsidies and tax breaks) in the year and a half I had been away, and also watching our federal government team up with the oil industry to lobby against European low carbon fuel regulation (fearing the threat of a good example that labels tar sands output as "dirty oil"), I honestly didn't think I could be shocked anymore.
This morning, reflecting on last night's conversation with my little boy I am almost paralyzed with shock. There is a small group of people in Canada who are not only polluting our water, air and forests but are also polluting our political process to such an extent that our environmental laws are being held hostage to their pocketbooks. With the new "Oil Sands Today," they are also polluting our children's minds and ours.
Prior to this morning these were issues I tackled at work. But while I was away, this small group of vested interests entered my home. Not okay. This morning I am not only an activist; I am a very angry mother. I wonder whether it's possible to launch a class action lawsuit hold these individuals and their companies liable for polluting our children's minds with their dangerous misinformation? Any other angry mothers out there who would like to find out?