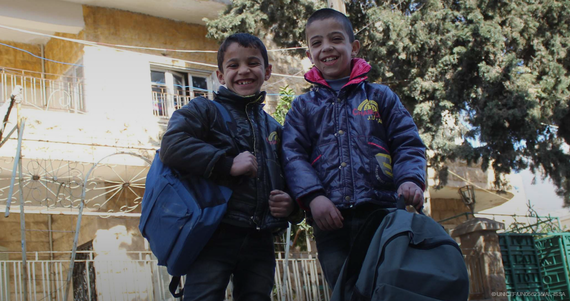 In Australia, your life changes when you turn 12.
You leave primary school behind. You look at children younger than you and feel a little more grown up. You pack your bag for high school, nervous and hopeful for what the year will bring.
Mohammad's life changed when he was 12 as well. In the city of Aleppo, Syria, just one day can start a lifetime of chaos. "My father was killed during the fighting and our mother was detained when she went out to buy some food," he says.
Mohammad had nowhere to go and no one to turn to. The 12-year-old looked at his little brothers and sisters -- Hanadi, Ibrahim, Doha, Zakariya and baby Yamen -- and felt a lot more grown up. He decided it was up to him to care for his family.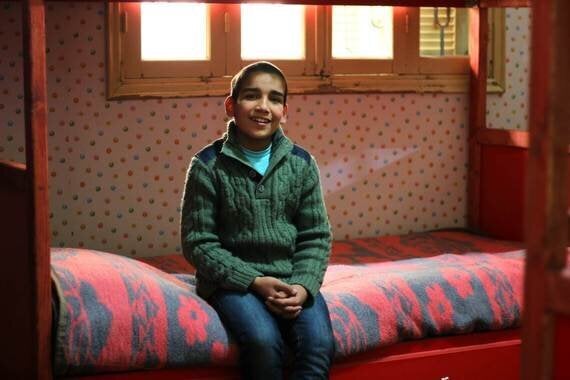 For two months, the six children lived alone. They spent their days rummaging through the rubble of their city for scrap metal to sell. The little money they made went towards small amounts of food and water. They burned wood to stay warm and all crowded into one room to sleep.
UNICEF, the children's charity on the ground in Syria, was searching eastern Aleppo for children separated from their families in the chaos of war. One day, UNICEF found Mohammad and his siblings in a partially-destroyed building.
"They were in the worst conditions imaginable," says a UNICEF worker. "They were shocked, they hadn't showered in so long. They were covered in ashes because of the wood they were burning to warm up. Their hair was full of lice and the little baby was crying uncontrollably," he adds. Just nine months-old, baby Yamen was found wrapped in a soiled blanket.
The shelter in Aleppo seems plucked out of a fairy tale.
UNICEF found 300 children like Mohammad and his siblings in Aleppo at the end of 2016 -- children who'd been separated from their families or orphaned by the violence. Each of these children urgently needed a safe place to stay. More than anything, they needed to be at home with their family.
The house with the green door
The shelter in Aleppo seems plucked out of a fairy tale. Mohammad and his siblings stepped through the welcoming green door and walked into a safe place for the first time in months. They were surrounded by a tiny garden filled with Jasmine flowers and olive trees and a big house filled with children laughing and playing.
The home could be from a fairy tale but every child inside has a horror story.
One girl was just two years old when she was rescued from rubble by a family fleeing eastern Aleppo in 2016. Terrified, injured and confused, the toddler was taken with the family to an emergency shelter on the outskirts of the city. That's when UNICEF found her and brought her to the temporary children's home while our staff searched for her family. So far, we haven't been able to find them.
The staff at the shelter have named her Nour. It means light in Arabic.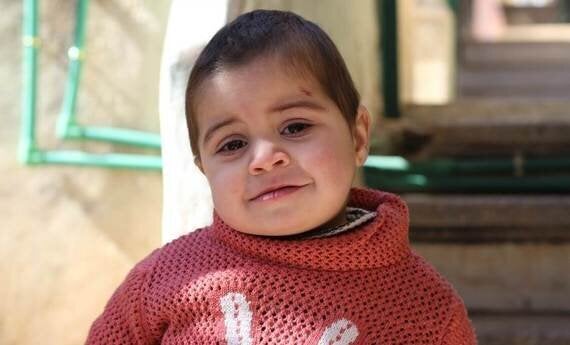 These children have been uprooted from everything they know: their friends, their toys, their school and their family. Nothing can erase that loss but here, behind the green door, are the little things every child deserves.
A warm shower. A hot meal. Clean clothes. Somewhere to play. Someone who cares.
After two hellish months, Mohammad and his siblings had one request: not to be separated from each other. They were determined to survive, to get through this crisis as a family and to live with dignity. It's what UNICEF wants most for children like them: to stay together, safe and to be reunited with their family and community.
While UNICEF and our partners work on finding the parents and family members of children in the shelter, our specialist staff make sure they can start to recover from the profound stress of war. In the strangest of places, we help them feel a little normal again.
"We try to make their life as comfortable as possible," says a staff member at the orphanage. "On weekends, we all go out to parks to play and have fun like one big family!"
During the week, the children get a chance to go back to school and start shaping their futures. It was the first time Ibrahim and Doha, Mohammad's younger siblings, had been inside a classroom in their lives. After school, the shelter hosts extra classes to help the children catch up on lost time.
For children in the shelter, it's a return to the stability and warmth of a classroom. A place to express themselves with the pencils, books and learning supplies they've lost. A chance to be supported by trained teachers who believe in them so they can develop their talents and look forward with confidence.
After four months of searching, there was great news for Mohammad and his siblings: UNICEF found their uncle. It's no small feat to trace someone in the middle of biggest humanitarian crisis since World War II, but it's worth it: the children are reunited with their family.
The house with the green door gave the six children safety and hope; now, at home with their family, they can finally rebuild.
Rashini Suriyaarachchi is a Digital Content Producer for UNICEF Australia.
The Government of Canada is supporting UNICEF to increase education opportunities and provision of school supplies and self-learning material to 400,000 vulnerable children in Syria, including those living in hard-to-reach and besieged areas.To help UNICEF continue providing life-saving support to children like Mohammad, click here.
Follow HuffPost Canada Blogs on Facebook