Around the world, nearly 50 million children have been uprooted -- 28 million of them driven from their homes by conflicts not of their making, and millions more migrating in the hope of finding a better, safer life.
Often traumatized by the conflicts and violence they are fleeing, they face further dangers along the way, including the risk of drowning on sea crossings, malnourishment and dehydration, trafficking, kidnapping, and rape. In countries they travel through and at their destinations, they often face xenophobia and discrimination.
Meet five children who have been caught in circumstances beyond their control and who are paying the price for wars not of their making.
1. Nyayjaw, 8, South Sudan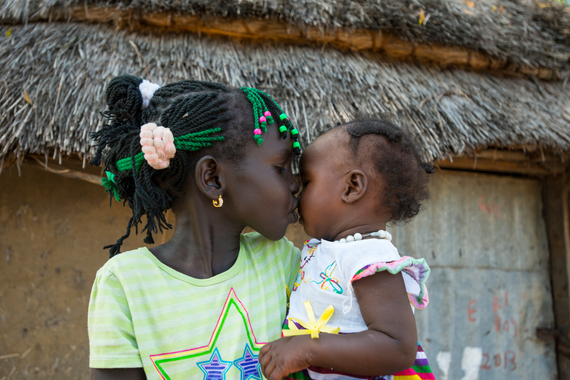 In South Sudan, Nyayjaw, 8, kisses her baby sister, Nyagua, whom she just met for the first time after being reunited with her mother. For two years, the family was separated by conflict. Nyayjaw and her brother Chuol, 4, had been living with their elderly grandfather in the Bor Protection of Civilians site. "I will never allow us to be apart again," said their mother Nyaruon after their tearful reunion in Akobo, their hometown. Then came the added joy, the introduction of the children to their newborn baby sister, Nyagua, whom they had never met before.
2. Elias Jameel Abdullah Mohammed Moqbil Alhakimi, 14, Yemen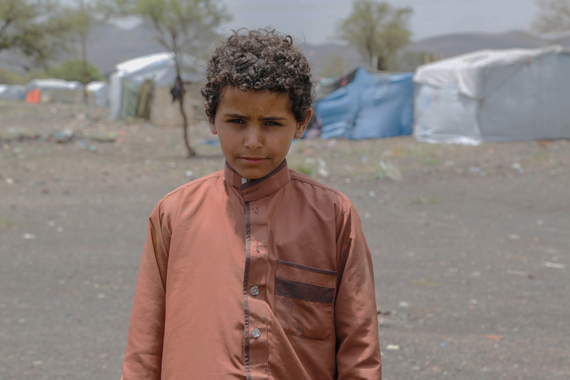 Elias Jameel Abdullah Mohammed Moqbil Alhakimi, lives in Yemen at the Tharawan Camp for Internally Displaced Persons (IDPs) in the outskirts of Sana'a. "I want peace and safety and school. We need hospitals, the good food and the good water. I just want everything to become like before," he said. By August 11, 2016, more than 2.8 million IDPs had fled their homes in Yemen due to ongoing conflict.
3) Lato, 2, Libya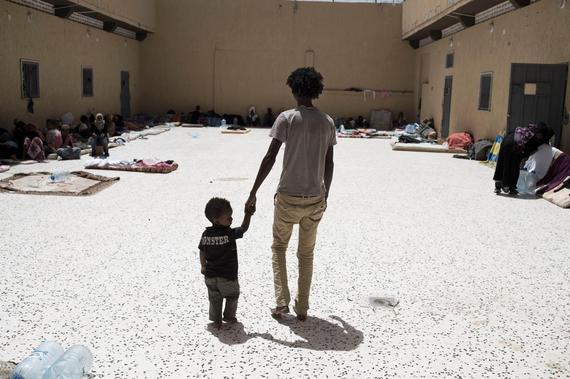 Addis walks hand-in-hand with his 30-month-old son, Lato, in the yard at the Alguaiha detention centre in the coastal town of Garabulli, Libya. The detention facility houses illegal migrants apprehended while attempting the dangerous voyage across the Mediterranean Sea to reach Europe. Foreigners without legal immigration status in the country can be arrested and can spend up to 12 months in a detention centre, where conditions are poor at best, with inadequate medical care, insufficient relief items, and without proper ventilation and sanitation.
Addis, from Eritrea, is now a single parent. He and his wife decided to leave their homeland right after Lato was born. The family spent two years in Sudan, where Addis worked as a driver. His wife died during the journey by truck between Sudan and Libya. He buried her under the sand with the help of another man making the crossing. "Now I am here in this detention centre because, as we were only 200 kilometres from Tripoli, the police caught us at a check point. My dream is still to join my brother in Tripoli and offer a better life to my son."
4) Zenabou, 7, Niger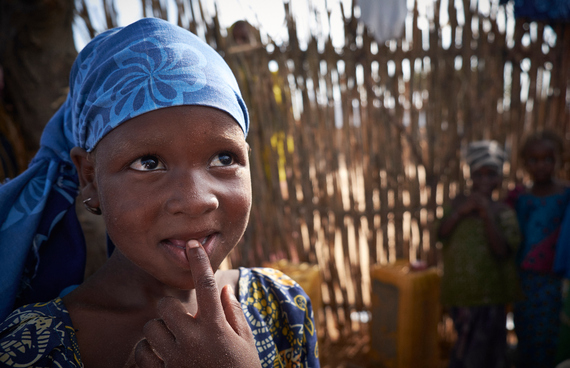 Zenabou, 7, has lived at a site for displaced civilians in Diffa, Niger for eight months. Her father said, "We fled our village after Boko Haram attacked. Some of our family were killed; my parents were injured. We were farmers there growing corn and beans plus we had a small stall. It's difficult to make a living here...Now I sometimes have work unloading cargo from trucks that arrive at the main station, I earn about 400 francs per day (less than one dollar). When we have news that the situation has stabilized back home, we will return, but for now, we will stay here."
5) Shaimae Drazeni, 15, Syria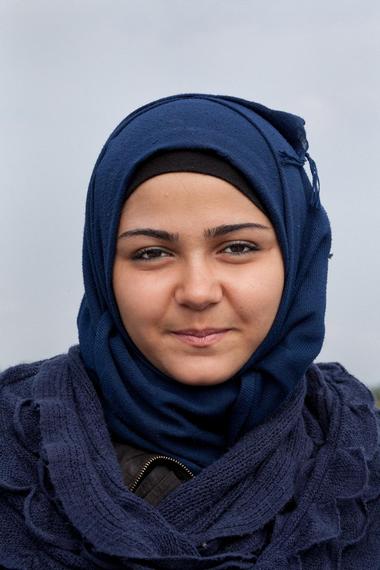 Shaimae Drazeni, 15, from Syria, prepares to pass through a transit center in Europe. "I am here as a Syrian refugee and going to Germany to put an end to the agony and the pain. To put an end to the oppression, the humiliation in which we lived. Enough...enough pain, enough oppression. There is no more joy in our hearts...Everything is gone; our country is gone; everything dear to us is going. My hope is to just go back to my country. My hope is go back to Syria; to live in our home. I hope that things will go back to normal, that the joy will find its way back to our family; that our loved ones will return and that our relatives will go back to where they were before; to go back to our schools. This is my only hope."
To read UNICEF's groundbreaking new report, Uprooted: The growing crisis for refugee and migrant children, click here.
Follow HuffPost Canada Blogs on Facebook
ALSO ON HUFFPOST: