The dust mercilessly cuts its way, meandering across the pathways of Badanrero Village, located 100 kilometres from the border town of Moyale near Ethiopia. The terrain is flat and desolate, with nothing but dried up shrubs for miles.
As the dirt whirl picks up momentum, small children and goats can be seen scurrying for shelter in tiny semi-permanent stick and grass-thatched structures that make up their homes, for now. The majority of the inhabitants who live in this arid region of Northern Kenya are nomadic pastoralist families.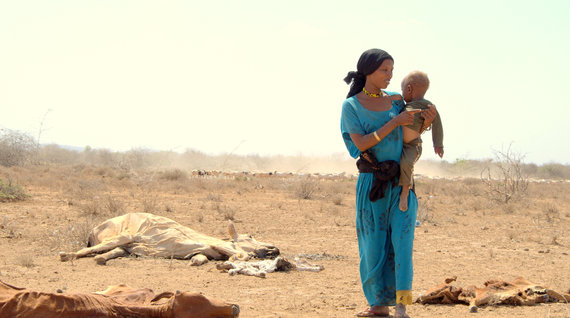 Dabo Boru, 21, is a mother of three who trekked with her family to Badanrero from her home village of Ambato, 38 km away. They were forced to move here in order to save their cattle from dying of thirst and hunger due to drought.
"I brought all these cows here in the hope that they will survive. I even bought for them fodder and water but 18 of them have already died and we are only left with three," says Dabo, as she stares sadly at the decomposing carcasses of her dead livestock lying just a few metres from her hut.
In late 2016 when the rains failed, a severe drought hit the arid and semi-arid regions of Kenya, affecting over 2.7 million people. Marsabit is one of the hardest hit counties, where thousands of children are food insecure and in dire need of treatment for severe malnutrition.
Dabo says, "Hunger is a major problem here, children don't have milk and we don't have food and water. Where we fetch water from is very far and it is dirty. We are really suffering because of this drought."
Most natural open water sources in Moyale have dried up, putting immense pressure on the few available boreholes and dwindling water pans. Households like Dabo's now have to walk up to 10 to 15 km to access water.
"My husband has been away from home for two weeks now, looking for pasture for our remaining animals. I am now left alone to protect my children and make sure that they eat, which is very difficult without the animals that provide the milk," says Dabo.
People are at a higher risk of falling sick because they are malnourished and lack good sanitation. At the nearby Badanrero Dispensary, Hiliki Diba, 27, has brought her nine-month-old twins to be treated for malnutrition and acute watery diarrhea.
Hiliki says, "I have been taught how to breastfeed exclusively for six months, but having twins and the drought have made it very difficult for me to breastfeed them. First, I don't produce enough milk because I don't eat enough because there is no food. I am also weak and I fall sick often."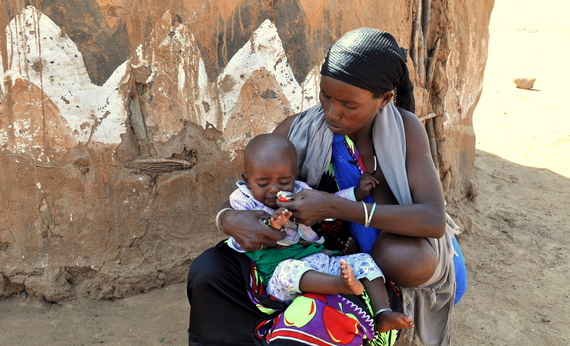 While visiting Badanrero Village as part of a multi-agency and Government delegation to assess the impact of the drought, the UNICEF Representative in Kenya, Werner Schultink, joined the Under Secretary General and Emergency Relief Coordinator, Stephen O'Brien, to raise awareness and appeal for support to respond to the crisis.
Werner says, "Because of the drought there will be at least 100,000 children under five years who will need treatment for severe malnutrition. UNICEF has put all the requirements in place to treat these children. We are also working with County Governments on the repair of broken down boreholes to increase access to safe water."
"Over 180,000 children are no longer going to school because either there is no water or there is no school feeding happening. Imagine the impact this will have on their future lives and that of their community if it persists," says Werner.
Fortunately for Hiliki Diba, her twin daughters were screened and admitted to the outpatient therapeutic nutrition treatment program. The girls were treated at the UNICEF- supported dispensary using Ready-to-Use Therapeutic Food (RUTF), a peanut-based paste that is fortified with nutrients and essential minerals, alongside vitamin A supplementation.
They were also treated for diarrhea and given soap, a bucket and water treatment tablets for use at home. Mothers coming to the clinic are also taught basic home hygiene and nutrition practices in order to safeguard their health and that of their children during the drought.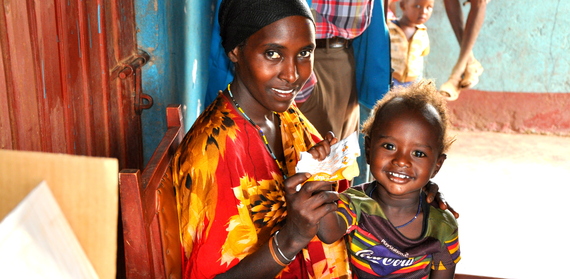 Stephen O'Brien says, "The forecast for the necessary rains in the coming months is not promising and therefore the fear is that the drought can only get worse. It now requires the international community to step up, because we (UN) are already here. There is need to back this successive track record of saving lives and protecting civilians, who through no fault of their own, have found themselves caught up in the drought."
According to the Kenya Government, which has appealed for humanitarian assistance, the number of food insecure people will rise to four million in April 2017 if the situation is left unchecked.
Daniel Oloo, Communication Specialist, UNICEF Kenya
To help UNICEF continue providing live-saving support to families like Hiliki's, click here.
Follow HuffPost Canada Blogs on Facebook
Also on HuffPost: