Arctic-Images via Getty Images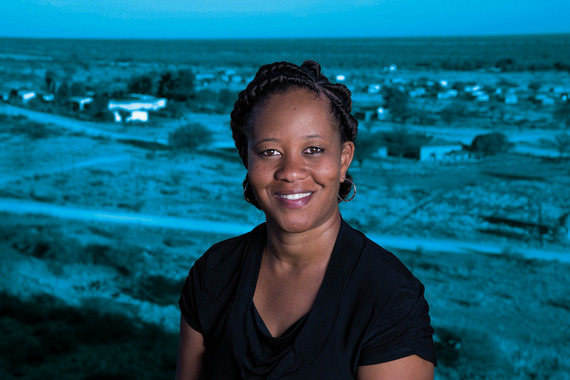 Livey Van Wyk, 31, has come a long way from pregnant and HIV-positive teenager to becoming a fulfilled mother and an influential and inspiring young mayor who is the pride of her native Namibia. Her life tells a powerful story of courage and hope.
In the east of Namibia, on the doorstep of the Kalahari Desert, life can be difficult for many. Very little grows in this sandy, arid landscape where the temperature can rise from below zero to burning hot in only a few hours. Some scattered, makeshift metal homes are hints of poverty and an everyday struggle for survival. To one of these tin houses, a teenager with little hope, ostracized by her community and abandoned by her family.
Livey Van Wyk's beautiful, brown eyes still fill with tears when she recalls one of the darkest periods of her life. At the age of 17, this studious young girl discovered that she was pregnant and HIV-positive. "The only thing I knew about HIV was that it was a death sentence. I didn't want to die. I was only a kid and had a lot of dreams," Livey explains.
Livey's story begins in 2001, during the height of the HIV/AIDS epidemic. In Namibia, as in many other countries, thousands of children and adolescents were infected. Antiretroviral treatment - the therapy that helps to control the virus - was not yet readily available nor free. Many were dying in horrible pain, while a climate of fear and suspicion infiltrated society.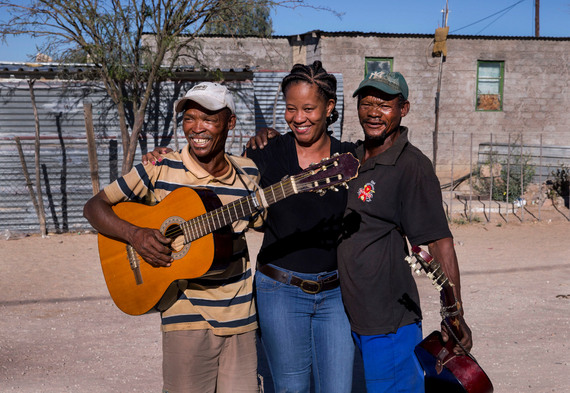 "Even my own mother changed when I told her about my status. And the same thing happened over and over again in the family, in the community, in the city. I just couldn't be with others any more. I was denied all rights." Livey remembers how she was told by the school principal not to come to class anymore. "That was my breaking point, because I loved school, even if I were pregnant and HIV-positive. At that moment I was hopeless."
Yet, at that very moment, her life was about to change for good. Livey was enrolled in a UNICEF‑supported programme helping to prevent mother-to-child transmission of HIV. The teenager was placed on antiretroviral treatment and gave birth to a healthy baby boy, Remi. Livey raised him with her grandmother, the only person in her family who unconditionally stayed with her.
"Remi is 13 years old now. He is my strength and my courage," says Livey with pride. "He made me wake up every morning and keep dreaming, keep believing and have hope."
After the birth, the young girl decided to take control of her destiny and obtained a certificate in project management. She became one of the first Namibians to speak publicly about her HIV status to fight stigma and discrimination. Together with UNICEF, Livey recorded several radio programmes to educate youth and told her story in a book called A Diary from the Land of the Brave.
Already in 2007, Livey was far from the hopeless, abandoned teenager from her past. Through UNICEF, she was invited to speak at the United Nations General Assembly and met Secretary-General Kofi Annan. Little by little, the young girl not only gained self-confidence, but also discovered that her authenticity and integrity had the power to inspire and bring change. She became a person that people trust.
"In 2010, the same community that had thrown stones at me, that literally had wanted to kill me, asked me to stand before them and show them that there is light at the end of tunnel," recalls Livey, proud of the long way she had come. At the age of 26, she became the youngest mayor in Namibia and managed to launch a vast housing project that benefits some of the poorest families in the town.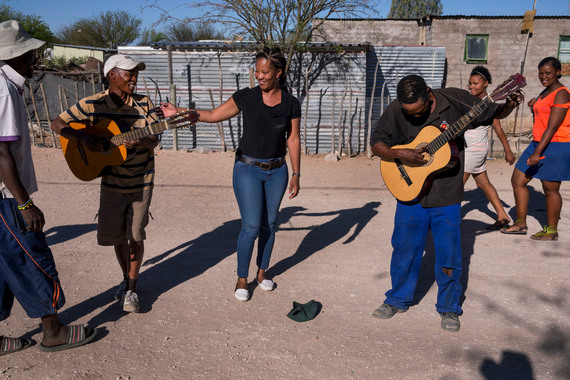 Livey believes that, today, it is still critical to give young girls and boys the same support that she was able to benefit from as a teenager. "Definitely, my hope is for an HIV-free generation. Nothing is impossible. We can make it - especially when we have hope."
Today, over 70 per cent of HIV-positive pregnant women are receiving antiretroviral treatment; the world has never been so close to eradicating mother‑to‑child transmission of the virus. Yet, in Africa, HIV and AIDS is still the number one cause of deaths among adolescents.
To help UNICEF provide more life-saving support to children suffering from HIV and AIDS, click here.
Follow HuffPost Canada Blogs on Facebook