These moms risked everything to keep their children safe, healthy and happy.
Wherever in the world UNICEF works, we see the same thing from moms time and time again -- they'd do anything for their children.
Meet some of the mothers who overcame obstacles, battled distressing situations and made phenomenal sacrifices for their children.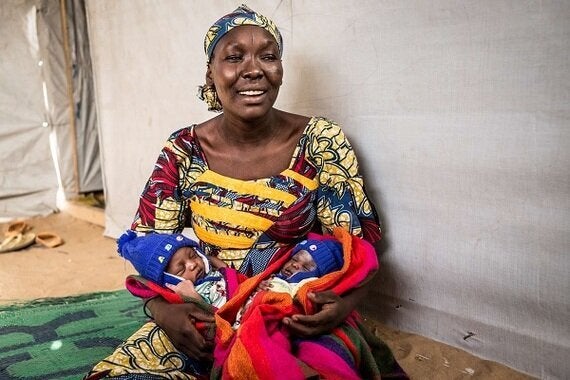 Binta Mahamadou cradles her twin son and daughter inside her family's tent shelter at the Dar es Salam refugee camp. © UNICEF/UNI185044/Cherkaoui
Binta and her family fled their home in north-eastern Nigeria when her village was targeted by Boko Haram.
"On the morning of the attack, we fled to the boats and went to Chad. I was close to giving birth but I had no idea that they were twins. I had to go to the hospital to give birth. I was very afraid of losing them."
"Today I'm fine, and when I look at my little twins, healthy, I feel blessed. We are all survivors here."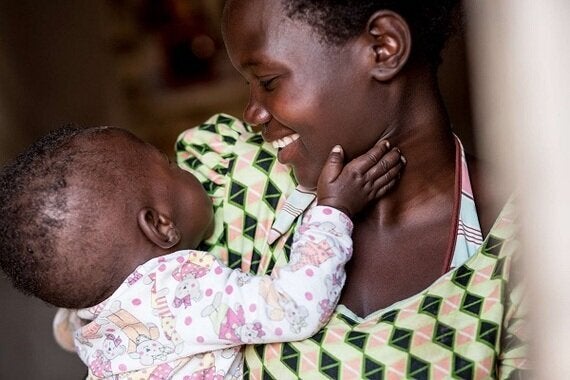 Martha Jere holds her eight-month-old son Rahim at their home in Bilemoni village, Malawi. © UNICEF/UNI201826/Schermbrucker
Martha was born with HIV at a time when a diagnosis often meant death, especially for children in low income countries. Now a mother herself, Martha has defied the odds and her son Rahim is part of Malawi's AIDs-free generation.
A decade ago, less than 1% of pregnant and breastfeeding women living with HIV were receiving the best treatment available. Now, three in five are on antiretroviral treatment. To prevent transmission from mother to child, Martha took daily treatment and tested Rahim six weeks after he was born.
Martha raises him independently, and is clearly proud of her young son: "I was so excited, so happy he was not carrying the virus. [He's] growing healthy and strong. He is happy, friendly and feels comfortable with anybody."
After receiving assistance through a teen support group as an adolescent mother living with HIV, Martha now speaks publicly about her experiences to help other young mothers. "I encourage other mothers I meet that even if they're HIV-positive, it's not the end of the world, they can still live a long life."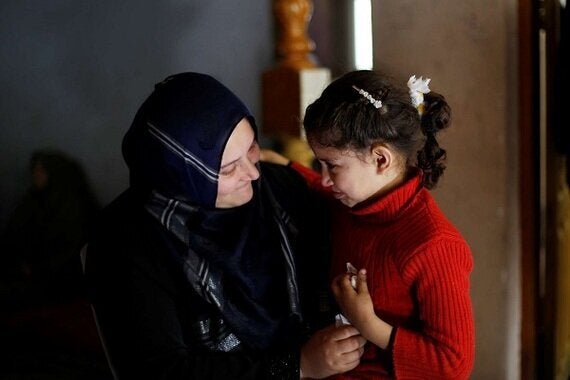 Neveen Barakat comforts her 6 year-old daughter Rosol in Beit Lahia in the northern Gaza Strip. © UNICEF/UNI179600/El Baba
Neveen's husband passed away in a blast that hit a UN run school in Gaza. The blast wounded three of her children, including six-year-old Rosol, and left Neveen with a permanent disability.
Now responsible for raising her four children alone, Neveen's main concern is their health.
"[Rosol] saw a lot of things -- people injured with missing hands or legs, with wounded faces and eyes. She also saw her father killed. This was shocking for her. It had serious psychological effects on her." She brings three of them to receive psychosocial support from a counsellor working for UNICEF partner The Palestinian Centre for Democracy and Conflict Resolution.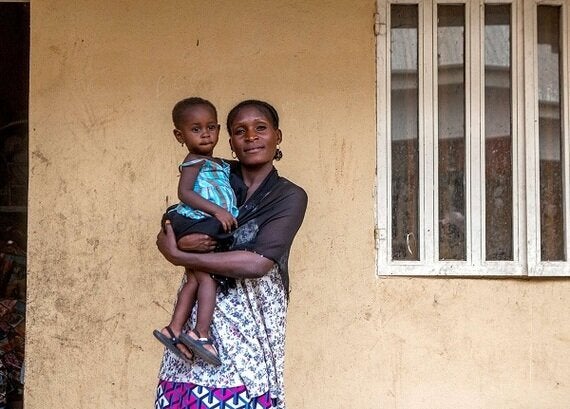 Maryamu holds her daughter Hyladan in a camp for internally displaced people in Adamawa, Nigeria. © UNICEF/UNI181413/Esiebo
When members of the Boko Haram rebel group attacked the church in Maryamu's hometown, she was home sick. When she heard gunshots, she grabbed her daughter and ran.
Maryamu has not seen her husband since and fears the worst.
In a camp for internally displaced people in Yola, Maryamu and her daughter are receiving medical and school supplies and access to clean water from UNICEF. Maryamu wants to return home when it's safe -- even though she knows there is little left of her former life. "There is nothing in our house. They took it all. We had a motorcycle and many cows. It's all gone."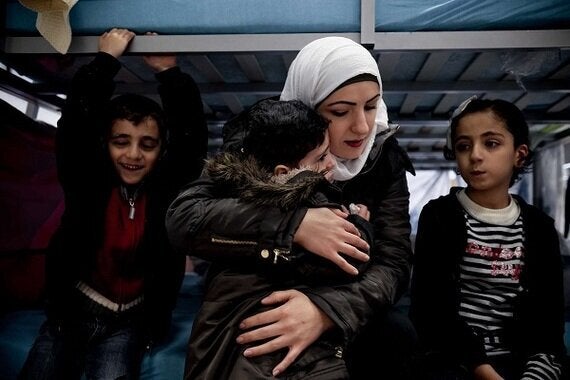 Amira Rasland comforts her crying son Karam in an emergency shelter on the southern edge of Berlin. Beside her are her two other children, Amr and Jannat. © UNICEF/UN05635/Gilbertson VII Photo
Amira and her family are refugees from Homs, Syria. In 2015, they made the weeks-long journey from Turkey by land and sea to Germany where they filed for asylum.
Despite the hardship and violence they've faced, Amira and her husband, Khalid, are careful to stay strong and positive for their children.
"The scariest part was the water crossing. We managed to put all three kids to sleep before the boat left, and used our bodies as shields between them and the sea so they couldn't see the water... We had to master our emotions so we didn't transmit our fear to the kids."
Amira has big dreams for the future of her family -- and plans to work hard to make them come true. "We're very determined -- all of us -- to go to school and master German. Twenty years from now, I hope that people around the world will talk about our family and the challenges that we faced and the successes we achieved."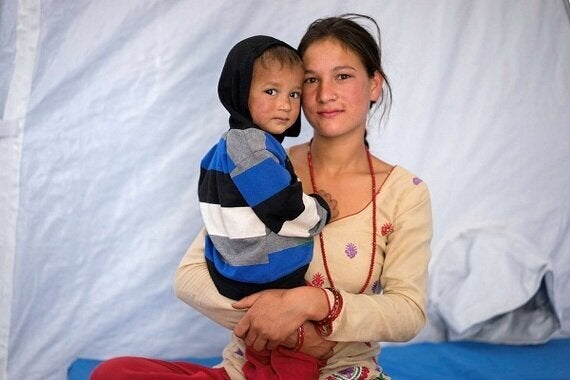 Bimila Dhakune and her son Kris at a hospital in Charikot in Nepal. © UNICEF/UNI186055/Sokol
Bimila was outside her house when the earthquake struck. Her husband and four year-old daughter fled their house before it collapsed, but her youngest child -- 18-month-old Kris -- got trapped under the rubble.
Bimala and her husband rushed into the rubble and dug out Kris with their hands. He was unconscious and covered in dust. "It was terrible. I can't remember anything [but] the dust and his blue face."
When Kris regained consciousness, Bimila began to breastfeed him. "I thought 'Oh my God, we are all alive. If another earthquake happens, we will be OK, because we are safe now. The world can fall apart, but we are together.'"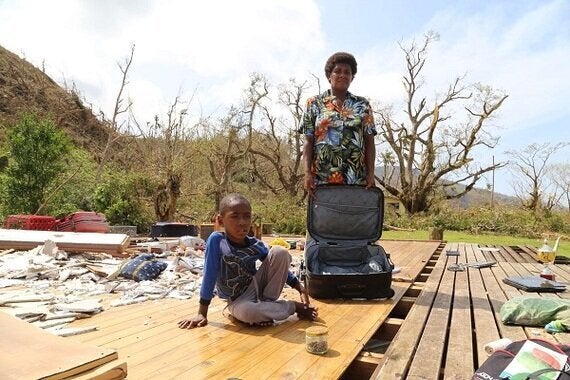 This is the suitcase that saved Salome's baby. © UNICEF/UN011244/Hing
When Cyclone Winston started to tear apart Salome's home in Fiji, she huddled her two sons in the corner and, as the roof and walls were blown away, she reached for the only thing that could protect her one-year-old boy: a suitcase.
Salome placed her baby in the suitcase and used her body to shield it from flying tree branches and debris. The eye of the cyclone gave her just enough time to grab her boys and run to the relative safety of the village hall, where all three survived this terrifying night together.
UNICEF helped bring Salome, her children and thousands more like them access to water, health care and safe spaces to recover.
This Mother's Day, you can help moms everywhere.
No matter where they are in the world, there's one thing all mothers want: the health and safety of their families. Honour your mom's courage and determination this Mother's Day with a UNICEF Survival Gift.
Your gift will provide essential vaccines, vitamins, prenatal healthcare, blankets, birth registration and more to help moms around the world protect their children. We'll send a card to your mom telling her about the live-saving work she's supporting.
Rashini Suriyaarachchi, UNICEF Australia
Follow HuffPost Canada Blogs on Facebook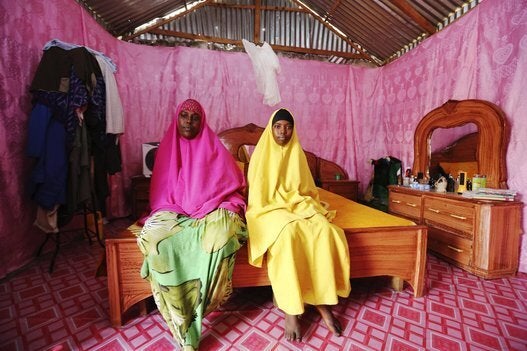 Photos Of Mothers And Daughters Around The World That Show that Daughterhood is Universal