BANARAS KHAN via Getty Images
Among the first pictures I took of my newborn daughter was a close-up of her chubby thigh and the pink bandage attached to it. It was her first polio vaccination.
I became a father in 2013, four months after leaving Pakistan where I was working with UNICEF to support the polio eradication program. As the two remaining polio-endemic countries, Pakistan and Afghanistan are the final pieces of the eradication puzzle.
As long as children are left unprotected in one country, all unvaccinated children are vulnerable.
So it seemed important for me to capture and share that moment with my red-faced and screaming daughter. I wanted to send my friends and colleagues in Pakistan a simple message: I'm doing my part.
Doing my part in New York is easy. Parents here, just like in Canada, haven't had to worry about polio for a while. Trained health staff deliver readily available vaccines at hospitals, clinics and doctors' offices across the country. For most of us, polio means a stamp on our vaccination records, and exists mainly in the memories of our parents and grandparents. We've never met someone with the disease or even seen an iron lung, let alone worried about our child needing one to breathe.
For parents in Pakistan, however, polio is still in circulation and still a very real risk. National door-to-door vaccination drives, enormous in scale and ambition, are needed to keep their kids protected. Thousands of brave community workers and vaccinators work tirelessly to reach an estimated 34 million children under five.
That's like reaching every single Canadian citizen at their doorstep. And not just once. In 2016 alone, campaigns have taken place every month to repeatedly vaccinate the highest-risk children with the oral polio vaccine in some of the most challenging environments on earth.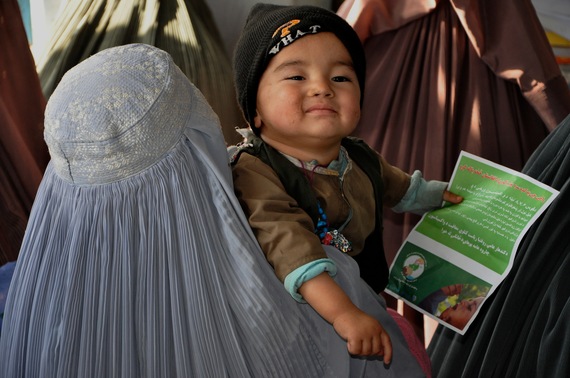 If that wasn't challenging enough, the polio vaccine must also be cold to be effective. That means refrigerated transport and storage, and ensuring all vaccinators have ice packs and coolers. Each vaccine vial even has its own temperature monitor confirming the vaccine's cold chain has been maintained. Behind it all a nationwide surveillance system must be sensitive enough to find, diagnose and confirm potential cases.
It is an extraordinary and inspiring national public health effort. And after many years, it seems to be working. In 2016, Pakistan has seen a drop in numbers of cases, a reduction in wild polio virus samples found in the environment and fewer children missed thanks to ever-improving campaigns.
Vaccination is an act of global solidarity.
That's the big picture. But talk of "cases" and "high-risk communities" can obscure the children and the families whose lives are forever changed by a polio diagnosis.
During my last trip to Pakistan, I sat with a father in a clinic outside Peshawar. A doctor was examining his young son, whose leg was suddenly weak and unable to support his weight. The father watched quietly, but it wasn't hard to imagine his thoughts: What does this mean for my son? Will he walk again? How can I afford his care? My own daughter inevitably came to mind.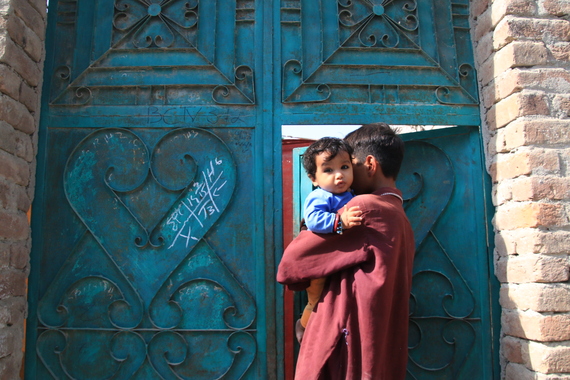 At its peak, the disease struck this kind of fear in Canadian parents. In 1953, polio killed 500 in Canada alone, and resulted in more than 9,000 cases of paralysis, mainly among young children. With the introduction of Salk's vaccine in 1955 and Sabin's oral polio vaccine in 1962, cases plummeted and Canada was finally certified polio-free in 1994.
But we know that as long as children are left unprotected in one country, all unvaccinated children are vulnerable. Disease has an uncanny way of finding the most vulnerable kids -- whether it's polio in Southern Afghanistan or measles in the Fraser Valley of British Columbia.
So, it's no exaggeration to say that Pakistan's success is Canada's success; that my daughter is linked to that man's son in Peshawar. When Canadians vaccinate their children against polio, we are contributing to the global campaign to eradicate the disease forever. Vaccination is an act of global solidarity.
Canada's recent contribution of $40 million to Pakistan's efforts to eradicate polio is further acknowledgement of the interconnectedness of the world, of parents and of the common good that is protecting all children from preventable disease. It's a message that says, "we're in this together and we're doing our part."
Michael Coleman is a Canadian working for UNICEF's polio eradication program in community engagement and communication. He has lived and worked in Angola, Honduras, Sri Lanka, Viet Nam and Pakistan. Currently based in New York, he is the father of two well-vaccinated daughters.
Follow HuffPost Canada Blogs on Facebook
MORE ON HUFFPOST:
Pakistan's Anti-Polio Campaign